Equipment Review: Lowepro Slingshot 300 AW
Although the single shoulder strap design takes some getting used to, this $99 bag from Lowepro swallowed all the gear we threw into it, and then some.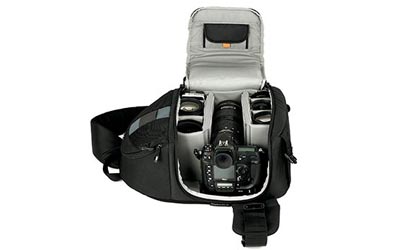 We may earn revenue from the products available on this page and participate in affiliate programs. Learn more ›
I'll admit it, I didn't quite "get" the whole buzz about the Lowepro Slingshot line. And considering that until recently, most of the bags were on the smaller side, I was OK with that, since I'm the sort of photographer who lugs a ton of gear along with me.
But then Lowepro released the Slingshot 300 AW (street $99.00), a bag big enough for a DSLR (or two) and a handful of lenses. Being in the market for a new bag as I am, I was excited to see whether this new concept in gear-toting really lived up to the hype.
The Slingshot series, if you're not familiar, fall somewhere between a backpack and a photojournalist bag. They have one wide shoulder strap and a waist belt for stability while walking long distances. The safety clips over the main compartment zipper can be pulled to move the bag swiftly from your back to your front. From here, the zippered main compartment is easily accessible for pulling out a camera or switching a lens.
Before loading up the bag for a recent trip to the Bahamas, I took the Slingshot home on the train one night loaded with some cameras to test. At first I wasn't impressed. My initial reaction was that this bag might be good for long-haul hiking, but for quick and easy on and off the shoulder, as is necessary in mass transit in rush hour, it wasn't cutting it. The bag hung sideways in a clumsy manner, and was not really comfortable.
As it turns out, I still didn't quite "get" how this whole bag works. For carrying on one shoulder for a short while, such as in check-in line, you've got to feel like you're putting the bag on your right shoulder backwards. Then it sits comfortable. Do it "forwards" and it sits clumsily. Lesson learned. I was finally beginning to get it.
For longer periods of time, it's a bit strange at first to wrap this bag around you. You have to thrust your left arm skyward and sort of wiggle into it. Once it's comfortable, attach the waist belts to balance the load and you're good to go. After about ten times, it feels perfectly natural.
As for getting the bag off, that's easy. Just hold the shoulder strap firmly and unclip it, and the bag is free; you don't have to do the reverse wriggling routine.
The next thing I learned was how to pull it around to the front for easy gear access. Grab that zipper-top strap with your right hand, around your left side, and give a gentle pull. The bag then easily slides around. Don't try pulling the shoulder strap with your left hand and sliding the bag over your right shoulder, as I did several unfruitful times.
Once I got the feel for how to use the bag properly, I still had concerns over the size and layout. It's got a deep rectangular main compartment, and a semi-circular wedge compartment atop that. Interior dimension are listed as 11.8″ x 6.5″ x 11.8″. Would this really be big enough to carry all my gear to the Bahamas, and most importantly, would it fit in the miniscule overhead compartment on a small puddle jumper?
The answer to the second question is, thankfully, yes. It just squeezed into the tiny overhead space on the 25-seat plane. If you've ever taken a prop-liner puddle jumper from one island to another, you'll really appreciate this.
Did it fit my gear? Yes, and then some. By my standards, I was traveling light.
What's my definition of light?
– Canon EOS 5D with vertical grip, attached to Canon 1.4x extender and 70-200 f/4
– Canon 17-40 f/4 L
– Canon 50mm f/2.8 compact macro
– Lensbaby 3G and two accessory lenses, plus LB aperture ring kit
– Canon 550EX strobe
– Canon 5D compact charger
– Canon PowerShot S500 Digital Elph plus charger
– Pentax Optio W20 plus charger
– Olympus Stylus 720SW plus charger and USB cable
– Thinktank Pixel Pocket Rocket card wallet
– Belkin iPod digital camera link
– iPod 30GB 5G
– iPod charger brick
– 77mm Tiffen Polarizer
– Cokin P series mount/rings and 4 rectangular filters
– 3 extra BP511A batteries
– Joby Gorillapod SLR-Zoom
– Lenspen
– mini-maglite and jakstrap head strap
– Yankees baseball hat
– Olympus WS-300M voice recorder
– Canon Timer Remote controller TC-80N3
– Roll of cloth medical tape
– 2 packs of Eclipse mints
– 2 packs Eclipse gum
– Lenspen microfiber cloth
As I said, I was traveling light by my standards. Laid out on the floor, it looked like there was no way possible for all this to fit. But careful packing made it possible to stow everything securely and safely in the main and top compartments, while utilizing the memory card pocket on the inside of the main bag and the small pen/gadget pocket as well. Everything fit, but it was a tight "travel day" pack. Not all the gear was easily accessible though. The chargers lined up under the DSLR and lens, the three compact digicams were wedged into a lens compartment, with the microfiber cloth around the middle one for protection and, well, you get the point.
On the trip, not all this gear was necessary for every shoot, and things like chargers got left in the hotel room. I could rearrange and reshuffle the layout of the gear to fit the shooting style I was going for, once on location. But getting all the gear there, in a carry-on bag, is of utmost importance to any photographer. Checking camera gear should be avoided whenever possible. (If you read the fine print, the airlines claim no responsibility for lost/damaged electronic items.)
A few hours before my flight I was sure I'd need to jettison a few of the less important items in order to close the bag, but somehow it all fit.
After figuring out how to best carry the bag on one shoulder for short distances, the wide strap spread the weight nicely. For longer hauls, I'd put it on fully with the waist belt, and this combination of the two straps made it bearable to have that much weight on my back for extended periods of time. Even fully loaded, it travels well, and feels like it would travel well for much longer distances than I needed to go on this outing.
Did we mention that the Slingshot 300 AW is weather-tough? It is made of water resistant microfiber and comes with an all-weather cover.
After learning how it works, I'm impressed with this innovative new bag design. It's strange at first, I'll admit, but once you get the hang of it, you just might like this bag as much as I do.
Tech specs:
Water resistant micro fiber case made to carry film or digital photo equipment.
Meets current requirements for carry-on bags.
Ergonomic Sling Strap distributes weight evenly to comfortably carry heavy equipment.
Full Access Lid allows easy access to the bag contents while wearing it or provides 180° access while packing.
Included All Weather Cover provides protection against rain, dust and sand.
Zip-stop buckles prevent zippers from completely opening while accessing camera.
Built-In Memory Card Pouch allows you to quickly find memory cards in the same place every time.
Built-In micro fiber LCD cloth protects LCD screen from camera strap, nicks and scratches.
Silent zipper pulls provide quiet access around film crews or wildlife.
SlipLock Attachment Loops allows the addition of pouches or other SlipLock compatible products to customize the bag.
Pockets:
• Two large organizer pockets
• Accessory pockets provide quick access to cables, adaptors, small accessories or personal items
• Mesh covered back Pad & Sling Strap provides breathable comfort during long treks.
Compatible with film or digital SLR with attached 70-200mm zoom lens, 5-6 extra lens or flash unit.
Material:
Water resistant micro fiber, ripstop nylon and 600D TXP
Type of Closure: Zip-stop buckles
Zippers with silent zipper pulls
Exterior Dimensions: 13 x 9.1 x 17.3″ (33 x 23 x 44 cm) (WxDxH)
Interior Dimensions: 11.8 x 6.5 x 11.8″ (30 x 16.5 x 30 cm) (WxDxH)
Accommodates Pro SLR with attached 70-200 mm f/2.8 lens; 5-6 extra lenses or flash unit
Carrying/Transport Options
Ergonomic sling strap
Weight: 3.2 lb (1.47 kg)
Is the Slingshot AW300 more bag than you need? Check out the SlingShot 200 AW (Street: $79.00), which is a bit smaller, but fits a DSLR with attached compact zoom lens and 3-4 extra lenses, or the smallest SlingShot, the 100 AW (Street $59.00), which fits a DSLR with an attached compact zoom and 1-2 additional lenses.