Editor's Choice: Sony Alpha 700
With a high-end 12 megapixels and body to match, this advanced D-SLR brings Sony one step closer to its promised professional model.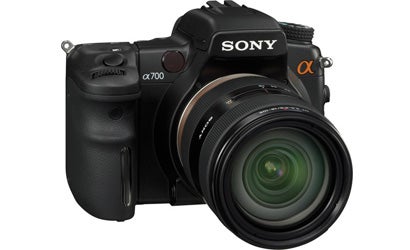 We may earn revenue from the products available on this page and participate in affiliate programs. Learn more ›
Its number is a nod to mid-rung classic Maxxum 7-series SLRs, but the second model in Sony's Minolta-based Alpha line is more than a step up. To be sure, the Sony Alpha 700 (about $1,500 with 18-70mm kit lens) competes comfortably with advanced D-SLRs such as the new Nikon D300 and Canon EOS 40D. But like its entry-level sibling, the Alpha 100 (our 2007 Editor's Choice Camera of the Year), the 700 brings a new cost/benefit ratio to the category.
Sony gave us two days to shoot with the Alpha 700 shortly before it was announced this September. Because the camera was a pre-production model, we can't reproduce any of our images here. But the experience was enough for us to say that ergonomically, mechanically, optically, and operationally the Alpha 700 is just what we like in an SLR. An aluminum chassis and magnesium-alloy outer panels make it relatively heavy, the better for steady shooting and hard knocks. Its contours are more squared-off than on a typical SLR, which makes for a more secure grip. It has in-camera image stabilization, retooled to compensate for higher-frequency vibration such as hand tremors. Its bright, high-magnification viewfinder is an exhilarating change from the tunnel vision of some other models with APS-C-sized image sensors, while its three-inch high-res LCD screen looks as sharp as any we've yet seen on a D-SLR. Important functions can be set with pushbuttons that eliminate the need to scroll through the menu; one button brings up the Alpha 700's Quick Navigation screen, which allows fast adjustment of many functions with a single four-way controller.
You can find a full rundown of the Alpha 700's impressive specs here. These include a built-in HDMI terminal for direct HDTV viewing (the first in a D-SLR, along with Nikon's D300); five frames-per-second shooting at full resolution (JPEG or RAW); and a new 12.4-megapixel CMOS image sensor that reduces noise before the signal leaves the chip, technology that saves power and, more important, improves high-ISO performance.
One small but valuable feature illustrates how carefully Sony has thought out this camera. Like the Alpha 100, the Alpha 700 incorporates Minolta's unique eye-start system, which activates its 11-point AF as soon as you bring the camera to your eye. The problem with this proximity-sensing system — and with the Alpha 100 — is that when eye start is turned on and the camera is hanging around your neck, it thinks your stomach is your eye and continues to focus. To prevent that, the Alpha 700 rejiggers Minolta's pressure-sensing grip, originally designed only to provide an even bigger head-start on focusing. In the 700, the eye-start focus isn't activated unless the grip is also being squeezed. That way the camera isn't focusing aimlessly as it bounces against you, at the ready for your next shot.
The successor to Panasonic's offbeat Lumix DMC-L1 is, well, a more conventional digital SLR. Photographers expecting the Leica-like styling and heft of the L1 will be disappointed. The Panasonic Lumix DMC-L10 (about $1,300 with 14-50mm kit lens) even dispenses with the L1's quaint shutter speed dial, and its slower kit lens (though still 14-50mm and optically stabilized) lacks the aperture ring of its pricey predecessor.
But let's look on the bright side: The L10's Four Thirds-format sensor has more megapixels (10 vs. 7.5); can use the chip itself for phase-detection autofocus in Live View mode (which the L1 pioneered); and is actually better suited than the L1 for the from-the-hip shooting long associated with the Leica. This is because unlike the L1, its 2.5-inch LCD screen can tilt and swivel for shooting at high or low angles, away from the eye. While other D-SLR makers have followed suit with live view, this articulated screen really capitalizes on that ability.