Editor's Choice: High-zoom Compacts
These compact digital cameras squeeze focal lengths up to 270mm into pocket-size bodies.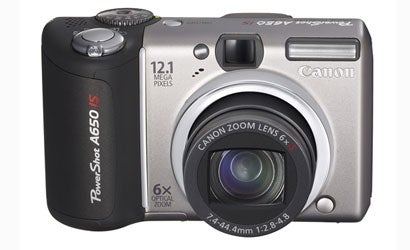 We may earn revenue from the products available on this page and participate in affiliate programs. Learn more ›
Most digital compact cameras offer 3x optical zooms. That's a perfectly practical focal length range, usually starting at the equivalent (in 35mm) of a semiwide 36- to 38mm and zooming in to a short-telephoto 110mm or so. But what if you want a wider view, more tele reach, or both? You can get SLR-beating zoom ranges of 15x to 18x in EVF (electronic viewfinder) cameras, but these models have boxy bodies that usually don't fit into a pocket. Some manufacturers have staked out a middle ground, though, offering cameras that have 6x and 7x zooms (with various resolutions) yet manage to stay pocketable. Here are six such versatile models.
Casio Exilim EX-V8
The Casio Exilim EX-V8 (about $255) cleverly places its 7x zoom sideways inside the camera body, aiming it forward with a reflex mirror–an essentially periscopic design. Its range is the equivalent of 38-266mm (in 35mm), with maximum apertures of f/3.4-5.3, not bad for such a compact optic. As its name suggests, the camera has V8 power — eight-megapixel capture — plus a 2.5-inch LCD screen.
Pentax Optio Z10
The Pentax Optio Z10 (about $220) also takes a periscopic tack, squeezing a 38-266mm (equivalent) f/3.5-5.4 zoom sideways into its black-and-silver body. It too has eight-megapixel capture and a 2.5-inch LCD. Like the Casio, it fits its 7X zoom range into a camera just an inch thick, no lens extension needed for focusing.
Canon PowerShot A650 IS
Other makers use a more traditional lens design, with front-facing zooms that collapse into a series of nestling tubes. That's how the Canon PowerShot A650 IS (about $365) gets a 6x, 35-210mm zoom into its body. While the 12-megapixel A650 IS is not as compact as other cameras in this longer-ranging group, its size comes with benefits: The zoom is somewhat faster, at f/2.8-4.8, and its 2.5-inch LCD tilts and swivels for easy high- and low-angle composition. (IS is also lens-based.) The A650 IS is the sole camera in this group with an optical viewfinder.
HP Photosmart Mz67
The 6x, 37.5-225mm f/2.8-4.8 zoom on the Hewlett-Packard Photosmart Mz67 lapses enough to protrude just 3/4 inch from the camera's compact body. With typical eight-megapixel capture and a 2.5-inch LCD monitor, it has special HP features such as in-camera red-eye fix and a Design Gallery that lets you add frame-like borders to your pictures.
Panasonic Lumix DMC-LZ7
The Panasonic Lumix DMC-LZ7 (about $170) also has a 6x zoom, a relatively fast 37-222mm f/2.8-4.5 that's optically stabilized. It has 7.2-megapixel capture and a 2.5-inch LCD monitor, can shoot in wide-screen format (16:9 aspect ratio), and features speed settings up to ISO 3200.
Samsung NV7 OPS
The sleek, black 7.2-megapixel Samsung NV7 OPS (about $270) has a substantial lens protrusion that only enhances its resemblance to a 35mm rangefinder camera. The up side of this is that its 7x, 38-270mm (equivalent) zoom is the fastest of the lot, at f/2.8-3.7. The camera stabilizes images by shifting its CCD image sensor. Surrounding the 2.5-inch LCD monitor is a multi-button SmartTouch interface similar to that of the NV11 (below). And this model doesn't just shoot MPEG-4 video; you can actually do cut-and-paste editing in the camera.