Editor's Choice 2007: Professional DSLRs
Hasselblad H3D-39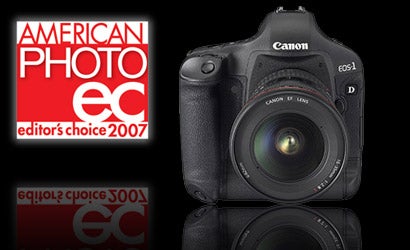 We may earn revenue from the products available on this page and participate in affiliate programs. Learn more ›
DSLRs have steadily advanced in megapixels, but medium-format digital still leaves them far behind. Megapixels aren't the only reason. The bigger format's image sensors are four times larger than the APS-C-sized chips used in most DSLRs. That allows the Hasselblad H3D-39 not only to accommodate 39 million pixels (enough for a billboard) but also to deliver image quality far superior to that of a DSLR at a given ISO.
The H3D's modular components include the camera section, a proprietary digital back, and a brilliant new eye-level finder. When the company describes the viewfinder as "full-frame," it means magnification has been increased to compensate for the camera's smaller-than-6×4.5cm Imacon chip. Previous film-centric finders used crop lines to show the imaging area, and made it feel as if you were viewing the subject through a small window. By contrast, the H3D's view is huge.
Also awesome is Hasselblad's new 28mm f/4 HCD lens, equivalent to an ultrawide 19mm in 35mm terms. It's the widest lens available for medium-format digital, and like other HCD optics takes advantage of the H3D's micro-corrected focusing, which is keyed to individual lens specs and shooting data. The camera's assets are shared by the less expensive, 22-megapixel H3D-22 and 31-megapixel H3D-31. The latter has slightly smaller sensor dimensions, but its faster operation and ISO 800 sensitivity should make it attractive to wedding and portrait pros.