Editor's Choice 2007: Fine-Art Printers
Big prints are the order of the day in the lively world of fine-art photography. That's why this year's models...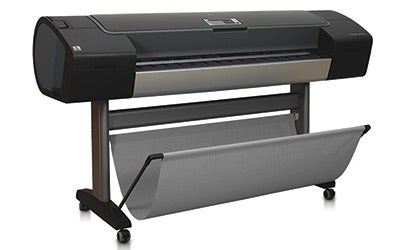 Big prints are the order of the day in the lively world of fine-art photography. That's why this year's models are all large format, producing long-lasting pigment-based prints from 17 to 44 inches wide. Their output matches or exceeds the quality of comparable silver halide prints. Bigger is apparently better.
PRINTER OF THE YEAR: HP DESIGNJET Z3100
When HP set out to challenge Epson and newcomer Canon in the large-format pigment printer category, it knew it had to do something different to attract the attention — and the business — of serious photographers. But the difference between HP's DesignJet Z3100 and competing models is more than just a marketing ploy. The 12-ink Z3100 (available in two sizes, for 24- and 44-inch-wide prints) and its eight-ink sibling, the Z2100 (which comes in the same two sizes), are the first inkjet printers to incorporate a built-in, professional-level spectrophotometer. This feature removes the guesswork from the all-important task of paper profiling.
Instead of searching for the paper you want to use on the printer's profile menu, or struggling to find the closest match, you simply load a sheet or roll of it and answer a couple of onscreen questions. In less than half an hour the Z3100 creates a custom profile, saving it automatically into the correct directory on your computer. The message from HP: You don't have to use a printer maker's own papers to get spot-on prints.
There are other reasons the Z3100 is an inkjet printer's dream, however. It has a built-in 40GB hard drive, for spooling files and storing profiles. It has a Web server, also built-in. It has user-replaceable heads, six in all, kept consistent over time by the printer's automatic calibration. Most important, though, is the fact that the Z3100's Vivera pigment inks, which include red, blue, green, and four separate blacks, produce stunning yet subtle color and monochrome print quality.
All 12 of the printer's 130ml cartridges load simultaneously, so there's no need for expensive, time-consuming ink swapping when switching between matte and glossy papers. One cartridge has a "gloss enhancer" that minimizes gloss differential and bronzing on glossy papers. When you make black-and-white prints on matte paper, the printer enlists all four of its neutral inks — photo black (glossy), matte black, light gray, and medium gray. The results are spectacular, exceeding the quality of comparable prints on silver halide paper in their maximum density and tonal range.
This impressive model makes 17-inch pigment printing more affordable than we ever thought it could be. In fact, the new printer sells for $500 less than Epson's own 17-inch Stylus Pro 4800, one of last year's top inkjet contenders. Yet the Stylus Pro 3800's print quality easily matches that of the SP4800, largely because it uses the same UltraChrome K3 ink system.
How do you reduce the cost of a large-format printer so dramatically? Partly by not incorporating a roll paper holder and cutter. (The SP4800 has both.) Along with the SP3800's smaller cartridges (80ml as opposed to the SP4800's 110ml or 220ml), that change also allowed Epson to make a much more compact printer — 27 inches wide by 15 inches deep by 10 inches high, as opposed to the SP4800's 34x30x14 inches. For photographers who want to make prints up to 16×24 in a limited workspace, that's a huge advantage.
Though the SP3800's smaller cartridges make ink slightly more expensive than with the SP4800, in one respect the new model offers greater ink economy: You don't have to swap black ink cartridges when you change from matte to glossy paper and back. The SP4800's eight cartridge slots allow use of only one of its black inks at a time. But the SP3800 has nine slots, so it can house both black cartridges at the same time — and switch automatically from one to the other depending on the paper selected. With the SP4800 and its wider-format siblings, the Stylus Pro 7800 and 9800, cartridges must be swapped when you want to change surfaces, at a cost of about $75 in lost inks and about a half hour of lever flipping. The Stylus Pro 3800 lets you skip all that — and save money too.
This model continues Canon's impressive entry into the large-format inkjet printer market, filling in the space between last year's 17-inch iPF5000 and the 60-inch iPF9000. Using the same pigment-based Lucia inks, which last much longer than the dye-based inks of other Canon inkjet models yet deliver a comparable color range, it produces fine-art-quality prints up to 44 inches in width, borderless if you like. And like other Canon models, it delivers that quality at breathless speed, producing a massive 44×66-inch print at 1,200dpi (more than you really need) in about 15 minutes.
The iPF8000 achieves its remarkable color fidelity with 12 separate ink cartridges, including red, green, blue, gray, and photo gray in addition to the usual CMYK, photo cyan, photo magenta, and matte black. All that dedicated black and gray also produces lustrous monochrome results. And having the option of a 700ml cartridge in addition to the standard 330ml size means you could have printed all night.
Other features make the iPF8000 one serious workhorse. It loads roll paper from the front, so when you run out you don't have to move the printer to get behind it. It tracks paper usage in square inches and ink usage to a tenth of a milliliter. And it has automatic clog detection, compensating on the fly by rerouting ink to other nozzles. Fortunately, this powerful printer has nozzles to spare: Its dual head contains more than 30,000.