Editor's Choice 2007: Digital Compacts
We may earn revenue from the products available on this page and participate in affiliate programs. Learn more › Compact...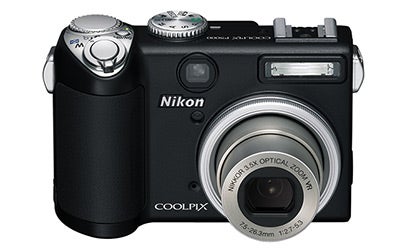 We may earn revenue from the products available on this page and participate in affiliate programs. Learn more ›
Compact cameras earned their name by being smaller than SLRs. Given the streamlined proportions of ultrathins, though, standard models are really the midsize sedans of digital photography. They aren't so big that you don't want to take them along for the ride, but aren't so small that they cramp your shooting style. They are equipped with a generous array of standard features, and their controls are often easier to use than those of their skinny counterparts. Most important, they offer substantial imaging power at a reasonable price. (Note: The Image Stabilization item in the spec list only applies to optical and mechanical systems, not digital image stabilization.)
Nikon clearly wanted the P5000 to bear a family resemblance to the company's current generation of digital SLRs, and not just in having a 10-megapixel sensor. Along with an optical viewfinder, the back of this small camera hosts a control layout not all that different from that of Nikon's D80 and D40x D-SLRS, with a 2.5-inch LCD monitor flanked by a line of buttons and a four-way jog dial. A top-deck command dial permits speedier camera settings than the typical compact's menu muddle. Manual exposure control is particularly quick for a compact.
The P5000's dedicated flash hotshoe accepts the same i-TTL Speedlights used by Nikon D-SLRs, namely the SB-800, SB-600, and SB-400. At about three times the size of the P5000 body, the SB-800 makes for rather an odd pairing, but the rig isn't difficult to use if you hold it by the flash rather than the camera. The petite SB-400 is a better choice for traveling light.
The Coolpix P5000's SLR-ness is also evident under the hood. The 3.5X zoom (comparable to 36-126mm in 35mm) is equipped with Vibration Reduction, Nikon's effective image stabilization system. Typically, VR allows steady handheld shooting at shutter speeds up to three stops slower than you'd otherwise need for sharp results. And outnumbering most D-SLRs, the camera's autofocus and spotmetering can be done at any of 99 points across the viewfinder frame.
You can select and fine-tune various image parameters, including color, contrast, and sharpness, in an Optimize Image menu that's a junior version of the ones found in Nikon D-SLRs. You can even shoot black and white with different "filters," for traditional-style tonal control. After the shot you can subdue unwanted contrast in-camera with the D-Lighting control, which improves shadow detail. The Coolpix P5000 adopts the latest fad in photo technology, face recognition, which works very well. Frankly we're more impressed with its panorama mode, which superimposes a precise template on your shots, so that they line up well for later stitching.
Hybrid cars are a hot topic these days, but here's a hybrid camera that deserves the spotlight. While a typical compact is just OK at shooting video, the TX1 is designed to work well for both still and video capture. On the still side, it offers 7.1-megapixel resolution and an optically stabilized 10X zoom (39mm-390mm equivalent in 35mm). Its various shooting modes are enhanced by a wide shutter-speed range (1/2,500 second to 15 seconds) and a decent firing speed (2.2fps). The TX1's image stabilization can be set to a panning mode in which the system won't undo the desired effect by compensating for horizontal movement.
As for moving pictures, the new PowerShot captures 1280×720-pixel high-definition video at 30fps, with stereo sound. A modest amount of video editing can be done in-camera, and the TX1 connects via an HD component cable for direct viewing on wide-screen HDTVs. The camera is a hybrid in looks, too. Folded up, it looks very much like a Canon Digital ELPH. With the 1.8-inch LCD monitor deployed, it looks like a palmcorder — a very small one.
That you can get a camera this good at such a reasonable price shows just how far digital compacts have come. The F40fd uses Fuji's latest-generation Super CCD-HR sensor to capture eight-megapixel images; its image processing and noise reduction are sufficient to maintain that resolution up to the top sensitivity of ISO 2000. Powered by a rechargeable Lithium-ion battery, the camera has a 3X zoom (36-108mm equivalent, f/2.8-5.1) and a 2.5-inch LCD monitor, and shoots 640×480 VGA-quality video at 30 fps. Full manual control is possible.
The new Fuji's other tricks include a clever dual-shot mode that takes a flash shot and an available-light shot in quick succession, allowing you to choose which you prefer after the fact. It supports infrared (IrDA) image transfer to compatible devices such as printers and TVs. We like that the F40fd can save files to both Fuji's xD-Picture Cards or the Secure Digital cards that everybody else uses. FYI, the "fd" in the model name stands for Face Detection. Apparently compact cameras just gotta have it.
Compact cameras are routinely touted as a good choice for travel photography, but Samsung's new 7.2-megapixel model lays special claim to that purpose. The L74's Tour Guide feature, accessed via the three-inch touch-screen LCD monitor, provides travel info and suggested photo ops for 4,500 regions in 30 countries. (It's similar to the interface on the very cool Samsung NV11.) A soon-to-arrive GPS pocket module, expected to sell for under $100, adds latitude, longitude, elevation, and time to the picture's Exif data via the charger port. You just have to keep the module, which is the size of a thumb drive, with you while shooting. You can later create maps with icons showing where you shot your images using Web-based services such as Google Earth. Remember when putting the date in the picture corner was a big deal?
Other travel-friendly features on the L74 include a 28-100mm (equivalent) 3.6X zoom, which offers wide-angle coverage well-suited to landscapes and buildings; and Face Recognition autofocus, for self-timer shots in front of famous landmarks.
One great advantage of D-SLRs over digital compacts is that their physically larger sensors can accommodate bigger pixels, which usually results in less image noise, particularly at high ISO settings. That's the idea behind the Sigma DP1, a compact camera that uses a D-SLR sensor. The sensor isn't a run-of-the-mill CCD or CMOS chip, however; it's the same Foveon X3 Direct Image sensor found in the new Sigma SD14 D-SLR. (See Imaging Essentials.) Rather than create color with a grid of tiny filters overlaying the sensor, the Foveon chip captures it with a "stack" of separate red-, green-, and blue-sensitive layers, not unlike color film.
To keep the DP-1's size relatively small, Sigma opted for a single focal length lens. Fortunately it's a wide-angle, the equivalent, in 35mm, of a 28mm f/4. This is a serious shooter's compact, so you won't find a dozen silly modes — and you can even shoot in RAW mode in addition to the standard JPEG capture. (Photo Pro software is provided for converting RAW files.) Other features include nine-point autofocus and a hotshoe that accepts Sigma's EF-500 DG Super accessory flash, for when you want more power than the built-in flash provides.
Twelve megapixels seems to be the new ten megapixels. Sony pushes that envelope with the high-flying W200, which also provides improved performance in low light. The camera's ISO sensitivity goes up to a candlelight-friendly ISO 6400, with resolution downsized to three megapixels. Add that to the lens-based image stabilization in its 35-105mm (equivalent) f/2.8-5.5 Zeiss zoom and you may never use flash again. (An eye-level optical viewfinder helps you keep the camera steadier, too.)
Sony says the W200's Super HAD CCD allows more light to reach each pixel, increasing sensitivity and reducing noise. It keeps contrast under control with Sony's D-Range Optimization (DRO), originally developed for the Alpha 100 D-SLR. After-the-shot fixes and effects include red-eye reduction and soft focus. The W200 can connect by HD-component cable to display pictures directly on HDTV screens — in a slide show if you like, accompanied by transition effects and your favorite MP3 music files.
The FX50 has proved a popular pocket camera among American Photo and Pop Photo staffers, not least for its 28-100mm (equivalent) f/2.8-5.6 Leica zoom. The lens covers the exceptionally useful range from true wide-angle to "double normal" portrait-tele focal lengths. It folds flat into a sturdy body about the size of a deck of playing cards, with a back that's dominated by a big, bright three-inch LCD monitor. There's no room for an optical viewfinder.
Fortunately, the FX50 helps steady arm's-length shooting with its Mega O.I.S., Panasonic's proven lens-based image stabilization. Low-light shooting gets another boost with a High Sensitivity mode that can push speed up to ISO 3200 while maintaining full resolution. And for wide-screen wonks, the FX50 can shoot 30fps movies at 848×480 pixels, which fits the screen's 16:9 aspect ratio. You can even take wide-screen stills.
If we had to choose a compact camera to illustrate the state of the art, the Optio A30 could be it. It's a 10-megapixel model with a 3X zoom (a 38-114mm equivalent f/2.8-5.4), 640×480 video capture at 30fps, and sensor-shifting image stabilization that works with both stills and movies. You can set exposures in modes ranging from old-fashioned manual to full-auto, with a nice assortment of useful scene settings to fall back on. You get full-resolution capture at ISO 1600, great for low-light photography; downsize to a very respectable five megapixels and you can shoot at ISO 3200. Post-production fun and fixes include digital filters, red-eye removal, and lightening/darkening. You can even do simple video editing, and extract movie frames as stills. What's missing? Well, an optical viewfinder. Call us old-fashioned.
Canon's top-ranking compact earns its stripes with a fast, image-stabilized 6X optical zoom (35-210mm equivalent f/2.8-4.8) that folds completely flat into the rangefinder-retro body; third-generation DIGIC processing, which speeds startup, autofocus, and shutter response; and compatibility with new SDHC cards, allowing the camera to capture up to 4GB of uninterrupted video. Of course, the latter also means you can fit at least twice as many 10-megapixel stills on a memory card. A new G-series feature is face detection, for more reliable autofocus with people pictures.