Editor's Choice 2007: Best New Inkjet Papers
The variety of inkjet papers available to photographers these days is a far cry from the limited choices offered when the first desktop photo printers were introduced in the mid-1990s.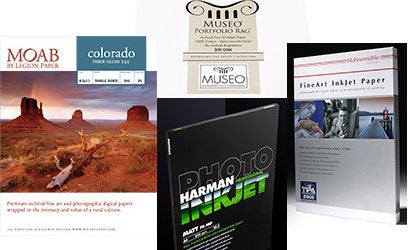 We may earn revenue from the products available on this page and participate in affiliate programs. Learn more ›
The variety of inkjet papers available to photographers these days is a far cry from the limited choices offered when the first desktop photo printers were introduced in the mid-1990s. In an effort to convince us that we could make "photo-quality" prints at home, manufacturers initially provided mostly glossy and semi-gloss inkjet papers that matched the look and feel of commercial prints. The addition of matte-surfaced paper made inkjet output much more appealing to the artistically inclined, and Hahnemuhle was ahead of the curve when it introduced the first fine art media for inkjet printing in 1997. As the quality and longevity of inkjet output has improved, so has the range of inkjet papers.
While most printer manufacturers now provide a decent selection of inkjet media, many of the more interesting papers come from independent makers such as Crane, Hahnemuhle, Legion, and Moab. In fact some of these papers are simply rebranded by printer companies. Epson offers Crane's Textured Fine Art Paper and Legion's Somerset Velvet, for example, and a few Hahnemuhle offerings are also available from Canon and HP.
The recent surge of interest in black-and-white digital printing has resulted in printers equipped with additional black and grey inks, providing photographers with improved monochrome results that are ideally suited to fine-art papers. A new twist is that the desired look and feel of photographic fiber-based papers is achieved with coatings (given that current fine-art papers are already made of paper or cotton fiber). The big news this year, though, is that black and white's popularity has brought back an old idea: fiber-based paper. In particular, paper companies have been touting the term Baryta, which will be familiar only to those of you for whom the smell of hypo triggers fond memories of the chemical darkroom. It's part of what brings the look and feel of old silver halide papers to digital printing. Baryta refers to a barium sulphate coating that's applied to traditional fiber-based paper to control the way the emulsion interacts with the paper. While not all the new fiber-based papers are coated with real Baryta, they incorporate layers that mimic its effect. Some of the benefits claimed for the new media include deeper blacks, sharper detail, and longer print life for both black and white and color.
Thanks to the evolution of pigment ink formulations, the selection of pigment-compatible papers also has broadened. Many papers can be used with either dye-based or pigment inks. Not all papers are cross-compatible, however; some are still recommended only for dye-based printers. The good news is that it's now easier to base your choice of paper on aesthetics rather than ink type.
One thing that makes such creative freedom possible is the proliferation of free ICC paper profiles from independent manufacturers. These can be easily downloaded from those companies' Websites and installed on your computer, eliminating the hassle of creating your own profile. If you stick with media from the printer manufacturer, of course, profiles are built into their printers' drivers, and also can be downloaded from their Websites. But with intriguing new papers such as the ones we've chosen here, and the easy availability of third-party paper profiles, there's every reason to ink outside the box.
CRANE MUSEO PORTFOLIO RAG
Crane is best known for its stationery products, including letter/envelope combinations and notecards. In response to the growth in inkjet printing, the company developed Museo fine-art digital printing papers. The latest of these is Museo Portfolio Rag. This heavy 100 percent cotton rag paper has a smooth surface and, unlike some lesser papers, does not contain optical brighteners, additives that brighten whites under certain lighting but that may also accelerate fading. As a result it has a warmer-looking tone. In addition to standard-sized and metric-sized sheets (8.5×11 to 35×47 inches, plus A4 and A3), the stiff, hefty Museo Portfolio Rag is available in rolls. Roll widths include 17, 24, 36, 44, and 50 inches. Other Museo papers we like include a new water-resistant Canvas paper for pigment inks that's available in both glossy and matte surfaces.
Other Museo papers we like include a new water-resistant Canvas Maestro paper that's available in both glossy and matte surfaces and the Museo Silver Rag, a semi-gloss paper that, although it's the same 300gsm weight and 0.015″ thickness as the Portfolio Rag, feels a little more supple but produces rich blacks and saturated colors. All three papers are optimized for pigment inks. Additionally, Portfolio Rag is designed to work with matte black inks, whereas Museo Silver Rag is compatible with photo black inks.
HAHNEMUHLE FINEART BARYTA 325
Although Hahnemuhle already offers fiber-based papers, the big news is its upcoming FineArt Baryta 325. Made from 100 percent alpha cellulose, this nicely weighted and bright white paper has an ultrasmooth, glossy surface. Also new from Hahnemuhle and available now is Photo Rag Pearl 320. This smooth surfaced paper is 100 percent cotton fiber linters, which gives it additional stability and longevity as well as the look and feel of traditional Baryta paper. Photo Rag Pearl contains no optical brighteners, so it produces slightly warmer-toned prints. While our color test prints look very good on this paper (and on its sibling, Fine Art Pearl), its pearl surface seems to beg for black and white. The 320gsm paper is available in 17-, 24-, 36- and 44-inch rolls as well as standard cut sheet sizes.
HARMAN PHOTO MATT FB MP
Although U.K.-based Harman Technology now produces Ilford's silver halide imaging products, the company has its own line of inkjet papers. Two of these incorporate a true Baryta layer: Harman Photo Matt FB Mp and Harman Photo Matt FB Mp Warmtone. (Ilford always made the best matt-surfaced black-and-white enlarging paper, and the warm-tone version should be of special interest to those of us who loved Agfa Portriga-Rapid.) These fiber-based papers have a feel similar to double-weighted enlarging papers and are available in a variety of cut sheet sizes. We tested both on the Canon PIXMA Pro 9500. Maybe it's our penchant for black and white, but while the color prints looked good, we found these fiber-based papers work especially well for monochrome images, Ilford's old forte anyway. Both delivered on promises of a deep blacks. For fans of glossy prints, Harman also offers a fiber-based glossy paper.
INNOVA FIBAPRINT
Another U.K.-based company, Innova, offers perhaps the widest range of fiber-based papers we've seen. Available in a variety of surfaces, the latest FibaPrint papers include Warmtone Gloss, Gloss, White Semi-Matte, and Ultra Smooth Gloss. All but the Ultra Smooth Gloss, which is a little lighter at 285gsm, are weighted at 300gsm. The name of each paper clearly represents its surface and all are compatible with both dye-based and pigment ink systems. In addition to a variety of cut-sheet sizes, the Innova papers come in rolls from 17 inches to 60 inches wide.
MOAB BY LEGION COLORADO FIBER
Legion Paper is as well-known for its wide variety of art and decorative papers as it is for digital media like the luxurious Somerset Velvet. Last year the company acquired Moab Paper, and it's now retooling the combined product line. While some papers have been discontinued and others have undergone a name change, we think photographers will be pleased with its latest offerings.
Our favorite of these is a fiber-based paper called Colorado Fiber. It's available in two surfaces, Satine and Gloss. Although it's primarily designed for pigment inks, this midweight paper feeds easily into any printer but doesn't sacrifice that photographic feel. The Satine surface has an especially nice look and feel to it — not quite matte but not semi-gloss or even luster. The Gloss, as promised by the company, is reminiscent of an F-surfaced silver paper. Both papers work well for color and black and white, and are available in sizes ranging from 5×7 inches to A4 in sheets, plus rolls from 13 to 60 inches wide.