Editor's Choice 2006: Wide-Format Printers
Most of us want bigger prints, but inkjet models with 24- and 44-inch carriages force you to choose between them and your washer/dryer. These 17- and 18-inch printers are big enough.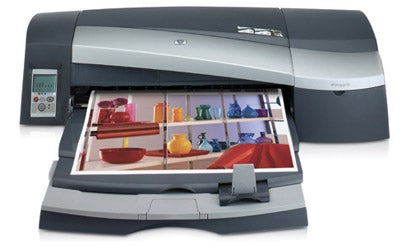 We may earn revenue from the products available on this page and participate in affiliate programs. Learn more ›
|||| |—|—|—| | | | Canon ImagePROGRAF iPF5000
Until recently, if you wanted to make exhibition-quality archival inkjet prints in very large sizes, Epson was the only place to shop. But this impressive new Canon model takes direct aim at Epson's Stylus Pro 4800, producing fine art-quality prints that are 17 inches in width. The imagePROGRAF iPF5000 leads the first generation of Canon printers to use pigment-based Lucia inks, which last much longer than the dye-based inks of other Canon inkjet models (about 100 years), yet deliver a comparable color range. To that end, the iPF5000 uses a record-setting 12 separate ink cartridges, including red, blue, green, gray, and photo gray in addition to the usual CMYK, photo cyan and photo magenta, and a matte black.
Unlike its competitor, the Canon lets you use glossy or matte paper on demand, switching cartridges automatically to suit your chosen surface. All that dedicated black and gray delivers lustrous monochrome results. With 30,720 ink nozzles and dual print heads, the iPF5000 can make a 16.5×23.4-inch glossy at 1200×1200 dpi in a breathless three minutes. About $1,950.
Little brother to the 24-inch Designjet 130, one of last year's Editor's Choices, this model's 18-inch output is more than big enough for most photographers, and an inch wider than the other models featured here. Yet the printer is considerably smaller than those competitors, and much less expensive too. Though its six-ink color output is dye- rather than pigment-based, it yields prints with an under-glass display life of 70-plus years, according to Henry Wilhelm — still a lot better than a typical C-print. Not long ago, dyes were considered much superior to pigment in their ability to produce a wide color range and deep blacks, and the Designjet 90 makes you understand why. In terms of color, density, and depth, prints made on HP's Premium Plus Satin paper have a quality we associate with C-prints, only more nuanced. Detail is extremely fine at 2400dpi, but even at this top resolution the Designjet 90 prints very fast. The standard tray holds 70 sheets of 18×24 paper; there's a front bypass slot for single sheets and a rear slot for papers up to 80 pounds and .02-inch thick. (A roll feeder is optional.) About $1,050.
|||| |—|—|—| | | | Using a new, third black ink dubbed light light black, this model makes even better prints than its predecessor, the much-praised Stylus Pro 4000. It's more or less the 17-inch version of the 13×19 Stylus Photo R2400 (see page 94), and shares that model's UltraChrome K3 inkset. The light light black reduces metamerism and improves gradation in lighter areas, and like the other eight K3 inks (CMY, photo cyan and photo magenta, plus swappable photo and matte black) features what Epson calls Micro-crystal Encapsulation. This chemical technology completely tames the uneven surface sheen that has always plagued pigment prints. The new model's improved maximum density is most apparent in glossy prints, but we saw a difference even on matte paper. With ample help from the SP4800's black-and-white driver, in fact, we made some of the richest, most consistent monochrome prints we've ever gotten from an inkjet printer. About $1,800.