Editor's Choice 2006: Superzoom EVF Cameras
Today's best superzoom EVFs combine six megapixels or more with advanced metering, exposure, and AF options.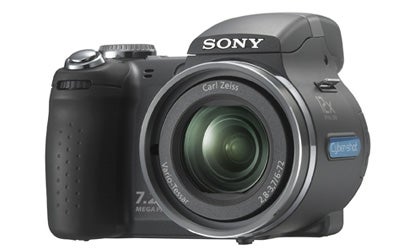 We may earn revenue from the products available on this page and participate in affiliate programs. Learn more ›
A few years back this class of digital camera was a novelty: one- or two-megapixel models with tiny CCDs and compact electronic viewfinders that made zooming possible to 10X or better. Today's best superzoom EVFs combine six megapixels or more with advanced metering, exposure, and AF options. Many have movie capability, and most are equipped with image stabilization-a necessity for sharp handheld shots at these cameras' 400mm-plus focal lengths.
Sony Cyber-shot DSC-H5
Sony's flagship superzoom is more than a bundle of specs. Yes, it has the highest resolution (7.2 megapixels), the biggest LCD monitor (three inches), and one of the fastest zooms in its class, a 36-432mm (35mm equivalent) f/2.8-3.7 Zeiss Vario-Tessar. But the experience that Sony has gained over several generations of H-series superzooms really shows in this camera's details.
7.2 megapixel/CCD image sensor 12X zoom (36-432mm equivalent) 3.0-inch LCD monitor About $450 A top-of-the-class combination of resolution, LCD size, and zoom power, with image stabilization to make the most of them.
The Sony Cyber-shot DSC-H5 has exceptional ergonomics, its shutter button, zoom toggle, and mode dial all well placed. You don't even have to take your eye off the subject to adjust the mode dial, because a "virtual dial" appears in the EVF or on the monitor to show you your setting as you turn it. Meanwhile the H5's Function Guide provides an onscreen explanation of modes as you choose them. And when you're ready, you can turn off the guide.
Many superzoom EVFs offer equivalent-speed settings only up to ISO 400. Given the smaller maximum aperture these cameras set when you're zoomed way in, this increases the chance that camera shake will blur the image. But the H5 has an unusually high top sensitivity of ISO 1000. That extra stop and a third combines with Sony's Steady Shot image stabilizer to deliver more consistent sharpness in the H5's pictures. Steady Shot can be used in continuous mode, which shows you its smoothing effect in the viewfinder and on the LCD screen, or "shoot only," which engages the system only at the moment of exposure to conserve power. (We prefer continuous because it helps us judge our steadiness and makes composition more precise.) But stabilization isn't limited to stills: It can be used to smooth out the H5's 30fps, VGA-quality movies, which you can shoot up to the capacity of its MemoryStick Duo cards.
|||| |—|—|—| | | | This full-featured electronic viewfinder-equipped digicam packs an ample six-megapixel sensor, a 10X zoom (38-380mm equivalent), and a big 2.5-inch color LCD into its lightweight, diminutive body. Yet the SP-500 UZ costs significantly less than similar five-megapixel competitors. It gives you 27 different shooting modes, including full manual; three different metering patterns, including spot; and, impressively, the ability to shoot RAW files, lacking in its direct competitors. The camera takes xD-Picture Card media and is powered by four AA batteries. The only things you'll miss are full-VGA, 640×480 video (it does 320×240 only) and image stabilization, but those features would add to its nice, low price. About $330.
|||| |—|—|—| | | | Despite its fast 12X Schneider Variogon zoom, the equivalent of 35-420mm in 35mm, this 6.1-megapixel model is astonishingly light-about 12 ounces, with batteries. That includes optical image stabilization, which works for both stills and movies. The latter can be shot in full VGA at 30fps, with stereo sound and live zooming. Whether you're shooting stills or movies, it helps that the camera's 2.5-inch LCD and 202,000-pixel electronic viewfinder are unusually fine grained. Powering it all is a Li-ion battery that can be replaced with AAs or CRV3 lithiums when you can't recharge. About $400.
|||| |—|—|—| | | | This model might turn you into a filmmaker. Not only can it shoot full-VGA movies at 30fps but it also records in stereo sound using two tiny microphones above the lens. You can even speed up its framing rate to 60fps for smoother recording of high-speed motion (at 320×240 pixels). And you can do all this as you zoom throughout the range of its 36-432mm (35mm equivalent) f/2.7-3.5 lens. For stills, the H5 captures at six megapixels at sensitivities up to an above-average ISO 800. Its optical IS steadies everything but you, working in continuous or shoot-only modes, and can be set to panning mode for sharp shots of moving objects with smooth background blur. It will even stabilize your movies. About $500.
|||| |—|—|—| | | | It may look like the world's smallest SLR, but this ultralight six-megapixel model is an EVF in the Panasonic mold, with a fast 36-432mm (35mm equivalent) zoom and highly effective optical image stabilization. The FZ7's creative features include panning mode, which stabilizes the image only in the up-down axis while favoring slower shutter speeds, for panned images with a smooth blurred background. Other modes are just for fun, like flip animation, which lets you assemble herky-jerky videos from a series of still photos. The FZ7 also captures full-VGA movies at 30fps with stabilization, although you can't zoom while shooting. Its Li-ion rechargeable battery system is one of the best in the superzoom EVF class. About $350.