Editor's Choice 2006: Lighting
American Photo Editor's Choice Lighting Gear Top Picks from 2006.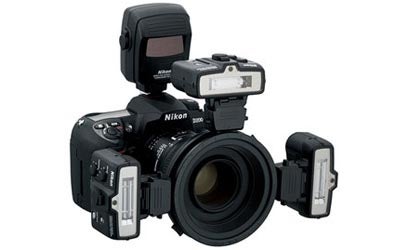 We may earn revenue from the products available on this page and participate in affiliate programs. Learn more ›
Portable flash and fluorescent sources still dominate the market for lighting equipment, perhaps a reflection of digital's increased mobility and improved high-ISO performance. While small-scale product photography is (thanks perhaps to eBay) still the driving force behind fluorescent, at least one of this year's winners brings new power to that cool-burning category.
Nikon R1C1 Wireless Close-up Speedlight System
Macro lighting is akin to casting a spell. Start with a cauldron of hot light or strobe and mix in reflectors, gobos, and other magical ingredients. Think of Nikon's new R1C1 Speedlight System as a new, simplified spell- book. It includes a ring to mount on your lens, two SB-R200 wireless Speedlights to mount on the ring, one SU-800 wireless commander (mounted on the hotshoe) to power them, and some dedicated modifiers. When you need a more powerful spell you can mount up to six more SB-R200s on the lens, grouping them for ratio lighting. About $680.
There are plenty of small fluorescent lighting units available now, all providing a useful daylight color balance and cool operation, but this one is the most versatile of the lot. The Ego Light houses two 5500K-balanced, 27-watt fluorescent lamps, each providing the equivalent of 100 watts of tungsten light, inside a curved white diffuser. The unit can sit on your working tabletop or be mounted on a light stand or tripod with its 1/4-20 screw thread socket. Either way it can be tilted forward for directional control. Well suited to both tight portraiture and product photography, the Ego comes with a white reflector to temper unwanted shadows, though the unit's light is soft and envelopingto begin with. About $100.
It may look like a small studio strobe, but Quantum's Qflash is one of photography's most powerful, versatile portable lighting solutions. Its limitation has been a lack of wire less exposure control. The Qflash T5d makes amends. Hook it up to one of Quantum's hot-shoe TTL adapters and you can use the company's FreeXwire transmitters and receivers to control multiple T5d units with your brand-name SLR, digital or 35mm. You can even set lighting ratios remotely. Because the system uses radio signals it works through walls and at distancesof up to 500 feet. About $625.
While fluorescent photo lights are cool-burning and efficient, they're often underpowered-usually adequate only for small product work or simple headshots. Larger still lifes and portraits demand more illumination. And you get more from the digitLITE 600 because it packs six 24-watt daylight-balanced fluorescent tubes, the equivalent of 600 watts of tungsten light, into a single 18.5×19.5×2.6-inch unit. The front panel produces a soft, even light that's suitable for different kinds of subjects at greater distances than fluorescent ordinarily permits. An electronic ballast lets you dim the light as needed for closer subjects or ratio control with multiple units; the panel has a swivel mount that fits 5/8-inch lightstands. About $375.
As the legion of eBay powersellers continues to grow, there's a booming market for any tool that can make utilitarian items look beautiful. The SIB-200 gives you everything you need to do that. This new, larger version teams a 30-inch-square light tent with a pair of 250- watt tungsten lamps and light stands, plus a tripod with a three-way pan/tilt head. You even get a small carrying case so you can use the setup on location or pack it away until your next auction. About $300.