Editor's Choice 2006: High-Res EVF Cameras
The convenience of an electronic viewfinder camera meets the image quality of a D-SLR.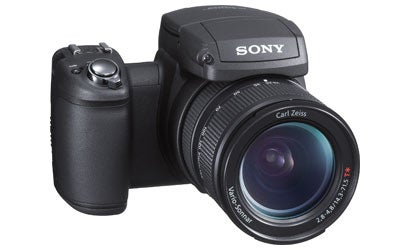 We may earn revenue from the products available on this page and participate in affiliate programs. Learn more ›
Last year we thought high-resolution cameras with electronic viewfinders and non-interchangeable lenses were dead ducks, soon-to-be victims of D-SLR price slashing. Then Sony created the Cyber-shot DSC-R1, a model that bridges the gap between EVFs and D-SLRs. The Sony R1 offers exceptionally low noise, a wide dynamic range, and (unlike most of its competitors) a fast, true wide-angle zoom. Ask yourself: Do you really need interchangeable lenses?
Its sheer specs set a new standard for electronic viewfinder (EVF) cameras: ten megapixels of resolution and a top sensitivity of ISO 3200. But what makes the Sony Cyber-shot DSC-R1 different from all other EVFs is the size of its CMOS image sensor. It's as big as the image sensors in many, if not most, digital SLRs-and over five times the area of the CCD sensor in Sony's previous top EVF, the eight-megapixel Cyber-shot DSC-F828.
Sony Cyber-shot DSC-R1 10.3 megapixels/ CMOS image sensor 5X zoom (24-120mm equivalent) 2-inch LCD monitor (tilt/swivel) About $1,000A groundbreaking model that combines the convenience of an electronic viewfinder camera with the image quality of a D-SLR.
Why would you need five times more space to accommodate 25 percent more pixels? Resolution isn't the reason. A larger sensor permits larger pixels, and larger pixels produce images with lower noise at a given ISO, all else being equal. In fact, we found that compared to other EVF models, the new Cyber-shot provides about two stops of additional, usable sensitivity. ln practice, this means you can shoot handheld in much lower light levels without an EVF camera's usual trade-off in image quality.
Opting for the bigger chip meant Sony had to make a slightly bigger camera body, and, more significantly, a lens with longer actual focal lengths to produce comparable angles of view. The R1's quick-focusing 5X Zeiss zoom gives the equivalent of 24-120mm (and a fast f/2.8-4.8) on a 35mm camera. Many EVF models offer more telephoto power, but Sony smartly chose to limit the long end of the focal-length range to keep the lens compact.
Like any EVF, the Cyber-shot R1 displays a "live" image on its LCD monitor, which lies flat on top of the camera, hinged at the back-as if low-angle composition and waist-level shooting were its first priority. (You flip up the screen for arm's-length composition.) Once you're ready to shoot, so is the R1: Its shutter response is quick and quiet, with very little delay between shots. To us, that sounds like a digital SLR.
|||| |—|—|—| | | | At nine megapixels, Fuji's top FinePix has the highest resolution of any EVF model except our camera of the year-just a megapixel shy of the Sony's. The S9000 is less expensive, though, in part because its image sensor is much smaller. But isn't packing almost as many pixels into a much smaller chip asking for noise? No. The S9000 mitigates this consequence with proprietary image processing that separates noise from actual image information. At each ISO setting, the S9000 produces far less noise than a conventional eight-megapixel model. Depending on the subject, ISO 400 images from the S9000 were as "clean" as the competition's ISO 100 or 200 pictures. The camera's 10.7X manual zoom offers an almost ideal 35mm-equivalent range from 28mm wide-angle to 300mm telephoto. This full-featured camera even shoots in RAW mode. About $600.
This eight-megapixel model doesn't really need a hump in the middle of its top deck because it has no pentaprism, just a very good 237,000-pixel electronic viewfinder. Since most photographers will probably compose with the camera's huge 2.5-inch LCD screen, we think Kodak is suggesting that this top-of-the-line model can fill in for a digital SLR. Its 24-140mm focal-length range provides wide-angle coverage for which you'd ordinarily need a D-SLR and its interchangeable lenses. And it has a full, SLR-style range of exposure modes, a flash hotshoe, and the ability to shoot in RAW mode. But the camera's most valuable single feature may be optical image stabilization, which lets you safely shoot handheld at much slower shutter speeds-taking you further into the low-light realm than any other model in this class. About $500.
In the ongoing "my LCD is bigger than your LCD" fight, Samsung's Pro815 is the champ-at least in a real man's camera. Though the top Digimax is a hefty, SLR-shaped model, its back is dominated by a 3.5-inch LCD that makes onscreen viewing and composition easier and more detailed than ever. Other features are also supersized, including a 15X optical zoom (the staggering equivalent of 28-420mm in 35mm); eight-megapixel image capture; full-VGA video (30fps, with stereo sound); menu type size (easily readable at arm's length); and battery stamina (a Li-ion rechargeable that's rated at 450 shots a charge). The Pro815's macro capability permits focusing to about an inch in front of the lens, while its spotmeter can be coupled to an AF point almost anywhere on the screen image. And as if the big LCD and eyepiece EVF weren't enough, there's a tiny, one-inch auxiliary monitor on the camera's top deck that lets you compose from low angles or above the crowd. About $750.