Editor's Choice 2006: Entry-Level D-SLRs
With an innovative 'live' external LCD, the Olympus EVOLT E-330 shows why it deserves to be the Camera of the Year in this entry-level category.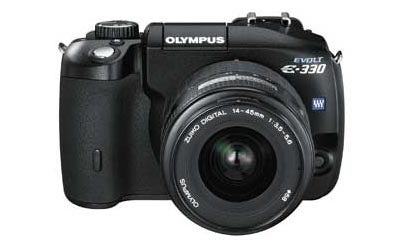 We may earn revenue from the products available on this page and participate in affiliate programs. Learn more ›
The once-exclusive price of digital SLRs has descended to a level at which it's no longer a leap for compact-weaned photographers to leave the point-and-shoot nest. That trend will continue, given this year's big D-SLR news: the foray of CE giants Panasonic, Samsung, and Sony into the field. Yet our choice for entry-level D-SLR of the year is one of the most expensive of this affordable lot. Let us explain.
Until the arrival of this first-of-its-kind model, digital photographers graduating from a point-and-shoot to a D-SLR had to give up a comfortable habit: Composing their pictures with the big LCD screen on the camera back. Instead, they were obliged to use the D-SLR's old-fashioned optical viewfinder, because the LCD screen was only for reviewing pictures already taken.
With the Olympus EVOLT E-330, those photographers don't have to change their ways. In addition to displaying what you've shot, this entry-level D-SLR's big, beautiful LCD gives you a "live" image with which to view and compose your subject. That's no mean feat, because until the instant of exposure, a digital SLR's reflex mirror intercepts light heading for the image sensor-bouncing it into the eye-level viewfinder, where it affords much brighter, sharper focusing and framing than you can get from an electronic viewfinder. How does the E-330 let you have it both ways? A mirror in its sideways, hump-flattening viewfinder diverts light to a smaller, second sensor, which in turn sends its image to the 2.5-inch external LCD screen. The eyepiece view remains entirely optical.
The E-330's hinged LCD screen can tilt up or down, a feature found on some bigger point-and-shoots. This makes the camera a great tool for accurate low- or high-angle composition. The needed hardware adds some thickness to the camera, but we found this a small price to pay for the kind of unobtrusive, waist-level shooting we've been doing all along with digital compact cameras having articulated screens.
Olympus EVOLT E-330 7.4 megapixels/Live MOS image sensor 2X FOV crop 2.5 inch tilting LCD screen About $1,000 It's the first D-SLR that lets photographers compose pictures on a big, "live" external LCD, as well as in its optical reflex viewfinder. Accepts 14 Olympus Zuiko Digital E-system lenses, from 8mm fisheye to 300mm f/2.8 telephoto, plus Four Thirds-system optics from independent lensmakers.
Of course, image quality from the E-330 is far better than what you get from a point-and-shoot, equal in our experience to that of its slightly older eight-megapixel sibling, the E-500. It's enhanced by optional noise reduction for both long exposures and speed settings from ISO 400 to 1600, as well as by the top-notch optics of Olympus's growing Four-Thirds-mount lens range.
Though the Olympus EVOLT E-330 costs several hundred dollars more than its least-expensive entry-level competitors, its live LCD makes it a great beginner's D-SLR-only with more flexibility than any compact, including the creative possibilities of interchangeable lenses. Just remember that when you mount that big tele you've saved up for, you'll have a hard time holding the E-330 steady if you're composing at arm's length on its LCD. Then it will be high time to bring the camera to your eye.
The significance of this modestly priced model belies its small proportions. It heralds the entry of Samsung into the D-SLR market. The GX-1L's resemblance to the Pentax K100D is no coincidence; it's the product of Samsung's collaboration with Pentax. The body is featherweight but solid, and its mount accepts 40-odd Pentax K-mount AF and manual-focus lenses in addition to two Schneider D-Xenon zooms, an 18-55mm and a 50-200mm.
Despite the camera's small profile, its viewfinder is bigger than those in several higher-priced models, and its LCD is notably large (2.5 inches) and sharp (210,000 pixels). At this price the GX-1L has simplified autofocus and a modest image buffer, and lacks the K100D's image stabilization. But it includes features you wouldn't expect in a starter model, such as a true spot meter and sensitivity up to ISO 3200. (An extra $100 will buy you the Samsung GX-1S, which offers 11-point AF and more shots per burst.)
Samsung GX-1L 6.1 megapixels/CCD image sensor 1.5X FOV crop 2.5-inch LCD screen About $600 (with kit lens) An ultracompact D-SLR that's surprisingly advanced for its price, with a best-of-class viewfinder and access to dozens of Pentax K-mount lenses.
It is tempting to dismiss the K100D as a slightly tweaked six-megapixel Pentax D-SLR — until you spy a switch on the camera back marked with a shaky-hand icon, ordinarily only found on EVF models. The icon signals the unusual presence of image stabilization. What's unusual is that the K100D's stabilizer system is not built into individual lenses, as with the Canon and Nikon systems; it uses micromotors in the camera body to shift the image sensor sideways (and up and down) to counteract image-blurring camera movement.
Like lens-based systems the K100D's lets you shoot at shutter speeds up to three stops slower than you'd otherwise have to set for sharp handheld results. And like Konica Minolta's late Anti-Shake system, Pentax's Shake Reduction has the advantage of working with any of the nearly four dozen lenses in the Pentax line. The only real disadvantage of sensor-based image stabilization in a digital SLR is that unlike the lens-based approach, you can't actually see it steadying the image through the optical viewfinder. But given the K100D's low price, which includes an 18-55mm f/3.5-5.6 Pentax DA lens, we can't complain. Besides, you also get an 11-point AF array; a "digital preview" that stores a shot in a temporary buffer so you can check and delete it faster; and eight new scene modes, including one purported to make kids look healthier. No kidding.
Pentax K100D 6.0 megapixels/CCD image sensor 1.5X FOV crop 2.5 inch LCD screen About $700 (with kit lens) Few things do more to improve photographic quality than image stabilization, and this model builds it into the camera body-at an entry-level price.