Editor's Choice 2006: Digital Compact Cameras
American Photo Editor's Choice Digital Compact of the year, the Fujifilm FinePix E900, plus 5 other top picks.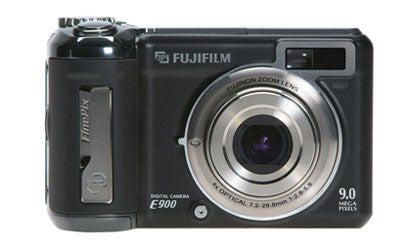 We may earn revenue from the products available on this page and participate in affiliate programs. Learn more ›
When you can get a digital point-and-shoot that's the size of a deck of playing cards (minus 26 cards), why would you buy a standard-sized compact camera? For one thing, its bigger, more ergonomic body is easier to hold steady — increasing image sharpness. It often has a more generous zoom range than an ultrathin model. Its lens is likely to be faster too, making for more adept low-light and action shooting. And for a given set of features, a standard compact is simply less expensive.
Fuji's top compact follows the time-honored hot-rodder formula: Take a big, powerful engine and transplant it into a small, unlikely body. The big engine is the nine-megapixel CCD from the Fujifilm FinePix S9000, one of our top EVF models. The body is a satin-black-and-silver point-and-shoot that slips easily into a coat pocket. The Fujifilm FinePix E900's 4X zoom, a 32-128mm (35mm equivalent) f/2.8-5.6, is both wider and longer than the usual point-and-shoot lens, and pretty fast at its shorter focal lengths. Its superior sharpness and the camera's top-of-class megapixel count yield image resolution of more than 1,800 lines per inch, as tested by our sister magazine, Popular Photography. That's superior to a number of current D-SLRs.
Fujifilm FinePix E900 9.0 megapixels/CCD image sensor 4X zoom (32-128mm equivalent) 2.0-inch LCD monitor About $325This high-res powerhouse delivers the image quality of a D-SLR at a point-and-shoot price.
Meanwhile, the E900 does a remarkable job of controlling digital noise, usually the bane of compact cameras with small sensors. At its top speed of ISO 800, low noise makes the camera genuinely usable in dim light. Other similarities to the S9000 include fast start-up, capture, and write-to-card speeds, with hardly any noticeable shutter lag-also unusual in a compact. That performance is complemented by such advanced features as easy-to-use manual exposure control, RAW capture, a live histogram, and a movable AF point. The E900 even shoots VGA video at 30fps. Given the capabilities of this little camera, D-SLR users may be tempted to leave "the good camera" at home.
Other Top Cameras
It may look no different than its cool, compact siblings, but this new model packs a surprise: 802.11b/g LAN support, more commonly known as Wi-Fi. The Coolpix P3 lets you send shots wirelessly to a nearby Wi-Fi-enabled computer; they can even be transmitted directly to Wi-Fi-enabled, PictBridge-compatible printers. The P3's image quality is excellent, thanks to its eight-megapixel sensor and Vibration Reduction (VR), a technology originally developed for Nikon SLR lenses. The P3's zoom is equal, in 35mm, to 36-126mm; images are displayed on a crisp 2.5-inch LCD monitor. About $450.
A case study in how much can be stuffed into a standard compact, the Canon S80's specs read more like those of a digital SLR-starting with eight megapixel capture, short shutter lag, and a 28-100mm f/2.8-5.3 (equivalent) aspherical zoom. But some of its features are found on no D-SLR. These include the ability to record movies in XGA resolution (1,024×768 pixels) at 15fps and in-camera fixes such as skin-tone adjustment, single-color saturation control, and color swaps. All that folds up into a robust metal clamshell body with a big 2.5-inch LCD. About $430.
True to Leica tradition, this eight-megapixel model is well suited to candid photography. Its 4X DC Vario-Elmarit zoom, equivalent to 28-112mm f/2.8-4.9, offers both wide-angle and moderate-tele shooting. In addition to its AE modes, the D-Lux 2 lets you set f-stop and shutter speed manually-control seldom found in compacts. Most unusual, though, is a choice of three aspect ratios: wide-screen 16:9, 35mm-style 3:2, or standard 4:3. The 2.5-inch LCD is masked to show your choice. About $750.
BEST BUY
Though it's not ultrathin, HP's eight-megapixel contender is smaller than the proverbial deck of cards. Yet it incorporates a three-inch LCD that's huge by compact standards. The screen is large enough for comfortable composition at arm's length, sometimes a challenge with smaller LCDs. The R927 has a sharp 3X zoom that's equivalent to a classic 35-105mm in 35mm, and it offers extensive image-enhancement technologies, including "adaptive lighting" to increase highlight and shadow detail. About $400.
Olympus has made a technological habit of packing advanced features into very small cameras. This model continues that custom, offering eight-megapixel image quality and a 2.5-inch LCD in a body that fits into the palm of your hand. Internal seals protect the weatherproof Stylus 810 from moisture and dust for safe shooting in the rain, on the slopes, or at the beach. Its respectably fast 35-105mm f/2.8-4.7 (equivalent) zoom is supported by sensitivities of up to ISO 1600. Even at lower settings, camera shake is unlikely to blur your pictures because the Stylus 810 incorporates optical image stabilization. About $440.