Editor's Choice 2006: Camera Lenses
American Photo's editors choose the top ten camera lenses from 2006.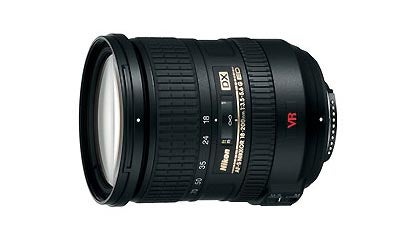 This year our favorite new lenses are evenly split-between those designed for full-frame 35mm coverage and optics specifically made for the smaller-than-35mm chips found in all but a couple of digital SLRs. Does this mean that 35mm film photography is alive and well? Or that lens makers are expecting us to clamor for full-frame digital SLRs?
Nikon 18-200mm f/3.5-5.6G IF-ED AF-S DX VR II
Though not a standard zoom by any stretch, this new optic is featured on one of our cover cameras, the Nikon D200. That's because it's compact enough to keep on your Nikon D-SLR for everyday shooting-yet it delivers a 35mm-equivalent focal-length range of about 28-300mm. The price of that remarkable range is a relatively small, variable maximum aperture. This would ordinarily limit your ability to shoot in low light, since smaller apertures require slower shutter speeds-speeds often too slow for sharp handheld shooting, especially at the supertele focal lengths this lens offers. But the lens compensates for that with Nikon's VRII technology, second-generation Vibration Reduction that steadies the shot enough for handheld pictures at shutter speeds up to four stops slower than you'd otherwise need, as opposed to the three stops of first-generation VR lenses. About $750.
View specs and pricing.
The usual macro focal lengths (50mm, 60mm, 100mm, and 105mm in 35mm) don't cut it for many photographers. They prefer a longer lens for two reasons: It provides more working distance between the camera and a small subject; and its narrower angle of view gives you a smoother, less mottled background to set off your subject. Though this new Sigma macro delivers its nominal focal length on a 35mm or full-frame D-SLR, it produces the equivalent of 225mm or 240mm on a Nikon or Canon D-SLR with an APS-C-sized image sensor. About $600.
View specs and pricing.
(BEST BUY)
Since it's designed for the smaller-than-35mm image sensor in Pentax D-SLRs, this unique fisheye can get by with a smaller image circle-and with reduced size, weight, and cost. Yet with zooming: At 10mm it delivers the 180 degrees you'd expect from a full-frame fisheye, but zoom to 17mm and you get a less curvy 100 degrees. Closest focusing is 5.5 inches-a good thing, since you'll want to get really close. About $400.
View specs and pricing.
Zeiss's new lenses for the Nikon F-mount are a gift to photographers discouraged by Nikon's recent discontinuation of all but a few of its manual-focus optics. The manual-focus ZF series aims to bring the undisputed sharpness of the late Contax line to Nikon users, with enhancements reportedly borrowed from Zeiss motion picture lenses. In addition to the 85mm f/1.4, a lens Nikon will no longer offer in manual focus, a 50mm f/1.4 is now available; a prime wide angle and macro lens are expected. Cheer up, all you Nikon F6 users.
View specs and pricing.
Optics like this make it hard to argue that D-SLR photographers have more limited choices than their 35mm counterparts. A Four Thirds-mount lens for Olympus E-series digital SLRs, it's the equivalent of 35mm's venerable 16mm fisheye. Its controlled distortion combines with a 180-degree angle of view to make for bending and bulging special effects. Put the splash-resistant Zuiko 8mm on an EVOLT E-300 in the new Olympus PT-E01 underwater housing, though, and you can use it to create dramatic near-far compositions without the usual curvature, because the underwater world lacks dry land's straight lines and horizon. About $700.
View specs and pricing.
(BEST BUY)
This "standard" zoom for Canon, Nikon, Konica Minolta, and new Sony D-SLRs with APS-C-sized sensors isn't really standard at all: While most such lenses have variable maximum apertures (f/3.5- 4.5 is typical), this one stays at a fast f/2.8 throughout its focal- length range, about equivalent to 26-75mm in 35mm. This means you don't end up with slower shutter speeds as you zoom to the longer focal lengths at which camera shake is most damaging. That in turn lets you shoot handheld in lower light. And the compact Tamron focuses close -to less than 11 inches throughout its range, for a reproduction ratio of 1:4.5 at 50mm. About $450.
View specs and pricing.
This smart constant-aperture zoom trades a stop of speed, compared to Canon's EF 24-70mm f/2.8L IS USM, for higher magnification and lighter weight-with no increase in size (it's actually a little shorter) and only a small increase in price. The one-stop loss is more than offset by the 24-105mm's incorporation of Canon's image stabilization (IS), which means you can shoot handheld in light levels still two stops lower than possible with the 24-70mm (provided you don't have to freeze subject movement). Because this new pro zoom is not an EF-S lens-it fully covers the area of a 35mm frame-it's well suited to use with the new Canon EOS 5D D-SLR (see page 68), which has a full-frame image sensor. About $1,200.
View specs and pricing.
This zoom is is a perfect match for Panasonic's new Lumix DMC-L1 D-SLR-a Leica lens for a camera that looks like an M-series rangefinder. Designed for Four Thirds-mount D-SLRs, it's the equivalent of 28 -100mm in the 35mm format, and even has built-in image stabilization, smoothing out the L1's "live" LCD. Talk about a nod to tradition, this lens even has a manual aperture ring.
View specs and pricing.
If you have your eye on the Canon EOS 30D, this could be the perfect all-around lens for it. Its focal-length range is equivalent to 27-88mm, with a fast, constant f/2.8 maximum aperture throughout. Optical quality is comparable to that of Canon's premium L-series lenses for full-frame cameras (only with a more manageable price), and is maximized by built-in optical image stabilization. About $1,180.
View specs and pricing.
Macro photography is usually best served by a tripod, because the closer you shoot the more any image-blurring shake is magnified. But this new Micro-Nikkor recognizes that photographers love to shoot handheld closeups: It incorporates Nikon's Vibration Reduction technology, which lets you use much slower shutter speeds and still get sharp results. This is especially valuable in macro work because it lets you set smaller f-stops, often needed due to the inherently shallow depth of field. Though the lens covers full-frame 35mm, put it on a Nikon D-SLR and it's equivalent to 157.5mm. About $830.
View specs and pricing.