Editor's Choice 2006: Advanced D-SLRs
The midpriced Nikon D200 D-SLR offers nearly the same image quality, and most of the features, of Nikon's professional D2X -- in a smaller, lighter, and much more affordable package.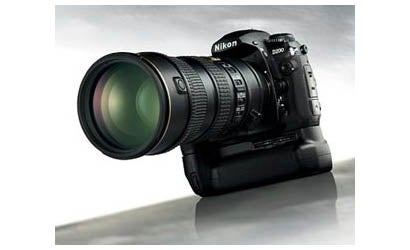 We may earn revenue from the products available on this page and participate in affiliate programs. Learn more ›
If we had to pick a single American Photo camera of the year, the Nikon D200 would take that honor. Its combination of high-quality image capture, durability, speed, technology, and handling makes it best of class, and it can be had for way less than a "professional" model. This digital SLR defines its category: Advanced.
Midpriced digital SLRs are getting so good that even the most serious photographers should think twice before spending thousands of dollars on a so-called professional model. The Nikon D200, long-awaited successor to the aging, if well-regarded, Nikon D100, is a case in point. The camera manages to squeeze most core features of the top-of-the-line Nikon D2X (see page 70) into a smaller, lighter package that's actually closer in price to the entry-level D70s and D50.
Indeed, the D200's next-generation 10.2-megapixel CCD approaches the resolution of the 12.2-megapixel CMOS sensor in the D2X. The smaller-than-35mm "chip" is well served by Nikon's DX lenses, but this 21st-century camera is also compatible with nearly every F-mount optic made since 1959.
Strengths inherited from the D2X include the D200's sturdy magnesium-alloy chassis and full weather sealing, the latter not found in other cameras in this price range. The new model's appearance, feel, and traditional control layout also mirror the D2X, but a 25 percent reduction in height and weight makes it more portable. Its oversized top-deck information panel and sharp 2.5-inch color LCD screen are easy to read, the latter offering a superwide viewing angle. Similarly, the camera's viewfinder is one of the biggest in its class.
The D200 is extremely responsive, with near-instant start-up, minimal shutter delay, and very brief mirror blackout. Its maximum 5fps shooting speed is just shy of the D2X's standard 5.3fps. The camera lacks its pro sibling's 8fps High Speed Crop mode but bests the D2X in continuous shooting capacity. Its 11-point AF system is as fast and accurate as the one in Canon's EOS 30D, but more advanced in terms of configuration options.
Nikon D200 10.2 megapixels/CCD image sensor 1.5X FOV crop 2.5 inch LCD screen About $1,700 Midpriced D-SLR offers nearly the same image quality, and most of the features, of Nikon's professional D2X — in a smaller, lighter, and much more affordable package. You get state-of-the-art auto-focus and exposure control, full weather–proofing, great ergonomics, and compatibility with almost every Nikon lens ever made. Nikon's 18-70mm ED adds $300.
The new model even gets the D2X's superb menu system and encyclopedic customization. Other standout features include its easily accessed mirror lockup; interval timer; textual captioning function; and control of wireless i-TTL strobes from its pop-up flash. The camera is a true system machine, compatible with third-party GPS receivers as well as the new Nikon WT-3 wireless transmitter and optional MB-D200 battery grip.
We found the D200's image quality to be superb — only slightly less detailed than that of the $2,700 Canon EOS 5D (see page 68) and the $4,000-plus D2X, with slightly less graininess than the latter. (It requires stronger noise reduction, whether in-camera or using RAW software, to compete with the EOS 5D or EOS 30D at high ISOs.) In our May/June issue, we said that the Nikon D200 was the best midpriced D-SLR you could buy — but that readers should check this issue to see if it held on to that lead. It did.
Had Nikon not claimed the category with its D200, Canon's EOS 30D would be our choice for Advanced D-SLR. Buff successor to the EOS 20D, the 30D builds on that camera's strengths while borrowing features from its full-frame sibling, the EOS 5D.
At $300 less than the D200, the EOS 30D gives Nikon a run for its money. Its shooting speed is 5fps, same as the Nikon D200. The EOS 30D's burst depth is comparable, at about 50 Large/Fine JPEGs. And we think its autofocus is faster in low light.
Despite its two-megapixel disadvantage, the 30D actually does a better job of controlling noise. Add that to Canon's numerical lead in IS lenses and you have a top-notch tool for low-light shooting.
Canon EOS 30D 8.2 megapixels/CMOS image sensor 1.6X FOV crop 2.5 inch LCD screen About $1,400 Made to order for fast action and low-light photography, this serious upgrade of the Canon EOS 20D costs hundreds less than the rival Nikon D200.
The 30D has a tough magnesium-alloy body, though it's not weatherproofed like the D200's; an ample 2.5-inch LCD screen with a 170-degree viewing angle; a 3.5 percent spot meter; improved long-exposure noise reduction; and an optional wireless file transmitter and battery grip. If the Nikon D200 is refined, the Canon EOS 30D is a scrappy challenger.
Though Olympus gets credit for creating the world's first D-SLR with a "live view" LCD screen, this close second arrives with advanced advantages — and the unmistakable look and feel of a Leica rangefinder. Panasonic's top Lumix is cosmetically and mechanically distinct from the Olympus E-330, but both models share core components, the result of one of the new alliances between camera companies and consumer electronics colossi.
Panasonic Lumix DMC-L1 7.5 megapixels/Live MOS image sensor 2X FOV crop 2.5 inch LCD screen 4/3 mount Kissing cousin to the Olympus EVOLT E-330, Panasonic's first D-SLR has the look and feel of an M-series Leica rangefinder-with a live LCD screen.
Panasonic developed the unique 7.4-megapixel Live MOS chip employed by both cameras. Olympus contributed both the sideways porro finder, which is why the L1 can affect its M-like flat top, and the valuable Supersonic Wave filter, which shakes dust off the image sensor. But unlike the E-330, which for normal shooting gets its live view from a small second sensor, the Lumix relies on the Live MOS chip to create a crisper, more detailed image on the LCD. (The L1's screen is fixed, not articulated as it is in the E- 330.) And the DMC-L1 is sharp in every other way, with premium build quality and traditional, manual-style controls.