Editor's Choice: 10MP DSLRs
Ten-megapixel D-SLRs are coming fast, furious, and very affordable.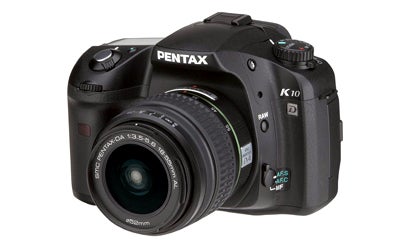 We may earn revenue from the products available on this page and participate in affiliate programs. Learn more ›
Nikon D80
Hard on the heels of Nikon's advanced-level D200, this newcomer costs $700 less — yet gives you identical image quality and many of the same assets, in a package made smaller in part by the switch to SD memory cards. These include its 10-megapixel CCD image sensor; a large, bright viewfinder; and a 2.5-inch LCD. The D80 also offers speeds from ISO 100 to 3200, wireless flash control, and D-Lighting processing (which does in camera what the Shadow/Highlight tool does in Photoshop). Though its files are bigger than those of the six-megapixel Nikon D70s, the D80 doubles that model's continuous-burst rate to 23 Large/Fine JPEGs. About $1,000.
Pentax K10D
The first ten-megapixel D-SLR from Pentax, this camera features trendsetting 22-bit analog-to-digital conversion and image processing that's two-and- a-half times faster than in outgoing *ist D models. Its sculpted body is bigger and heavier than the six-megapixel K100D and K110D, and unlike those models is weatherized. While its K-series siblings run on AA cells, the K10D takes a dedicated Li-ion battery good for 730 shots per charge. Standout K10D features also include the biggest, highest-magnification viewfinder in its class; interchangeable focusing screens; and sensor-shifting Shake Reduction. All for about $900.
Canon EOS Digital Rebel XTi
From the front it's a dead ringer for the eight-megapixel EOS Digital Rebel XT. But in back, Canon's third-generation entry-level D-SLR distinguishes itself with a high-res, wide-view 2.5-inch LCD that doubles its predecessor's area. (The screen also serves as a huge alphanumeric display.) Still petite, the XTi is the first Canon to be fitted with the company's own 10.1-megapixel CMOS sensor, which we're anxious to test against the 10-megapixel Sony CCDs used by competitors. Also first in a Canon body, the new chip is "dusted off" with the shake of a piezo motor. About $800.