Canon EOS Digital Rebel: Welcome to the Revolution
This new 6.3MP SLR breaks the under-$1,000 barrier-with a zoom!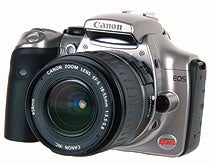 We may earn revenue from the products available on this page and participate in affiliate programs. Learn more ›
Download our
Canon EOS Digital Rebel Full Test
-requires Adobe Acrobat Reader
>> HOT DEALS!
Compare Prices