Canon EOS 50D: First Look
15.1 megapixels, a 6.3 frames per second burst rate, a high-resolution LCD screen, and Digic 4 processing top the list of improvements on a new top-of-the-line APS-C EOS SLR.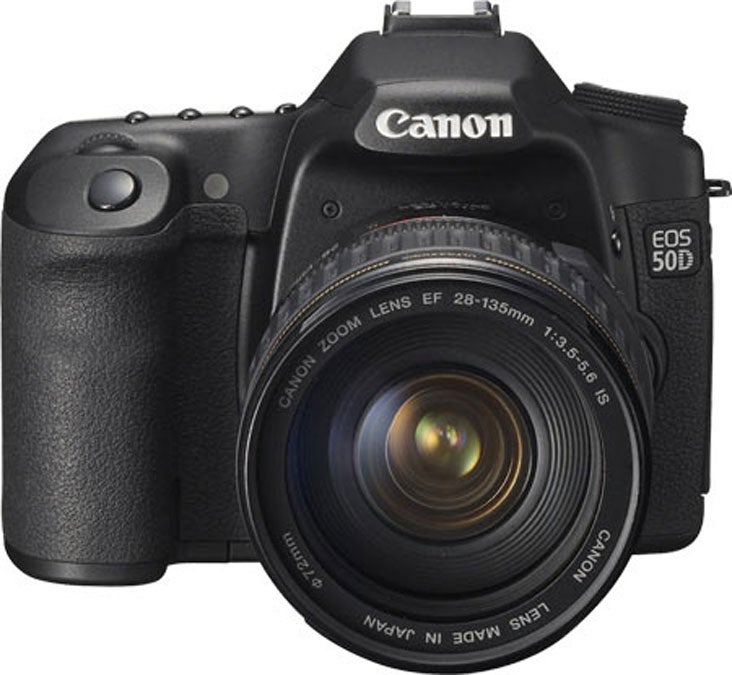 We may earn revenue from the products available on this page and participate in affiliate programs. Learn more ›
While Nikon and Sony have been swinging for the fences with full-frame pro-level SLRs, Canon just seems to be swinging for a solid hit with its new mid-level DSLR, the EOS 50D.
An upgrade of the 40D, this DSLR lands in early October with a body-only price of $1,399. Though Canon insists it doesn't replace the 40D (which now drops to $1,099 street), the 50D has enough new imaging firepower to trim the 40D's long-term prospects.
The chassis and body are familiar, but the 50D packs a new 15.1-megapixel APS-C format CMOS sensor (1.6x 35mm lens factor) as well as a next-generation Digic 4 processor and 14-bit A/D conversion.The implications are many. For starters, a w-i-d-e standard ISO range of 100 to 3200, along with expansion modes of ISO 6400 and 12,800. And, says Canon, despite the increase in megapixels, you can crank up the ISO and get less noise than you would with a 40D at a lower setting.
The large files don't hinder the burst rate, either. Try 6.3 frames per second at up to 90 Large Fine JPEGs or 16 RAW files if you slip today's fastest UDMA card into the CF slot. As faster cards come, expect this number to rise.
Shoot RAW? You'll like new settings that let you choose from a large, medium, or small RAW file, expanding on the sRAW concept available in some current Canon models. And never fear, you can still set any of these for simultaeous RAW+JPEG capture.
Other new whiz-bang includes vignetting correction. Picked up from Canon's Digital Photo Pro software, it uses an in-camera database to correct for aberrations in various Canon lenses.
Fluorine coatings on the low-pass filter and the 3-inch, 920,000-dot LCD mean less dust on the sensor and fewer smudges on the display, says Canon. Want an even bigger view of your photos? Plug a high-Def TV into the mini-HDMI port.
While much of the 50D is pro-caliber, there's a lot for the move-up amateur, too. For instance, face detection in the live view. And the new "Creative Auto" setting that's a cross between full Automatic and Program. It's smart, but it lets you make exposure, ISO, white-balance, and other decisions with easy-to-grasp on-screen slider controls and explanations.
The 50D will be packaged with a 28-135mm f/3.5-5.6 EF IS lens that boosts the base price by just $200. But for more range, consider the new $699 18-200mm f/3.5-5.6 EF IS lens that debuted with the camera. It isn't offered in a kit (yet), but say Canonites, it promises sharpness far above typical kit glass.
Stay tuned to PopPhoto.com for our full tests of the new camera and lens. But in the meantime, there's no doubt that Canon has swung and connected.