The Camera Of The Year 2004: The Nikon D70 SLR
Our Editors' Criterion: The camera that best refines or redefines photography.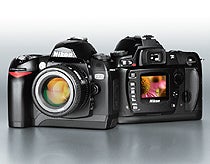 We may earn revenue from the products available on this page and participate in affiliate programs. Learn more ›
The Nikon D70 was precisely the camera that the photography world needed this year.
A revolution began in 2003 with the Canon EOS Digital Rebel — its $899 sticker, its 6.3-megapixel sensor, and its attitude of "Everybody into the digital SLR pool; the water's fine!"
The question for '04 was how quickly a camera maker would seize on this revolutionary fervor, and add some sophistication, features, fine-tuning, and, well, "maturity" to what the D Rebel had wrought…without pushing the price to a pro-caliber level.
Nikon worked fast, and we had our hands on a nearly completed D70 in time for our May issue. As that article and our lab test of a production model in our June issue showed, Nikon got it right.
For sheer technical virtuosity, there's the D70's color accuracy — as of this writing, the best of any digital SLR we've ever tested. And its startup time — nearly instantaneous. Plus a burst mode that gives you more than a dozen Fine-quality JPEGs at 3 frames per second. There's also the hefty, well-balanced feel to this camera with its polycarbonate skin over a stainless-steel chassis.
It has the look, feel, and functions that have led many pros to make the D70 their backup or even primary camera. After all, it joins the Nikon family without having to sit at the kids' table. That is, all of the Nikon lenses (including the new digital-only DX series), flashes, and accessories that work with the other members of the clan work on the D70.
Yet for all the pro-caliber talk, this camera reaches out to beginners. With its program modes, extensive but easily understood menus including handholding help menus, this camera really does allow any photographer to move smoothly and painlessly into a digital SLR.
And the D70 does it for a reasonable price — $999 street for the body, and $1,299 with an 18-70mm f/3.5-4.5G AF-S DX Nikkor.
Drawbacks? Yes, a bit of tunnel-vision through the viewfinder. The 1.5X 35mm lens factor requires superwide-angle lenses to get even wide-angle shots. And a price that's starting to look a bit high by the standards of 2005.
But then, that gives next year's Camera of the Year something to aim for.