Camera Test: Sony Cyber-Shot DSC N1
Who needs buttons when there's touch-screen control?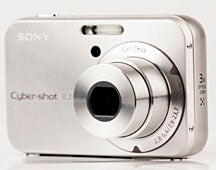 We may earn revenue from the products available on this page and participate in affiliate programs. Learn more ›
Packing 8.1 megapixels and a Carl Zeiss 3x Vario-Tessar 2.8-5.4/7.9-33.7 zoom lens (38mm-114mm equivalent), the Sony Cyber-Shot DSC-N1 puts a serious face forward. This solidly constructed brushed silver camera looks like a major player in the 8MP compact class.
Turn the camera around and the clean silver lines are replaced by a 3″ LCD, which takes up almost the complete reverse side of this camera. There are only two small buttons–a side-mounted playback/camera/movie switch, and a zoom controller on the far right of the camera. This big screen is more than just the viewfinder and playback screen. Tap the "On-screen" button, and the LCD comes to life as a touch-screen interface to control almost all of the camera's functions for both shooting and playback.
Once you get the feel for it, the touch-screen works well. The screen itself is sensitive, but not overly so–a light, decisive tap with a fingertip or thumb and you'll be navigating menus, selecting white balance, and setting up in-camera slideshows with music in no time. If you prefer, there's also a touch-screen stylus for tapping the screen.
The camera performed well in the lab, putting up good numbers in several categories. Resolution is Extremely High from ISO 64 to ISO 400, and Very High at ISO 800. Color Accuracy is High (Average Delta E: 10.54, ISO 64, Auto White Balance), Noise is Very Low at ISO 64 (1.4), Low at ISO 100 (1.75), Moderately Low at ISO 200 (2.37), Moderate at ISO 400 (2.66), and Moderately Low at ISO 800 (2.35).
Focus in sunny outdoor conditions, without flash, is very quick. Indoors, in lower light without flash, focus slows noticeably. Indoors with flash, the camera fires some pre-flashes and it is a bit more than 1 second from pushing the shutter button to image capture. In 8MP burst mode, the camera achieved focus and fired off 4 shots in 5.3 seconds. There is no flash in burst mode. Additionally, there is "Multi-Burst Mode" which shoots 16 small images in rapid succession and outputs a single 1MB file showing the photos in sequence, which might be handy for analyzing a golf swing or tennis backhand. Interval duration can be set to 1/30, 1/15, or 1/7.5 second. Pay attention when switching out of Multi-Burst mode–the camera keeps itself set to 1 megapixel afterwards.
The DSC-N1 gives you a lot of creative control. There are three metering patterns: Multi, Center, and Spot. It also offers full manual control of aperture, shutter, and even manual focusing. Exposure can be bracketed to +/-3, +/-7, or +/-1. There is a flash compensation available as Flash Plus and Flash Minus, which is not adjustable beyond that. There are saturation and sharpness adjustments available as well. Noticeably missing, however, is a manual white balance setting. When flash is activated, the only white balance options are Auto and Flash.
When clean, the self-adjusting LCD handles most lighting conditions–including bright sun–very well. After a few on-screen menu selections, finger smudges and grease marks can be an issue, especially outdoors. It might be a good idea to carry a small microfiber cloth in your bag, or to utilize the stylus religiously.
On the playback side, the Sony DSC-N1 has features such as DPOF for printing directly from the camera, resizing of files, and image rotation. There is also a "Paint" option that lets you draw directly on your photo, or add patterns like snowflakes or hearts to the image. Additionally, the DSC-N1 has an advanced slideshow function, which has four transition effects, and four built-in musical selections. You may also add your own music play during an in-camera slideshow.
With its combination of high megapixels, various slideshow features, and sensitive touch-screen, the Sony Cyber-Shot DSC-N1 will have people talking whenever you take a photo.
What's Hot:
Touch-screen interface on large LCD means fewer tiny buttons
In-camera slideshow options makes sharing photos fun
Lots of creative control
What's Not:
No manual white balance setting
Color accuracy could be better
Touch-screen gets smudgy after a few on-screen adjustments
Certified Test Results
Color Accuracy: High (Average Delta E: 10.54, Auto White Balance, ISO 64)
Resolution (VxHxD): Extremely High at ISO 64 to ISO 400 (1647, 1657, 1522, 1515), Very High at ISO 800 (1392)
Noise: Very Low at ISO 64 (1.4), Low at ISO 100 (1.75), Moderately Low at ISO 200 (2.37) Moderate at ISO 400 (2.66), Moderately Low at ISO 800 (2.35)
Lens Distortion: Visible Barrel at 38mm (.39%), Imperceptible Pincushion at 76mm (.09%), Slight Pincushion at 114mm (.13%)
Dimensions: 2.4″ x 3.8″ x 0.9″, 6.5 oz with battery and Memory Stick Duo Pro card.
In the Box: Camera, NP-BG1 rechargeable battery, BC-CS3 battery charger, A/V/USB multi-connector cable, wrist strap, stylus, software CD-ROM (Picture package for Sony v1.6.1 Pixela, ImageMixer VCD2, USB driver, ImageMixer VCD2 and music transfer), user's guide, 1-Year U.S.A. limited warranty
Street Price: $450