Camera Test: Sony Cyber-shot DSC-H3
Does Sony's first pocket-sized 10x zoomer have what it takes to compete in a crowded field?
We may earn revenue from the products available on this page and participate in affiliate programs. Learn more ›
Not to be outdone by Canon and Panasonic, Sony offers up the new 8.1-megapixel Cyber-shot DSC-H3 (street: $269), a retro-styled but thoroughly modern 10x optically stabilized compact camera packing a 38-380mm f/3.5-4.4 (35mm equivalent) Carl Zeiss Vario-Tessar lens, full manual controls, 1080i still image HD output with an optional HD cable, Dynamic Range Optimization, Face Detection autofocus and autoexposure, and polyphonic sounds that will either delight or annoy you. Inside, it's got a Bionz engine, like its Alpha-line big brothers, and this helps it burst 100 shots at nearly 2 frames per second at full resolution. But unfortunately, it doesn't have nearly as gorgeous an LCD as the Sony A700. Nope, there's just a grainy 115,000 pixel 2.5 inch LCD beneath an SLR-style prism and strobe bump. But as is typical of the 10x pocket camera, there's neither an optical viewfinder, nor an EVF on the H3.
The obvious question is: does the Sony H3 have what it takes to be a serious contender in the growing 10x pocket zoom category? There's serious competition from the 7-megapixel Panasonic Lumix DMC-TZ3, the 8-megapixel Canon PowerShot SX100 IS, and let's not forget about Nikon's shape-shifting 6-megapixel Coolpix S10.
We'll spare you the suspense. Yes, the Sony Cyber-shot DSC-H3 is a mostly impressive 10x pocket camera, offering a lot of performance in a not-too-expensive little package, although high ISO image quality is lacking.
IN THE HANDS
The Sony H3 comes with a two-point neck strap which balances the camera nicely when the removable lenshood is attached. Without the lenshood, this camera will be pocketable by most folks, but add the oversized two-piece lens hood, and only a circus clown could stash this camera away in his pants pockets. The smaller section of the lenshood screws securely to the camera body, but the second piece of the lenshood doesn't lock tightly enough onto the shorter barrel. You might think to consider skipping the bigger barrel, unless you're in serious lens flare situations, but it does provide a good left-hand anchor for bracing the camera for long-reach opportunities (and also helps keep stray fingers into the shot at wider angles!). And the two-piece design allows it to be partially reversed, for slightly more compactness.
The composite body feels solid enough, and most buttons and dials are well-damped — but we'd like a bit more resistance on the mode dial. The camera feels designed for easy one-handed operation — the sole exception being the Playback button, which is placed above the LCD screen, probably to avoid accidental switching to playback mode while shooting.
Despite the low pixel count on the LCD monitor, the menus and icons are clean and crisp gray tones, backed by white bounding boxes, and the interface is elegantly modern and easy to read and navigate. Most of the image quality adjustments are menu-driven, though the four-way array does allow for macro or normal focusing, strobe settings, and self-timer. This helps keep the external lines of the camera relatively uncluttered by dedicated buttons, and the menu-driven items are laid out well enough for easy, intuitive switching between adjustments. It's one of the better laid-out menu systems we've seen recently.
IN THE POPPHOTO LAB
The Sony H3 has excellent image quality at ISOs 100-200. Noise is Very Low at ISOs 100 (1.2) and 200 (1.4) and Low at ISO 400 (1.9), 800 (1.9) and 1600 (1.9), and just Moderately Low at ISO 3200 (2.0). Obviously, there's noise filtering going on at ISO 800 and above, and it shows in the Resolution results: Extremely High at ISO 100 (1725), but dropping to Acceptable at ISO 1600 (1160) and further to Unacceptable at 3200 (975). Color Accuracy is Excellent, with an Average Delta E of 7.95, ISO 100, Auto White Balanced.
Shadow and Highlight detail is very good at low ISOs, particularly when Dynamic Range Optimization is activated, although there might be a touch more noise in those opened-up shadows and midtones at higher ISOs. Also, even with DRO activated, deep shadow detail gets blocked up at high ISOs. At the default settings, contrast and saturation are average at all ISOs, getting less saturated and contrasty as the ISOs rise.
We're not very impressed with the wide-angle distortion results, which show Visible Barrel Distortion at 38mm (.48%). At 190mm (5x), there's Imperceptible Barrel distortion (.03%), and at 380mm (10x), there's Imperceptible Pincushion Distortion (.08%).
In our telephoto stabilization field experiments, we were able to get acceptably sharp edges down to about 1/80 second — just about two full stops based on the reciprocal focal length rule. Video capture at full zoom with Image Stabilization did a very good job handling typical camera drift, but if it's cold enough to shiver, it'll show up in your video as shakes. At wide angle, stabilization is very effective in handling typical camera drift and sway, and even a case of the shivers is handled OK. Although it cannot totally get rid of the shivers, it handles them well enough.
Also, the rechargeable Lithium-Ion battery is CIPA rated at 330 shots.
NO STROBE POP-UP SWITCH?
One thing that's noticeably missing from the Sony H3? A flash pop-up switch.
You can manually pull open the strobe, but it's not the most graceful of solutions. If you set the camera to a mode where the camera decides on flash or not, it'll automatically spring open if the camera thinks flash necessary. You can force the flash to pop up in Manual mode by selecting "Flash On," and when you push the shutter button, the strobe will pop up to reveal a very powerful little strobe that's adjustable to +/-2 in third-stop increments for creative flash exposure compensation, along with forced flash, and slow-sync settings.
At ISO 3200, at wide-angle, it can throw a lot of light. Sony claims about 45 feet — "Strong flash up to 14m (ISO 3200/Wide end)" per an on-camera sticker — and from what we've seen, they're not far off. Sure, as you boost the ISOs you'll gain more reach with any strobe unit, but the H3 can throw a lot of light at high ISOs, even in telephoto. We had no problems lighting up a framed print from 25 feet away at 380mm at ISO 3200, for a perfect exposure. At ISO 3200 at 38mm we also were able to light up an entire 50-foot wide front yard, including a very mature maple tree. While it's not the most exciting image we've ever shot, it does lend credence to the on-camera sticker's claim. Yes, you lose a good deal of resolution and there's some noise, particularly in the blocked-up shadow areas, but that Bionz engine handles it pretty well. For long-reach, low-light situations, the powerful strobe and/or image stabilization should help you nail must-have shots when other cameras will simply leave you in the dark. Of course, with any camera, it's the low ISOs that have the absolute best image quality, but there are times we'd rather bring home must-have shot at high ISOs, warts and all, than no shot at all. You'll want to lose the whole lenshood for wide-angle shots with strobe at all ISOs, or you'll get barrel shadows in the bottom of the frame. Also, there's no flash burst mode whatsoever.
SONY H3: FOCUSING AND FACE-CHASING
In daylight conditions, Autofocus is very fast and accurate, turning the focus boxes green and chirping focus confirmation quickly. Indoors and in darker conditions, Autofocus may be quick with the AF assist beam, or it may search for over a second to achieve focus, depending on the overall scene contrast and detail. The predictive focus in the Advanced Sports mode is impressive, and it did a good job of tracking and capturing moving subjects that were moving at a constant speed — something that many compact digital cameras struggle with. But even with instant review off, in burst mode with Advanced Sports, you don't have a live scene on the LCD after the first shot. This requires you to chase, rather than truly frame, action bursts. Also, when using burst mode, the maximum user-selectable ISO is 400, although when the camera is set to Advanced Sports mode plus burst, the camera may choose ISOs higher than 400.
Face Detection, which in the Sony CyberShot DSC-H3 claims to recognize up to eight faces, is only an option in "Soft Snap" and Full Auto Modes. It was quick to find and track a single face in our experiments, and the skintone exposures are right where they are supposed to be. Why Sony chose to not allow for Face Detection AF in Regular Program and the rest of the shooting modes is an oversight, especially considering that it is running in the background anyway when "Auto Redeye Reduction" is selected.
The Sony H3 supports three speakers and sounds settings: On, Off, or Shutter. If you want to hear the focus confirm beep, you must also endure the full array of annoying chirps squawking away at you with every button and menu option you select. We like the focus confirm beep, and wish that the focus beep was bundled with the Shutter-only option. Quite honestly, an auditory focus confirmation is much more useful than an electronic shutter sound, especially considering that when the camera's review mode is activated, you've got visual shot confirmation right after the shot. After a couple of dives into submenus the chirping sounds grated on our nerves to much we turned the sound completely off.
MODES AND SCENES
We've wanted a 10x pocket rocket with full manual controls, and the Sony almost delivers. Mind you, your aperture is limited to either "wide open (f/3.5-f/4.4)" or "stopped down (f/8-f/10)" with no steps in between at any given focal length, but shutter speeds are selectable in third-stop increments. Combine this with the variable-output strobe at +/-2 in third stops, and it gets closer to total creative control than most cameras in this class, though we'd prefer a few more aperture steps along the way. It will also allow for a three-shot Auto Bracket burst, but at a maximum spacing of +/-1, not really enough for serious HDR image spacing, but it is enough to get a decent variation in exposure on challengingly lit scenes.
As far as Scene modes go, we've seen cameras with more. The Sony H3 offers Beach, Snow, Fireworks, and Twilight, along with dedicated modes for Landscape, Night Portrait, ISO booster (ISO 3200, 8.1 megapixels), Soft Snap (basically a portrait mode with Red-eye preflash, face detection, and a wide aperture), and an Advanced Sports Mode with Predictive Autofocus. It's a pretty basic set, but it will cover most of the usual challenging shooting situations. And really, we can do without "Cuisine" or "Online Auction" on at least one camera this year! It can also shoot stills in 16:9 format, which is particularly useful for displaying on HD TVs with the accessory HD output cable.
But don't think for a moment that you're getting a pocketable HD camcorder! Video capture is simply good old-fashioned VGA resolution (640×480 pixels at 30 frames per second). Like most of its competitors, the H3 doesn't offer optical zoom during video capture, although you can shoot at any focal length, again, like most of its competitors. We also think it's an oversight that a camera that touts its 16:9 still aspect ratio and 1080i still image output doesn't shoot video in any 16:9 format, even if it's only 848×480 px @ 30fps, and not true HD video.
HAVING FUN WITH PHOTOS IN PLAYBACK MODE
Remember that annoyingly speaker that we turned off as soon as we started testing this camera? During playback, it can play one of four "canned music" soundtracks for slideshows, or you can swap out any of the included tracks for your own MP3s up to 180 seconds in length (but depending on the Digital Rights Management of the MP3 file, some might not work). And that speaker is loud and crisp. We're not talking Bose SoundDock quality or volume, but as far as single speakers on a compact digital camera goes, it's probably the best we've seen this year. And of course, those slideshows can be organized by folders, and feature different transition effects, depending on the mood and feeling you want to convey. And with the optional HD cable, the slideshows can be output to an HDTV at full 1080i resolution.
As far as in-camera tweaks that can be applied to your shots, the Sony H3 offers cropping, resizing, DPOF printer settings, trash, and protect, and a couple of silly and fun adjustments. "Serious" photographers probably won't touch the Fisheye Effect, Soft Focus, Cross (4-point starburst) filter, or Partial Color (a circular Desaturation gradient mask) with a 2GB Memory Stick, but we'll bet their kids will love it! Best of all? These are non-destructive to the original file, and can be stacked on top of each other for especially exaggerated effects.
Full-screen thumbnails scroll very quickly in a reduced resolution mode, but once a photo is selected, it pops to full crispness in an instant. Small thumbs can also be scrolled through in 6-up or 12-up display modes, and images can be zoomed up to 5x for detailed focus inspection, although on the low-pixel count LCD, it's tough to really get a feel if the edges are truly razor-sharp.
THE BOTTOM LINE
The Sony Cyber-shot DSC-H3 is a serious player in the 10x pocket zoom category. The design aesthetic is both modern and classic, and a clean and simple interface makes this camera a lot of fun to shoot. Its low ISO image quality is extremely high, although we'd recommend staying at ISO 400 and below when fine detail is a must. At high ISO, aggressive noise filtering makes for smooth images without obnoxious amounts of noise, although this does come at the serious expense of resolution. But there are times when we are willing to make this tradeoff, and unless there is superfine detail that is critical to the image integrity, we'd rather have a smoother, lower resolution image a lot of times than a speckled, noisy mess that we've got to apply post-production noise fixes to anyway.
We wish the 10x zoom was a little wider at the wide end (and with less barrel distortion) for landscape and touring photography, but we do love the nearly 400mm (35mm equiv) reach. There are times when the light is extremely low and not getting the shot is simply not an option. In these situations, the Sony Cyber-shot H3 has a nice feature set that can help make the can't-miss shot.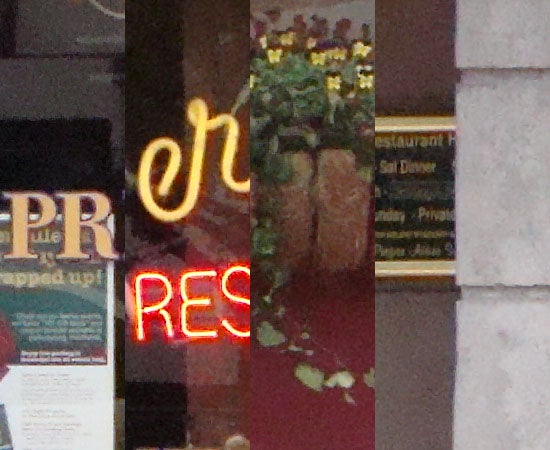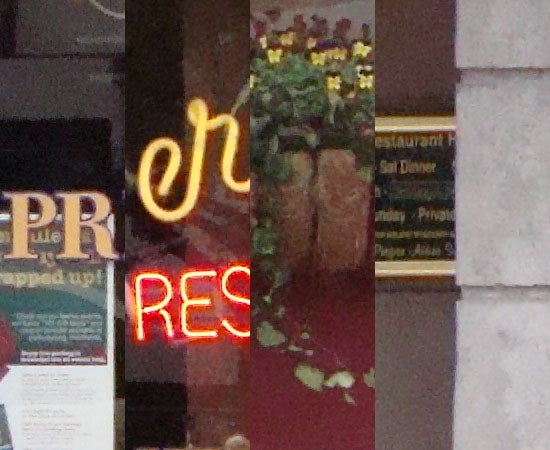 100-pixel-details-from-the-previous-slide-at-ISO
100% pixel details from the previous slide at ISO 1600.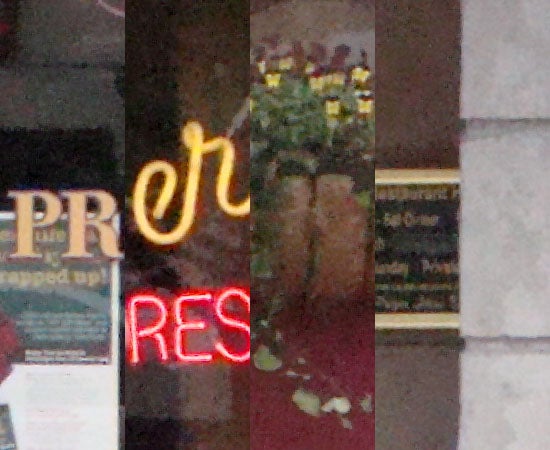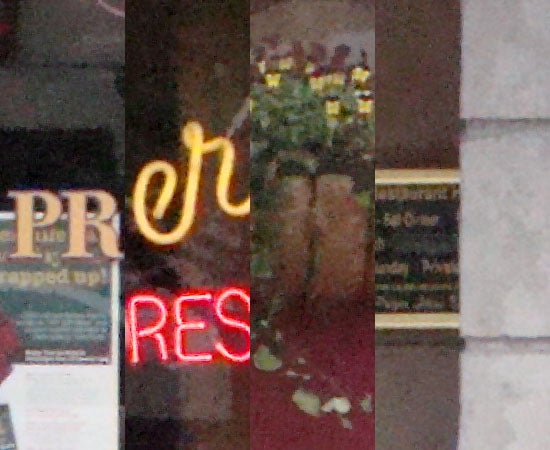 100-pixel-details-from-the-previous-slide-at-ISO
100% pixel details from the previous slide at ISO 3200.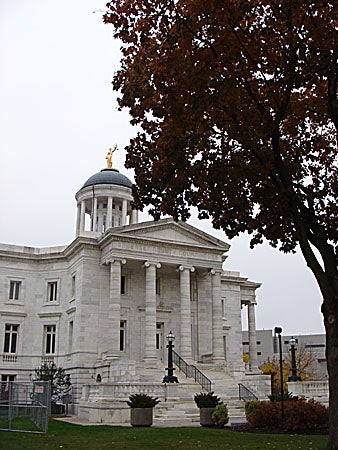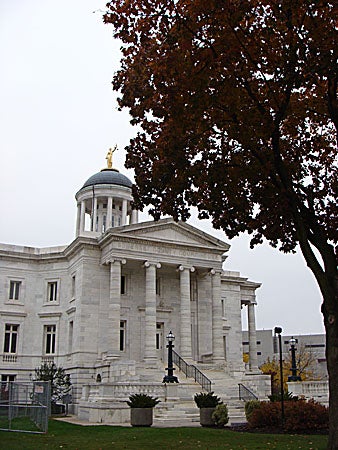 ISO-100-1-400-f-3.5.-Dynamic-Range-Optimization
ISO 100 1/400 @ f/3.5. Dynamic Range Optimization can't work miracles in the Sony Cyber-shot DSC-H3. The courthouse shows great nuanced detail, and there's even some color in the high leaves on the tree, but the overcast sky is pretty blown out.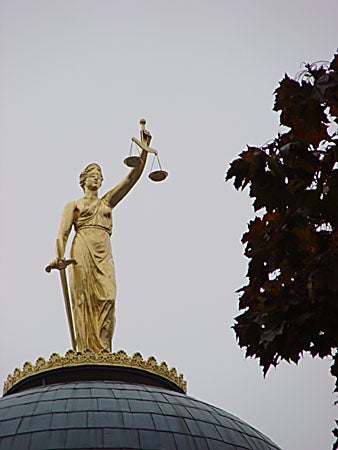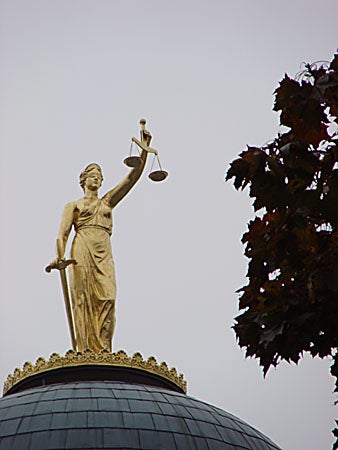 ISO-100-1-100-f-10.-But-when-we-zoom-in-on-just
ISO 100 1/100 @ f/10. But when we zoom in on just the statue atop the cupola, the H3 exposes differently, keeping the sky and showing great detail on the statue and roofing, but the leaves are still in pretty deep shadows.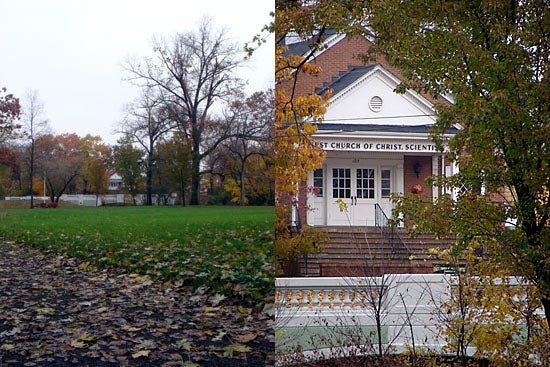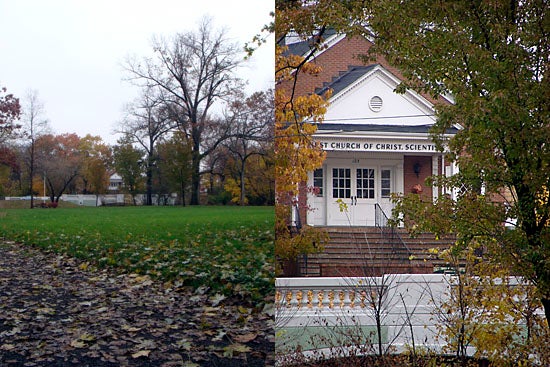 These-twin-shots-at-ISO-400-show-the-wide-and-tele
These twin shots at ISO 400 show the wide and telephoto capabilities of the Sony Cyber-shot DSC-H3 at 38mm and 380mm (in 35mm equivalents). Notice the fringing around the branches in the wide angle shot.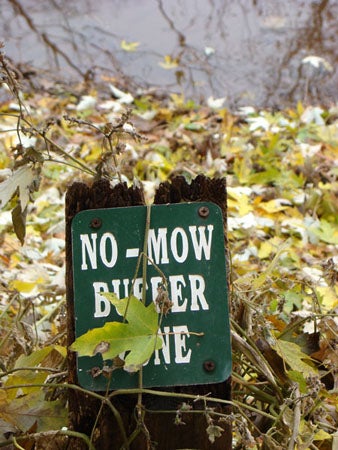 ISO-100-1-80-f-4.-At-low-ISOs-the-Sony-Cyber-s
ISO 100 1/80 @ f/4. At low ISOs, the Sony Cyber-shot H3 has extremely high image quality, and great shadow and highlight details, but as the ISOs rise, resolution drops and shadow detail gets blocked up, as the following 100% pixel comparison show.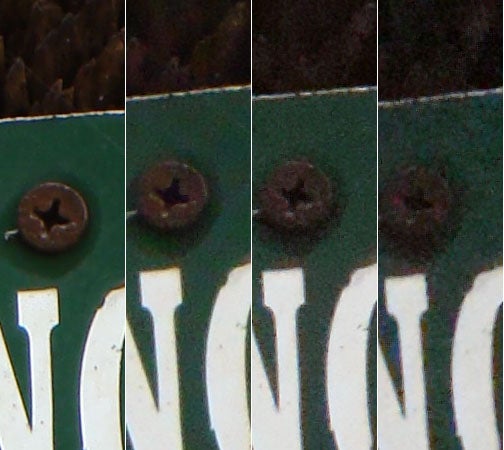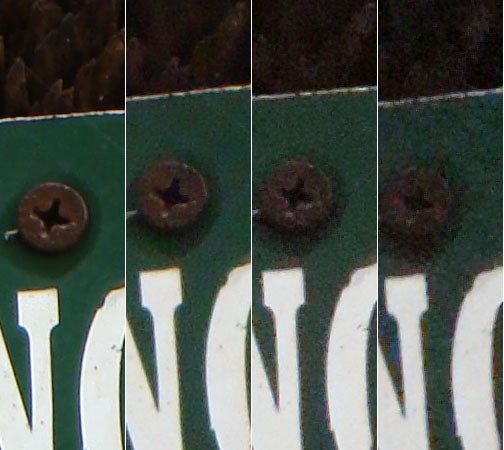 Left-to-right-The-same-scene-captured-at-Left-ri
Left to right: The same scene captured at (Left-right) ISO 100, 800, 1600, and 3200. Notice in particular the shadow detail (or lack thereof) in the splintered wood and the screwhead.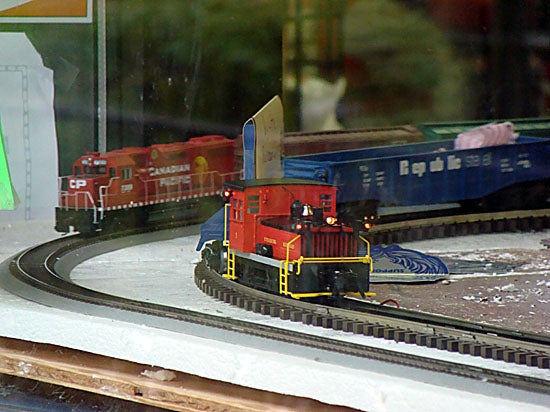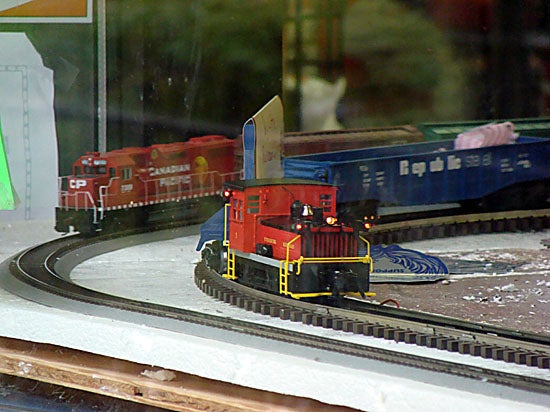 ISO-800-1-160-f-4.4.-Advanced-sports-mode-with-p
ISO 800 1/160 @ f/4.4. Advanced sports mode with predictive AF did a very nice job of focus-tracking on the lead train at full telephoto, especially considering this was shot through glass, which can confuse AF systems!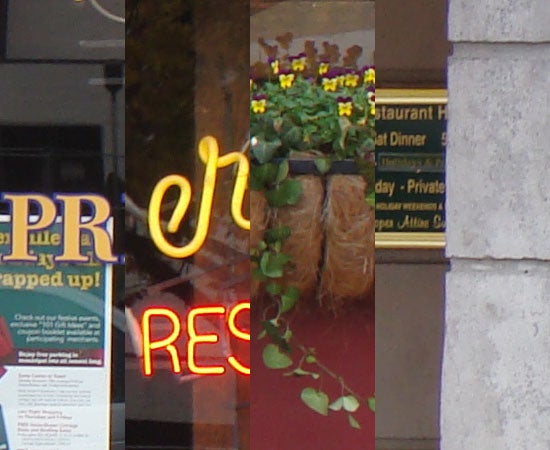 100-pixel-details-from-the-previous-slide-at-ISO
100% pixel details from the previous slide at ISO 100.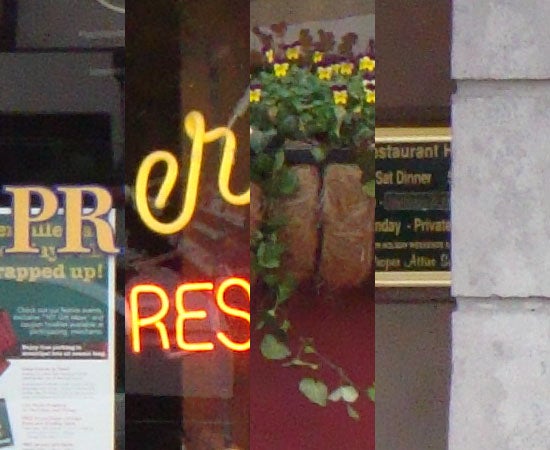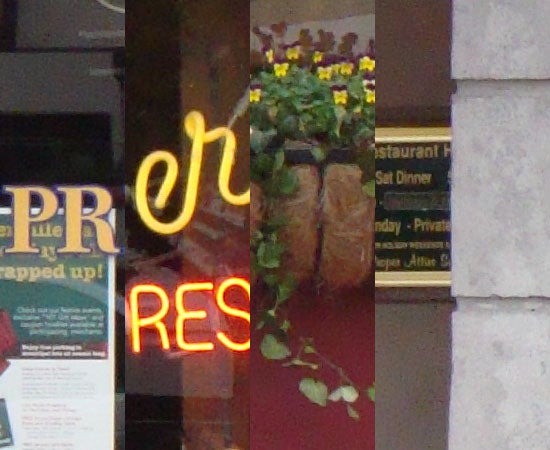 100-pixel-details-from-the-previous-slide-at-ISO
100% pixel details from the previous slide at ISO 800.