Camera Test: Sony Alpha 100 DSLR
Blending a proven DSLR, 10.2MP sensor, and cool technology.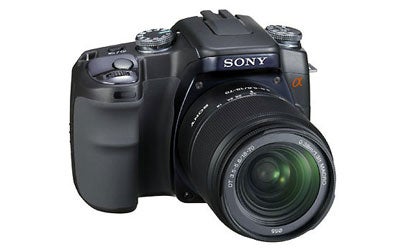 We may earn revenue from the products available on this page and participate in affiliate programs. Learn more ›
We used to have a lot of questions about Sony's takeover of Konica Minolta's camera division. Now, after running a full set of Certified Lab Tests and field tests of the new 10.2MP Sony Alpha 100 ($900, street, body only), only one question is left: How will Sony make enough of them to satisfy the demand for a camera that outperforms anything in its price range?
If you read our Hands On review you already know that the A100 has a well-designed and well-built body, is fully compatible with all older Konica Minolta lenses, has built-in image stabilization, a dust-removal system, great image and metering controls, an eye-activated AF system, and a large 2.5-inch LCD. But here's what we know now:
The A100 provides the highest image quality of any DSLR for under $1,000-thanks, no doubt, to its 10.2MP (effective) CCD and Sony's years of experience making APS-format sensors and advanced image processing systems for Nikon, Pentax, and Konica Minolta DSLRs.
With Excellent resolution, at just under 2,000 lines, the A100 beats the Canon EOS 30D and Rebel XT, stomps the Olympus Evolt E-330, and is nearly as sharp as the more expensive ($1,700, body only) 10.4MP Nikon D200. (For more details, see the Competitive Set sidebar.)
In color accuracy, the A100's Excellent Rating rivals that of the Canon 3OD and Nikon D200. At lower ISOs (from 80 to 800), it held down noise rather well. But we were disappointed with the Unacceptable noise level at ISO 1600.
Test scores don't tell the whole story, given all the A100's options and controls, some of which debut on this camera. We needed to test many of these further to figure out what they actually accomplish for the images. These include the A100's Dynamic Range Optimizer (DR) and Optimizer Plus (DR+) settings.
Both of these controls proved useful. DR acts like the Auto Levels function in Adobe Photoshop. Adjusting the entire image, it punches up the impact of a low-contrast picture. But, in a high-contrast scene, it brightens shadow areas at the expense of blowing out highlight detail. DR+, on the other hand, analyzes the scene and adapts to particular problems within the image, so dark shadow areas appear brighter and have more detail, while highlight areas add or maintain detail.
The remarkable thing about these settings: They're applied in real-time to JPEG files without slowing down the camera. So, the A100 can capture JPEG bursts of 3 frames per second continuously until the memory card fills up. Neither DR setting works, though, when the camera is set to RAW + JPEG.
For RAW shooters, the A100 ships with Sony's powerful Image Data Converter SR software, which includes a variety of advanced controls, and allows you to save images with the full 12 bits per channel of data the sensor captures. It also ships with Picture Motion Browser software for PCs running Windows.
The A100 supports the Adobe RGB color space for JPEGs, as well as several image-mode presets that use the sRGB color space (including Vivid, Portrait, Sunset, Landscape, and Night View). For each of these settings, you can set contrast, color saturation, and sharpness. The A100 manual explains how to navigate the maze of color space and image quality controls; we'd give it an A+ overall.
In field tests, the auto white balance function worked well, even in tricky lighting situations. The A100's custom white balance is extremely easy to set using the central spot area on a white paper or material, and the camera also includes WB bracketing and Kelvin color temperature settings.
In addition to a built-in pop-up flash, the A100 supports wireless external flash control with new Sony external flash units. Wireless setup and pairing is simple. The system supports several channels for complex multilight setups, and flash compensation can be set separately (via the menus).
According to Sony, the A100 will work with recent Konica Minolta external flash units, although without a firm guarantee. The pop-up includes controls for rear curtain sync and automatic fill flash, but no redeye reduction mode-we think Sony should add either a pop-up button or larger tab to make opening the flash easier.
As we wrote in August, the A100 is solidly built (though not as tough as either the Canon EOS 30D or Nikon D200), and much of its design is copied from the KM Maxxum 5D, including most of the buttons, the eye-activated sensor, AF system, and more than half the menu items.
As for the function button, which makes it easier than ever to access important controls such as ISO, Flash, DR, and White Balance, we have two gripes: There should be a position on the dial for image file type (JPEG or RAW + JPEG), and the middle of the dial needs a raised button so we can tell where it's set by touch alone, without taking our eye from the viewfinder. Other pet peeves include the self-time/burst switch. When set to burst, it stays in that mode until the camera is switched off or you manually change it. Yet, in the 10-second self-timer mode, the A100 switches back to single-shot after every frame-a real pain. But these are relatively minor complaints.
The 2.5-inch LCD on the A100 is among the brightest and sharpest we've seen, with a great viewing angle and automatic data display that switches from horizontal to vertical when the camera body is rotated (another trait borrowed from Maxxum DSLRs). The display button also quickly resizes fonts, and the four-way controller gives you quick access to the histogram exposure display or rapidly rotates the image.
Playback controls on the A100 also include a fast 12X zoom with rapid scrolling (which is impressive for such large image files); up to 16 image thumbnails can be seen clearly. A File Browser mode also lets you move quickly among folders on a memory card, with six images displayed from each folder.
The A100's eye-activated AF sensor might be useful for some situations, but we turned it off at the start to prevent it from draining the battery or activating the AF system every time something neared the viewfinder. We like the fact that it automatically turns off the LCD when your eye approaches the viewfinder, so that the screen doesn't interfere with the view.
The viewfinder provides excellent accuracy (94%) and magnification (0.86X, somewhat smaller than the EOS 30D or Rebel XT). The viewfinder data display is also easy to read, with variable brightness based on ambient lighting conditions.
A dozen custom functions include Release Priority for the AF and many programmable button choices. For example, the Focus Hold button on some lenses can be turned into a depth of field preview, and the control dial can be set to change aperture or shutter speed. You can also set the menu to return to the last item adjusted.
Along the path of appropriating from the Maxxum 5D, the Sony's AF system appears to have been borrowed wholesale. That is good news for the A100, since the 5D had one of the fastest and most sensitive AF systems of any KM SLR. The viewfinder also has similar markings, including the wide area box, spot AF indicator, and nine selectable AF zones.
In addition, the A100 has a direct manual focus assist (DMF) that aids when shooting macro and close-ups. In manual focus mode, the camera takes distance into account for proper exposure (especially useful for flash close-ups). As a result, every time you turn the camera on in MF mode, it sets the lens focus to infinity.
The built-in Super SteadyShot system works just as well as the one found on the older KM Maxxum 7D and 5D, without the "floating" feeling found in image stabilized lens-based systems, since this one activates at shutter release. Using our DxO Analyzer 2.0 test target and software to determine differences in blur, we found that fairly stable shooters using a telephoto get about 2 stops worth of help with the A100's stabilization system, while shakier shooters averaged 3 stops of improvement.
Sony is shipping two kit lenses with the A100: an 18-70mm f/3.5-5.6 wide-angle zoom and a 75-300 f/4.5-5.6 macro. The 75-300mm has actually been around for 11 years (as a Minolta) and taxes the AF system at full zoom when the aperture drops to f/5.6. We expect Sony to offer higher-quality lenses down the road; 19 lenses will be available in the next year.
The bottom line? KM and Minolta loyalists should be thrilled with the A100, as it continues many of the best aspects of the Maxxum line and won't let their investment in lenses go to waste. The merger of KM into Sony appears to have produced a better DSLR than either company could have made on its own, with features and a price that should attract anyone ready to move up from a compact or EVF digital camera to their first DSLR. Looks like the established players will be scrambling to top it — and not the other way around.
What's Hot:
Highest image quality for price.
Built-in IS.
Accepts KM lenses.
Dust removal system.
What's Not:
Nonstandard hot-shoe.
ISO only up to 1600.
Self-timer turns off after one shot.
Who's This For?
Any photographer looking for awesome image quality and an image-stabilized digital SLR at a decent price. Also for Konica Minolta fans who want to keep using their lenses.
The Competitive Set
Canon EOS Digital Rebel XT
($685, street, body only)
We've drawn comparisons between the A100 and the Canon EOS 30D, but it's really priced to compete with the 8MP EOS Digital Rebel XT. In addition to its 10.2MP CCD's extra resolution, the A100 has a much larger LCD monitor than the XT, plus built-in image stabilization, a dust-removal system for the CCD, and an eye-activated AF sensor. The XT gets credit for its smaller size, lighter weight, faster focusing system, and better noise control at ISO 1600, plus a much wider selection of lenses and flash accessories.
Olympus Evolt E-330
($950, street, body only)
Both have dust removal systems for their sensors, but the ultrasonic technology on the Olympus Evolt E-330 may have the edge. Its live LCD preview makes it a winner for shooting macro and remotely. But the Alpha 100's superior image quality, faster and more sensitive AF system, and built-in image stabilization make up the difference. One final distinction is lenses-which the Evolt E-330 has more of than the A100.
Sony Alpha 100 Vital Statistics
Imaging: 10.2MP (effective) CCD sensor captures 10MP images (3872x 2592 pixels) with 12 bits/color in RAW mode. Storage: CF Type I/II or MS Duo (adapter included) cards. Stores RAW, JPEG, RAW + JPEG. Burst rate: 3 fps continuous JPEG, or up to 6 RAW. AF system: 9 selectable AF zones with center cross-type sensor. Single-shot AF, and continuous AF with motion tracking. Tested sensitive down to EV -1 (at ISO 100). Shutter speeds: 1/4000 to 30 sec plus B (in 1 /3-EV increments). Metering: 40-segment honeycomb-pattern SPC metering with evaluative metering, center- weighted, and spotmetering. EV 1-20 (at ISO 100). ISO range: 80-1600 (in 1 EV increments). Flash: Built-in pop-up unit with multiflash control, GN 12 (ISO 100, meters), covers angle of view of 18mm lens. X-sync at 1/160 sec. Viewfinder: Eye-level, fixed pentaprism. LCD: 2.5-in. TFT with approx. 230,000-pixel resolution. Output: Hi-Speed USB 2.0 and video. Battery: Rechargeable Li-ion NP-FM55H. Size/weight: 5.25×3.75×2.8 in., 1.3 lbs with card and batteries. Estimated street price: $900, body only. $999 with 18-70mm f/3.5-5.6 macro. Includes Picture Motion Browser for Windows, Image Data Converter SR for OS X. For info: www.sonystyle.com; 877-865-7669.
Viewfinder Test:
Accuracy: 94% (Excellent)
Magnification: 0.86X (Excellent)