Camera Test: Samsung Digimax GX-1S
Samsung's first digital SLR has a 24-million-lens headstart.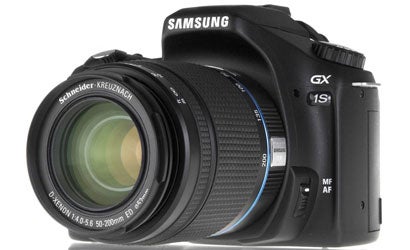 We may earn revenue from the products available on this page and participate in affiliate programs. Learn more ›
It's funny how kids sometimes look a whole lot more like one parent than the other. Take the new Samsung Digimax GX-1S ($699, suggested retail, with 18-55mm f/3.5-5.6 Schneider D-Xenon lens). The offspring of Samsung and Pentax, the GX-1S looks almost exactly like the Pentax *ist DS2, save for different badges on the camera and lens.
Of course, that makes perfect sense, given that virtually all the genetic material of the GX-1S comes from the Pentax model. As we noted in our May 2006 issue ("The Giants Are Here!!!"), the GX-series cameras represent Samsung's jump start in the digital SLR market in partnership with Pentax.
The company is expected eventually to produce DSLRs of its own design (possibly by autumn of this year), but for now the electronics behemoth is marketing clones of Pentax's 6-megapixel *ist DS/DL cameras. (Meanwhile, Pentax is concentrating on the new *ist DS-inspired K-series DSLRs — see page 71 — and the popular entry-level *ist DL, which sells for $550, street, with an 18-55mm lens.)
Samsung's use of the *ist DS platform isn't a bad thing. The GX-1S combines simple operation and fine ergonomics with sophisticated autofocusing and a good range of advanced controls in a lightweight, well-made body.
Similar to its Pentax twin, image quality of the GX-1S ranks Extremely High, with an average of resolution of 1,500 lines, plus Excellent color accuracy and stellar noise suppression — it rated no higher than Very Low through ISO 1600, and just Moderately Low at ISO 3200.
But like its Pentax twins, the low noise at higher ISOs comes at the expense of about 10 percent loss of resolution. With its exceptionally low noise, moderate contrast, and accurate color, this new Samsung makes for smooth, creamy skin tones in people pictures, and clean shadows in available-light shots.
Here's a rundown of some of the camera's other characteristics:
nThe polycarbonate body is built over a stainless-steel chassis and lensmount, with a glass pentaprism; at 1.3 pounds (body only) it ranks as one of the lightest DSLRs in production.
nAn 11-zone autofocus array consists of nine cross-type sensors in a 3×3 grid, plus linear sensors at each side that act as sentry points for subjects moving across the frame. The AF system can be set (via menus) for autoselection of the focusing point, user selection, or central point only, and for single-frame or continuous AF.
Autofocusing speed is slower than that of other cameras in this class, notably the Nikon D50 and Canon EOS Digital Rebel XT, but the AF has good sensitivity, able to autofocus down to a very dim EV 0.
In addition to conventional exposure modes (all-auto, program, aperture-priority, shutter-priority, manual) and scene modes (Action, Portrait, Night Portrait, Landscape, Close-up), the camera has Auto SCN, Samsung's name for the Pentax Auto Pict mode. In this setting, the camera analyzes movement, subject distance, and other factors to automatically choose…which scene mode to set!
While it may sound like overkill, it works seamlessly and is a good choice for an outright beginner.
As we've noted with the Pentax variants of this camera, the external control simplicity of the GX-1S comes at the expense of more menu surfing for many controls. The function button serves as a fast menu for white balance, ISO setting, drive modes, and flash modes.
Other settings, including the flash exposure compensation, autofocus settings, and meter modes, require forays into the menus. Like its Pentax cousins, the Samsung menu contractions include such arcana as "Swtch dst msr pt" and "Mag to Strt Zm Plybk."
The info button on the back of the camera shows all the current settings of the camera at a glance. In playback, it displays all the setting info of the frame being displayed, which can be toggled with a histogram display and highlight warning.
Special-effects filters — black-and-white, sepia, soft focus, stretch/squeeze — can be added afterwards to a shot without altering the original file.
Two Schneider-branded digital-only lenses — the 18-55mm kit lens and a 50-200mm f/4-5.6 — are being offered. While these two zooms appear to be optically identical to Pentax versions, and are, like the Pentax optics, manufactured in Vietnam, Samsung would not say whether the lenses differed in any substantive way.
The GX-1S also accepts all Pentax DSLR and current film SLR lenses, with a 35mm lens factor of 1.5X, as well as a horde of older Pentax optics with varying degrees of functionality (see "Optical Profusion" sidebar).
It works with Samsung and Pentax accessory flash units for TTL flash. (The Samsung SEF-36PZF flash is identical to the Pentax AF-360FGZ.) While the built-in unit cannot be used as a TTL trigger, use of a Samsung/Pentax flash in the accessory shoe can provide wireless TTL automation with one or more units off-camera.
nPower comes from four AA batteries or two CRV3 lithiums; it ships with alkaline batteries rather than rechargeable NiMHs. The GX-1S lacks program shift and a PC flash terminal.
As might be expected, picking up the GX-1S is like meeting an old friend. The camera's shutter button, input dial, and jog dial are located right where your index finger and thumb expect them. Set to multipoint array with autoselection, the autofocus does an excellent job of finding a focus point quickly, usually giving priority to a nearer object over a farther one, and to objects closer to the center of the frame. With light pressure on the shutter button, you can touch up the focus manually with the front lens ring before firing.
We like the glass prism, not because the view is any brighter than the penta-mirror used in the lower-rung Pentax and Samsung models — it isn't — but because the camera status indicators in the viewfinder are bigger, brighter, and much easier for eyeglass-wearers to see.
The GX cameras should be arriving in retail stores as you read this. They are expected to be carried in both camera specialty shops and large electronics retailers.
As far as introductions go, Samsung could've done far worse than the GX-1S, with its nice handling, pleasing picture quality, and compatibility with scads of existing lenses. But it's also an aging platform whose resolution trails that of the rest of the league. And in the hot DSLR category, "good enough" is rarely good enough.
If you want to save $100 on a Samsung DSLR, you can opt for the Digimax GX-1L, which is, as you may have guessed, essentially the Pentax *ist DL (actually, the overseas-only *ist DL2).
Major differences: It has a pentamirror viewfinder instead of a glass pentaprism, a simple five-point autofocus array, and a slightly lower maximum burst rate. With the 18-55mm Schneider D-Xenon kit lens, the suggested retail price is $599.