Camera Test: Pentax Optio W10
Summer Love.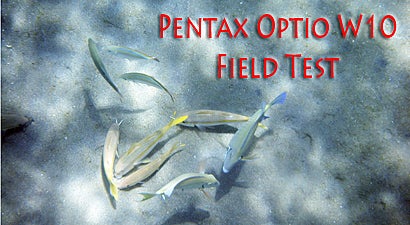 We may earn revenue from the products available on this page and participate in affiliate programs. Learn more ›
The new Optio W10 could be the perfect low-buck beach/pool/lawn sprinkler camera. Continuing its line of pocket-sized waterproof digicams, Pentax gives this 6.0-megapixel amphibian a 3x optical zoom (38-114mm 35mm equivalent) and Class 8 waterproofing, which means it's safe to submerge underneath 5 feet of water for up to 30 minutes. With a street price of $300, the Optio W10 opens a whole wet world of shooting wide open while costing about the same as many of its landlubber competitors.
The W10 replaces the Pentax Optio WPi. Cosmetically, they're very similar. The W10 is slightly larger at 4.2 x 2.1 x 0.9 in., and the controls on the back are a bit smaller to make room for the larger 2.5 inch LCD, which now offers brightness control. Optically, the two cameras are identical. It's what's inside the W10 that distinguishes it from its predecessor. The signal processing circuitry and firmware have been improved, and you get a performance boost in both still and video modes. The W10 has full-resolution sensitivity up to ISO 800. On the video side, it shoots 640×480 at 30 frames per second (fps), with sound.
Color accuracy is Excellent (Average Delta E: 8, ISO 64, Manual White Balance.) Noise is Low at ISO 64 (1.64), ISO 100 (1.64), and ISO 200 (1.79), Moderate at ISO 400 (2.43), and High/Unacceptable at ISO 800 (4.44). Resolution (HxVxD) is Very High at ISO 64 (1415), ISO 100 (1385), and ISO 200 (1385), High at ISO 400 (1233), and Acceptable at ISO 800 (1132). There is visible barrel distortion at 38mm (.55%), Slight Pincushion at 76mm (.15%), and Slight Pincushion at 114mm (.29%.)
The Optio W10 fires off shots at about one frame per second at full resolution, without flash. It can fire off about five frames in just under two seconds in high-speed burst mode, but this cuts the resolution to three megapixels. There's no full manual control of aperture or shutter speed.
With its sealed, internally focusing zoom lens, the camera can be held in your hand while swimming and snorkeling. We recommend use the supplied wrist strap, however, since the camera doesn't float. It'll sink if you let go.
There are 25 shooting modes that preset the camera to a given situation, including Underwater and Underwater Movie. These modes simply utilize a blue filter. Even in Program mode, we had to adjust levels and curves to remove blue cast from our underwater test shots. We'd prefer if the Underwater mode would set the camera to Pan Focusing mode, and set the fastest possible shutter speed to better freeze moving subjects in the water.
Although there is an ocean of 6MP compacts on the market at the moment, not many are capable of handling the wet and the weather like the Pentax Optio W10. If you want a seaworthy compact camera, you really can't go wrong with this one.
Click here to watch our Field Test Video
What's Hot:Compact digicam is waterproof to 5 feet without any additional housing.
Video mode of 640×480 at 30 fps with sound
Zoom works while recording video
What's Not:LCD screen is tough to see underwater when the sun is overhead
No manual aperture or shutter controls.
2-step shut and lock is easy to forget before submersion
Certified Test Results
Color accuracy: Excellent (Average Delta E: 8, ISO 64, Manual White Balance.)….
Noise: Low at ISO 64 (1.64), ISO 100 (1.64), and ISO 200 (1.79), Moderate at ISO 400 (2.43), and High/Unacceptable at ISO 800 (4.44)…..
Resolution (HxVxD): Very High at ISO 64 (1415), ISO 100 (1385), and ISO 200 (1385), High at ISO 400 (1233), and Acceptable at ISO 800 (1132)…..
Lens Distortion: Visible barrel distortion at 38mm (.55%), Slight Pincushion at 76mm (.15%), and Slight Pincushion at 114mm (.29%.)….
Dimensions: 4.2 x 2.1 x 0.9″ Weight: 5.5 ounce with battery and card….
Battery Life: 240 CIPA estimate….
Media: SD Card….
In the box: Camera, D-L18 Lithium-Ion Battery (3.7v 710mAh), D-BC8A Battery Charger, D-CO2U AC Plug Cord, I-USB7 USB Interface Cable, I-AVC7 A/V Cable, O-ST20 Wrist Strap, Software CD-ROM (USB Driver, ACDSee for Pentax 2.0, ACD FotoSlate 3.0, ACD Showtime for Pentax, QuickTime 7), Operating Manual, PC Connection Manual, 1-Year U.S.A. Limited Warranty….
Street: $255….
Web: H20camera.com
Watch video taken with the Pentax Optio W10
-requires Windows Media Player