Camera Test: Pentax K100D
Shoot sharp and stay steady.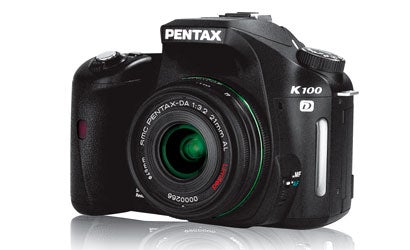 We may earn revenue from the products available on this page and participate in affiliate programs. Learn more ›
Pentax had to join the image stabilization club or face a shaky future. It chose to join in with its new K100D 6.1MP digital SLR ($620 street, body only), an *ist DS2 look-alike that's the first Pentax to feature a sensor-based shake reduction (SR) system. Unlike the lens-based IS systems on some Canon and Nikon lenses, this one should help reduce vibration-induced blur in photos taken with any new Pentax DA lens, plus all lenses with a Pentax mount.
We examined this camera's other features in our July 2006 issue, but we recently obtained a production version to see how well the new SR system reduced camera vibration. We also took a close look at claims Pentax made for improved image quality from its new processing engine and firmware, plus the newer versions of the Pentax Photo Browser and Photo Laboratory software that come with the K100D.
As we pointed out in July, the K100D has much in common with the Pentax *ist DS2, including a similar-resolution CCD sensor, nearly identical camera design and control arrangement, similar button placement, a large 2.5-inch LCD with easy-to-read fonts, and a nearly identical pop-up flash.
The biggest external differences appear to be the addition of an image stabilization switch on the back, plus some additional weight and size that can be attributed to the IS system. The four-way control button has also been slightly modified, and, of course, there's a new logo.
True to Pentax claims, we found some surprises on the image quality front and in the camera's performance, which don't have anything to do with the SR system. In the past, Pentax *ist cameras like the DS2 scored some of the lowest (though still respectable) resolution numbers in the 6MP DSLR class while turning in the lowest (that means best) noise levels at ISOs from 200 to 3200.
In our tests, the K100D's resolution scores jumped up a notch from the *ist DS2's 1,360 lines (Very High) to 1,520 lines (Extremely High), while noise levels started at Very Low at ISO 200 (instead of Extremely Low) and wound up at ?Moderate levels at ISO 3200 (instead of Moderately Low).
Apparently, Pentax's new processing engine backs away from the blurring filter that was used to minimize noise at the expense of resolution on the older *ist DSLRs. The company made the right move, as this camera's resolution has improved noticeably over the *ist DS2, especially at lower ISOs, and is more in line with 6MP Nikons and older Konica Minolta DSLRs that used the same sensor.
This time around, the camera's color accuracy fell just short of an Excellent rating. However, the differences between the *ist DS2 and K100D won't be noticeable in most photos.
Since we weigh resolution and color accuracy higher than noise in our overall Image Quality rating, the slight tweaks in processing parameters now earn the K100D a more solid Extremely High score at ISOs up to 1600. At ISO 3200, where most DSLRs get too noisy, the K100D squeaks in with Moderate levels and earns a Very High Image Quality rating.
Performance test results on the K100D showed some pluses and minuses. The viewfinder on the K100D and *ist DS2 are nearly identical when it comes to brightness, AF zones, and spotmeter delineation. But data display now includes a Shake Reduction icon on the far right side; AF mode, Scene Mode, and ISO sensitivity warning icons have been added to the left side. Formerly, the Picture Mode icons were spread out across, but now appear individually when activated.
The K100D earns an Excellent rating for viewfinder accuracy at 96% compared with 94% on the *ist DS2, a minor improvement. And it just squeaks by with an Excellent magnification rating at 0.85X, but that's down from the 1.04X on the *ist DS2.
More noticeable was the K100D's improved AF performance across the board, and especially in very low light-possibly another benefit of the improved processor in the K100D. Even in very bright light of EV 12-8, the K100D showed a 0.2 sec improvement over the AF on the *ist DS2, which it maintained all the way down to EV 2. At EV 1 and EV 0 there was a dramatic improvement to 1.51-1.81 sec compared with 1.71-2.2 sec on the *ist DS2. Best news? The K100D now focuses down to EV -1, although rather sluggishly in 2.5 sec.
Pentax doesn't claim any improvements in battery life for the K100D, despite the newer processing engine. That leaves this camera in the same unfortunate battery condition as the *ist DS2, which has a CIPA rating of only 70 shots when loaded with four AA alkaline cells. We highly recommend buying a set of 2000 mAh (or higher capacity) NiMh AA rechargeables to boost the shot capacity-especially since the K100D's shake reduction (SR) system will drain the batteries even faster.
That extra drain is worth it for the benefits you'll get when shooting with the SR system activated. A unique Pentax design, the stabilization system on this camera is very different from that of the KM Maxxum 7D and 5D, and the Sony A100. Pentax claims that more than 30 patents have been filed for this system, which uses a ball-bearing-mounted oscillator and four electromagnets to float the image sensor. (Go to www.PopPhoto.com/october2006 for pictures and further details of how this system works.)
When the SR system isn't activated and the camera is turned on, the CCD locks in place for normal shooting. (Turn off the camera, and you can hear the sensor moving when you shake the camera.) When you press the shutter button, angular velocity sensors analyze vibration and camera movement (up and down, and side to side) and send control signals to the magnets to compensate.
Part of the compensation depends on the focal length of the lens, which the camera automatically acquires from an attached Pentax DA, FA, D FA, FA J, or F lens. For all other lenses you can dial in the focal length from 8 mm to 800mm using a menu panel.
Pentax claims the SR system can give you a 2- to 3.5-stop improvement over no SR. Using the DxO Analyzer 2.0 test target and Blur analysis software, our Certified Lab tests showed an average of 2 stops for shaky shooters and slightly less for photographers with very stable hands shooting slower than the recommended minimum shutter speed (based on 1/focal length).
For example, when shooting with the Pentax 80-200mm f/4-5.6 zoom lens set at 200mm (a 35mm equivalent of 300mm), most photographers could set the camera to 1/80 sec with the SR activated and get the same sharpness as they'd get shooting 1/200 or 1/320 sec with the SR off.
But the results were a bit more erratic than we found when shooting with the older KM Maxxum models and the Sony Alpha 100, and there didn't seem to be much improvement for shaky shooters when they set the shutter speed to a stop or two faster than the reciprocal value.
Pentax now includes improved versions of its Photo Browser and Photo Laboratory software. The Browser helps you keep track of images and preview RAW files, and it's also capable of converting RAW images into Adobe's DRG RAW format. For extensive RAW processing controls and batch processing features, the Photo Laboratory software is a real winner. It includes everything from Curve and Kelvin color temperature adjustments to chromatic aberration and lens distortion corrections. Nice bundle.
We still think the introduction of a new DSLR was a missed opportunity to add an 8MP model to the Pentax stable for improved sharpness and competitive advantage against the Canon EOS Digital Rebel XT and Olympus Evolt E-330, but it's rumored that Pentax will be leap-frogging the 8MP class altogether.
Bottom line? Sony's new 10.2MP Alpha 100 costs just $180 more than this new $620 Pentax. And for many DSLR newcomers with a little extra to spend, the Sony could prove to be an irresistible upgrade.
But if you have a bagful of Pentax lenses or you want the savings in your pocket, the K100D gives you bang for the buck.
What's Hot
• Built-in Shake Reduction works with all Pentax-compatible lenses.
• Improved image quality and AF system.
• Excellent RAW converter.
What's Not
• 6.1MP at a price competing with 8MPs.
• Just 70 shots with alkaline batteries.
Who's This For?
• Photographers on a budget looking for their first DSLR.
• Current Pentax 35mm SLR owners with a bag of Pentax lenses.
Vital Statistics
Imaging: 6.1MP (effective) CCD sensor captures 6MP images (3008×2000 pixels) with 12 bits/color in RAW mode. Storage: SD cards. Stores JPEG or RAW files. Burst rate: Up to 5 JPEGs at 2.8 fps. AF system: 11 selectable AF zones with red activation lights. Single-shot and continuous AF with fore-aft and across-the-frame tracking. Sensitive down to EV -1 (at ISO 100, f/1.4). Shutter speeds: 1/4000 to 30 sec plus B (1/3 or 1/2-EV increments).
Metering: TTL metering with 16-zone evaluative metering, centerweighted, and spotmetering (approx. 4% of viewfinder). EV 1-21.5 (at ISO 200). ISO range: 200-3200 (in 1-EV increments). Flash: Built-in pop-up unit with P-TTL autoflash, GN 51 (ISO 200, feet), covers 18mm lens FOV. Flash sync at 1/180 sec. Dedicated hot shoe. Viewfinder: Eye-level, fixed Penta-mirror. LCD: 2.5-in. TFT with approx. 210,000-pixel resolution. Output: Hi-Speed USB 2.0 and video. PictBridge compatible. Batteries: Four AA cells (rechargeable optional) or two CRV3 lithiums. Size/weight: 5.1×3.7×3.2 in., 1.48 lb with card and batteries. Street price: $620, body only; $700 with 18-55mm f/3.5-5.6 Pentax DA lens. For info: www.pentax.com.
Viewfinder Accuracy: 96% (Excellent)
Viewfinder Magnification: 0.85X (Excellent)
RAW Software
1) Nikon D50
($550, street, body only; $700 with 18-55mm f/3.5-5.6 DX Zoom-Nikkor lens)
Equally equipped with an 18-55mm kit lens, similar 6.1MP CCD sensor, and nearly equal image quality ratings up to ISO 1600, the Nikon D50 takes a hit for not including any type of shake reduction. (You have to pay more for VR lenses). The K100D also features ISO settings up to 3200, a larger 2.5-inch LCD, and more AF zones. However, while you'll be swapping and charging AA batteries on the K100D every hundred shots or so, the Nikon D50 lets you shoot all day (up to 2000 shots) on its rechargeable Li-ion battery. The D50 also has a slightly faster AF system and flash sync speed of 1/500 sec, plus it has more sophisticated control over remote flash units.
2) Sony Alpha 100
($899, street, body only; $999 with Sony Zoom DT 18-70mm f3.5-5.6 kit lens)
As the only other DSLR with a built-in image stabilization system, the A100 is still a direct competitor to the K100D even with its higher price tag. For the extra money, you get a Super SteadyShot system, which works better than the SR system on the K100D, plus higher resolution (avg. 1900 lines) and image quality from the A100's 10.2MP CCD. It also has a faster AF system with an eye-activated sensor, a 40-segment meter, a slightly sharper 2.5-inch LCD, better remote flash control, and a more robust rechargeable Li-ion battery. However, for now K100D owners can tap into a wider variety of digitally optimized lenses, including those on their way from Samsung.
Pentax K100 Noise Levels at ISO 200
Pentax K100 Noise Levels at ISO 400
Pentax K100 Noise Levels at ISO 800
Pentax K100 Noise Levels at ISO 1600