Camera Test: Panasonic Lumix DMC-L10
You say you want resolution? That's what this 10.1MP DSLR is all about.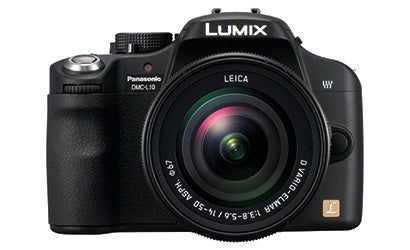 We may earn revenue from the products available on this page and participate in affiliate programs. Learn more ›
Panasonics sleek designs, and innovations such as MEGA Optical Image Stabilization, make it a major force in digital compacts. But powerhouse status in DSLRs has been elusive. Despite live view and a clever pop-up flash, its first DSLR, the 7.5MP Lumix DMC-L1, hasnt grabbed much market share since it debuted in 2006. One reason: The L1 comes with an incredible Leica zoom that may be worth more than the camera itself.
Yet Panasonic is taking the same course with its latest DSLR, the 10.1MP Lumix DMC-L10, which sells only with a 14-50mm f/3.8-5.6 Leica D Vario-Elmar lens. The price: $1,300, street — pricey compared with 10MP DSLRs and similar-range kit lenses from Canon, Nikon, Olympus, and Pentax. So the question is whether this new Lumix/Leica pairing offers enough image quality or performance advantages to justify the spend.
RESOLUTION TO SPARE
Panasonic is clearly banking on Leicas name and the quality of the lens — made by Panasonic in Japan — to attract photo enthusiasts. Because the L10 has a higher-resolution sensor than its predecessor, the advantages of the sharp Leica glass are more apparent.
Indeed, the L10 hit the highest resolution scores (average 2350 lines at ISO 100) of all the circa-10MP DSLRs weve tested. It scored more than 15 percent higher than the Olympus Evolt E-510 with its nearly identical Live MOS sensor and respectable 14-42mm f/3.5-5.6 Zuiko kit lens. It even out-resolves the 12.2MP Sony Alpha 700. Wow!
Another reason for the superior detail? The format of the sensor. Its 4:3 aspect ratio provides a narrower field of view than the 2:3 APS-C sensors on most DSLRs in this class. If you maintained the L10 sensors pixel size and pitch while expanding it horizontally to a 2:3 aspect ratio, the total would approach 12.5MP.
All that detail potential is fulfilled when you shoot RAW files. But the L10s Venus Engine III image processing and compression cuts JPEG resolution to an average 2050 lines (at ISO 100).
The processor also makes JPEGs noisier between ISO 100 (Low) and ISO 400 (Moderately Low). Compare that with the Olympus E-510, with Extremely Low noise at ISO 100-400. The L10s noise reduction obviously kicks in at ISO 800, where the level falls back to Low; at ISO 1600, noise is similar to that at ISO 400. (The test results at left are not for JPEGs but for RAW files converted to TIFFS.)
The L10 doesnt give you the option of increasing noise reduction in JPEGs at the expense of resolution. This can be done when shooting and converting RAW files.
Turning RAW images into TIFFs with the supplied software gives you another chance to battle noise. But even with the softwares noise reduction maxed out, we werent able to cut noise further than the in-camera processor at ISO 800 and 1600. The moral? The L10 will give you maximum sharpness at all ISOs at the cost of slightly higher noise.
As for color accuracy and other image quality parameters, the L10 is mid-pack. Color accuracy is Extremely High, while dynamic range (shadow and highlight detail) is average and not as high as Sonys A700. As a result, the L10 gets an Excellent image quality rating from ISO 100 to 400, Extremely High at ISO 800, and a Very High rating at ISO 1600.
Metering and exposure systems, as well as white-balance accuracy in difficult lighting situations, are top-notch. Dedicated buttons and the function key give quick access to most major controls. Scene modes are on the main mode dial. The Film Mode button leads to a menu thats similar to presets on other DSLRs: You can modify contrast, saturation, and color balance to mimic your favorite films.
You can set the camera to limit the ISO range, but this is confusing. For example, if you set it to ISO 400 manually while the internal menu has been set to limit ISO to 100-800…surprise! It analyzes the scene and chooses any ISO from 400 to 800. To get manual ISO control back, you must go into the menu and turn off ISO Limit.
Swing out the 2.5-inch LCD (like the new Olympus E-3s, it pivots) to compose awkward macro setups, shoot over a crowd, or hold the camera at waist level. Between shots, you can protect the screen by turning it against the camera body.
The moderately sharp LCD, with its 207,000-dot (69,000-pixel) resolution, lets you take advantage of the two types of autofocus the kit lens provides in Live View mode. Phase Shift uses the three-zone AF system. Since the mirror flips out of the way momentarily to focus, this takes about twice as long as normal AF without live view (less than 1 sec). In live view, pressing the shutter button halfway gives you autofocus, but you wont notice, since the image freezes during AF.
Contrast Detection AF, using the image sensor to focus, is slower and less sensitive. While it lets you choose any spot to focus on, its not useful for moving subjects. So for nearly instantaneous shutter response and close-up confirmation in live view, focus manually.
Much like the L1s AF system, AF slows considerably at light levels below EV 6, is really sluggish at ISOs below EV 3, and hits a wall at EV 0. Even in bright light, the L10s AF speed and tracking accuracy arent in the same league as the Canon, Nikon, Pentax, or Sony AF systems.
The viewfinder has Excellent accuracy and magnification. But as with the L1 and the Olympus E-510, it has a tunnel-vision effect due in part to the narrower aspect ratio. An optional magnifier that fits over the viewfinder causes slight vignetting.
Burst speed and capacity are fine when shooting JPEGs: The L10 swallows 3 frames per second for as long as theres room on the memory card (with a fast SDHC card). But in RAW or RAW + JPEG, the burst lasts only for 3 frames before stopping until you lift your finger and press down again several seconds later.
Panasonic greatly improved the L10s balance and feel. The grip is comfortable, especially for average-sized hands, and most exposure dials and controls can be easily reached while looking through the viewfinder. Large hands? You may wish there were an accessory battery grip.
ALL IN THE FAMILY
The L10 is compatible with other Four Thirds system lenses from Olympus and Sigma. But, unlike the Olympus E-510, the L10 lacks sensor-based image stabilization. Instead, it relies on the Leica lens MEGA O.I.S. Only one other Leica zoom has it — the more expensive lens sold with the L1. No other Four Thirds glass is stabilized.
The L10s lens has three MEGA O.I.S. settings: One shows the stabilization effect through the optical viewfinder or in live view; more power efficient, the second activates only after you press the shutter button to take a picture; the third is for horizontal panning. Theres no O.I.S. indication in the viewfinder display, and more than once we accidentally turned it off while holding the lens.
At the tested 50mm setting (100mm equivalent due to a 2X lens factor), we found 1.5 stops of handholding advantage over a nonstabilized camera. That may not seem like much, given the 3-plus stops weve tested on other systems (sensor- and lens-based), but those others were achieved with 200mm (equivalent) or longer lenses. IS works better as focal length increases, and 1.5 stops is good for 100mm.
Unlike any other lens, including the L1s, the L10s zoom gives you the full power of Panasonics face detection system, which tracks up to 15 faces in a scene (shown in live view) with the goal of maximizing sharpness, exposure, and color accuracy.
Its a cool gimmick, but it doesnt improve all faces in a scene unless theyre huddled together about the same distance from the camera. Otherwise, the face detection engine chooses one face to optimize at the time of exposure, and it even works when live view is turned off and auto ISO is turned on.
In all, the L10 has a lot going for it: that swiveling screen, Excellent resolution and image quality, live view with two forms of AF, face detection metering, and a sharp, image-stabilized lens.
The price, though, is high for its overall performance. If Panasonic were to rethink its forced-bundle approach, this camera maker just might have the impact in DSLRs that its had in compacts.
COMPETITIVE SET
• Canon EOS 40D
($1,500, street, with 28-135mm f/3.5-5.6 Canon EF IS USM AF lens)
For two C-notes more (when bought with this stabilized kit lens), Canon's EOS 40D blows the L10 away with its faster, more sensitive AF system. It also beats it at higher ISOs with better noise control (though not higher resolution) and better image quality. It wins at all ISOs with a 6.5 fps burst mode and greater shot capacity. The Canon has a bigger 3-inch LCD — but it doesnt swivel.
• Olympus Evolt E-510
($810, street, with 14-42mm f/3.5-5.6 Zuiko lens)
Sporting a similar Live MOS sensor and compatibility with all Four Thirds system lenses (including Leica zooms, sold separately), the $490-less-expensive E-510 may be the biggest threat to the L10. Its noise reduction and JPEG compression are superior, it has sensor-shake IS that works with all lenses, a higher burst capacity, and a wider variety of compatible glass. However, it lacks the cool, swiveling LCD on the back.
VITAL STATISTICS
Imaging: 10.1MP (effective) Live MOS sensor captures 3648×2736-pixel images at 4:3 aspect ratio with 12 bits/color in RAW mode.
Storage: SD/SDHC and MMC cards. Stores JPEG, RAW, or JPEG + RAW.
Burst rate: Up to card capacity with highest-quality JPEGs at 3 fps. Up to 3 RAW at 3 fps.
AF system: Sensitive down to EV 0 (at ISO 100). TTL Phase Shift system with 3 selectable AF zones, center cross-type. Live View Phase Shift or Contrast AF.
Shutter speeds: 60 to 1/4000 sec, plus bulb.
Metering: TTL metering with 49-zone Multi-Pattern metering in optical viewfinder mode, 256-zone Multi-Pattern metering in Live View mode. 1/3-stop exposure increments. Center-point spotmeter.
ISO range: 100-1600 in 1-EV increments.
Flash: Built-in pop-up with TTL metering, range 6.6 to 18 feet with auto ISO setting. Flash sync at 1/160 sec. Dedicated hot-shoe with TTL flash control.
Viewfinder: Eye-level pentamirror with diopter adjust.
LCD: Swiveling 2.5-inch TFT with 207,000 dots (69,000 pixels). Up to 16X magnification in playback.
Output: Full Speed USB 2.0 and NTSC/PAL video. PictBridge compatible.
Software: Includes Lumix Simple Viewer, PHOTOfunSTUDIO, SILKYPIX Developer Studio SE.
Batteries: Proprietary Li-ion rechargeable.
CIPA battery life rating: 450 shots per charge.
Size/weight: 3.8×5.3×3.1 in., 1.1 lb, body only. 2.1 lb with supplied lens, battery, and card.
Street price: $1,300 with 14-50mm f/3.8-5.6 Leica D Vario-Elmar MEGA O.I.S. aspherical lens.
For info: www.panasonic.com.
VIEWFINDER TEST
Accuracy: 95% (Excellent)
Magnification: 0.92X (Excellent)