Camera Test: Olympus E-510
This light, tight, 10MP DSLR delivers beautiful images at an even prettier price.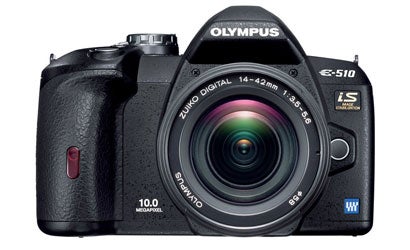 We may earn revenue from the products available on this page and participate in affiliate programs. Learn more ›
We've been waiting five years for Olympus to fully realize the benefits of the Four Thirds Standard digital SLR system: smaller camera bodies, compact lens designs, enhanced image quality, and innovative digital features. Sure, we've seen the innovation — the Ultrasonic Dust Removal System, the first live, color, LCD preview — but early Evolt DSLRs were bulky, with lenses as large as 35mm versions, and were outclassed by competitive models with faster autofocus systems and higher image quality.
Now, though, Olympus has made good on that early promise with its latest DSLR, the 10-megapixel E-510 ($800, street, body only; $900 with 14-42mm f/3.5- 5.6 ED Zuiko lens, reviewed here; or $1,000 with an additional 40-150mm f/4-5.6 ED Zuiko).
As we pointed out in our Hands On in May, the E-510 and its less-expensive sibling, the E-410 ($700, street, body only), both share the same 4:3 aspect ratio, 10MP Live MOS sensor, and thirdgeneration TruePic III imageprocessing engine.
In our tests in the Pop Photo Lab, both cameras delivered exactly the same color accuracy, resolution, and noise results when mounted on a steady tripod — due, no doubt, to their identical sensors and imageprocessing hardware. However, the E-510 showed better resolution in low-light field tests without a tripod, thanks to the camera's sensor-based image stabilization.
In our image quality tests, both in the Lab and in the field, RAW images converted to 16-bit TIFF files, using the supplied Olympus Master 2.02 software, yielded significant improvements over images shot and stored as JPEGs in the camera.
Don't misunderstand: The highest-quality JPEGs from both the E-510 and E-410 look just as good (or even a bit better) than JPEGs from most competing 10MP DSLRs — and, at higher ISOs, much better than those from the new Sigma SD14.
However, color accuracy is noticeably higher in converted RAW files at all ISOs and Excellent at ISO 1600, where JPEG results were rated Extremely High.
The most dramatic improvements gained from shooting in RAW mode can be seen in the differing noise levels in RAW and JPEG images shot at ISOs from 100 to 1600. In that range, JPEG noise levels ranged from Very Low (1.5) to Low (1.8) — impressive results, especially considering that the camera's builtin noise reduction barely affects image resolution, maintaining an average 1890 lines and an Excellent resolution rating at ISO 1600.
Yet RAW images at ISO 1600 were even better, showing noise levels nearly identical to JPEG images shot at ISO 100, for a noise rating of Very Low. Although resolution at ISO 1600 dropped about 10 percent, it still averaged above 1700 lines, earning it an Excellent rating. At ISO 100 to 400, noise ratings for RAW files were Extremely Low; resolution was slightly higher at ISO 100.
That stellar performance earns both the E-510 and E-410 Excellent overall image quality ratings for RAW images from ISO 100 to 1600, and Excellent image quality ratings for the highest-quality JPEGs from ISO 100 to 800.
The Olympus Master 2.02 software, which comes with both versions of the camera, is a versatile and well-designed RAW converter. It includes a thumbnail image organizer, before-and-after preview windows, and powerful image-quality controls — among them, curves, sharpening, and lensdistortion correction.
SHAKE IT UP!
There are some noticeable cosmetic differences between the E-510 and E-410, due primarily to the E-510's image stabilization. The E- 510 is thicker and wider to accommodate the sensor-based IS system, and its grip is bigger to accommodate a larger, higher-capacity battery. (The E-510's higher CIPA rating of 650 shots is calculated without turning on the IS system or Live View mode.)
You can access the IS menu quickly using a button located next to the LCD monitor on the back of the camera.
There are two stabilization modes — one for countering your unsteady hands in both the horizontal and vertical directions, and one for panning shots, which reduces the effect of vertical movement only.
We tested the full horizontal/ vertical IS in our lab, using DxO Analyzer 2.0 to analyze blur differences. These tests found that the E-510 added 1 to 1.5 stops of steadiness for handheld photos shot with a 300mm (equivalent) lens. (Our test lens was the 40-150mm f/4-5.6 kit lens set to 150mm for a 300mm equivalent field of view).
That's not as good as the test results from the IS systems on the Sony Alpha 100 or Pentax K10D DSLRs. However, neither of these competitors offer a panning IS mode. Moreover, we think the IS option is well worth the $100 price difference between the Olympus E-510 and E-410.
Both of these models also have a sharp, 230,000-pixel 2.5-inch LCD monitor that serves multiple purposes: to display and rapidly access the control panel settings prior to shooting, play back images with exposure histograms and other vital information, or display the image from the sensor in the Live View mode.
LIVE BAIT
Live View works in a similar fashion to most compact cameras, except for one problem: Autofocus is clunky. With Live View AF turned on, AF occurs after you fully press the shutter (not halfway down as in most compacts or when using AF without Live View). After pressing, the internal mirror swings up and then the system focuses, so there can be a 1- to 2-second delay, depending on how close the subject is to the current focus setting.
To save time, you can prefocus using the AF-lock button while composing your shot, which also takes a second or two, but shortens the delay time of the final exposure.
At any rate, few photographers will use the Live View mode while shooting a moving subject, so this shutter delay isn't that bad. But if you want complete control and a shutter response of less than 1 second, manual focus is your best choice in Live View mode.
In MF mode, pressing the Info button calls up a small green box that can be moved to an important part of the scene. Pressing the OK button magnifies that selected area, so you can achieve precise manual focus. You can also set Live View to accurately reflect your exposure and white-balance settings (darker or lighter image in the LCD).
Pressing the OK button in either AF or MF mode activates the control panel display as a transparent overlay. This allows you to view a live histogram and quickly change ISO, white balance, and several other exposure functions without delving into menu layers — all while the live image is shown in the background.
Though photographers who are moving up from compact digital cameras will use Live View more often, the optical viewfinder is better for shooting action or for extending the camera's battery life. It's fairly bright and earns Excellent ratings for magnification and accuracy. Three AF zones are clearly marked and can be quickly selected via the control panel screen on the LCD.
However, the data display is located to the left of the viewfinder image (not under it), and because of the viewfinder's eye relief and slight tunnel-vision effect, it's partly obscured unless your eye is pressed up against the viewfinder.
The three-zone AF system on the E-510 and E-410 is faster and more sensitive than any previous Olympus DSLR AF systems, even though it is nearly identical in design to the AF on the older Evolt E-500. It earns an Extremely Fast rating in bright light (EV 12-6) and Moderately Fast rating all the way down at the system's limit of EV 0.
In field tests, we found all three zones sensitive to both horizontal and vertical details, and the AF was able to track a moving subject when it remained in the relatively small area covered by the three AF zones.
Overall, the E-510 and E-410 are compact and well designed, with the best image quality of any Olympus DSLR we've tested. The E-510 will appeal to more advanced photographers who want the IS, larger grip, and additional control buttons. The smaller, lighter E-410 is for those who want a compact DSLR at a lower price, as well as underwater shooters looking for an affordable waterproof system.
THE E-410 UNDER PRESSURE
The E-410 has a special JPEG mode that optimizes white balance for shooting in shallow water without a flash. But what should make divers especially excited: This is a live-view 10MP DSLR system — including a zoom lens, external dedicated flash, and waterproof Olympus housings (PT-E03 camera and lens housing, $1,550; flash housing, $600) — that costs less than some third-party housings alone for Canon and Nikon DSLRs.
COMPETITIVE SET
• Sony Alpha 100 ($630, street, body only): The Sony's IS has about a 1-stop advantage over the E-510, but no panning mode. It has a superior 9-zone AF system and Dynamic Range controls. However, images show higher noise levels above ISO 400, and there's no Live View mode.
• Pentax K10D ($795, street, body only): This 10.2MP DSLR has a slightly better IS system, but lacks a panning setting and Live View mode. Its superior 11-point AF system has better tracking and low-light sensitivity. The Pentax body is tougher, with a higher-rated shutter, plus water- and dust-resistant seals.
VITAL STATISTICS
Imaging: 10MP (effective). 12 bits/color in RAW format.
Storage: CF Type I/II or Microdrive, and xD-Picture Card. Stores JPEG, RAW, and RAW + JPEG with several compression settings.
Burst rate: Up to 12 Super high-quality JPEGs at 3 fps or 8 RAW (tested using a SanDisk Ultra II 8GB card, LCD turned off).
Image stabilization: Sensor-based, works with all lenses.
AF system: TTL phase contrast with 3 selectable AF zones. Sensitive down to EV -0 (ISO 100, f/1.4).
Shutter speeds: 1/4000 to 60 sec plus B (1/3-EV increments).
Metering: TTL full aperture, evaluative, centerweighted average, and 2% spotmeter. EV 1-20 (at ISO 100).
ISO range: 100-1600 (in 1-EV increments) with +/-5 EV compensation.
Flash: Built-in pop-up with TTL metering and GN 39 (ISO 100, feet). Flash sync at 1/180 sec. Dedicated hot-shoe.
Viewfinder: Fixed eye-level pentaprism.
LCD: 2.5-in. TFT with 230,000-pixel resolution and Live View mode.
Batteries: Rechargeable 1500mAh PS-BLM1 Li-ion; 650 shots per charge (CIPA rating).
Size/weight: 5.4×3.6×2.7 in.; 1.1 lb with card and battery (body only).
Street price: $800, body only).
For info: www.olympusamerica.com.
VIEWFINDER TEST
Accuracy: 96% (Excellent)
Magnification: 0.91X (Excellent)