Camera Test: Nikon D80
10.2MP and other powerful weapons at your command.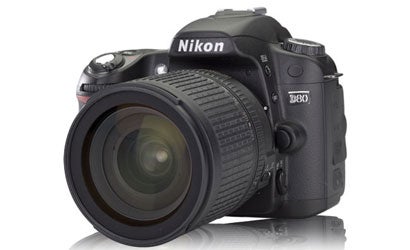 We may earn revenue from the products available on this page and participate in affiliate programs. Learn more ›
With the major camera makers drawing up battle lines in the 10MP DSLR war, Nikon just marched onto the field with a small but potent new weapon. As we noted in the October 2006 issue, the D80 ($1,000 street, body only; $1,300 with the 18-135mm f/3.5-5.6G kit lens) represents a major upgrade from Nikon's aging consumer DSLR, the D70s: a jump to 10.2MP from 6.1MP, plus equivalent boosts in processing speed, burst rate, AF performance, and in-camera image controls.
The test numbers are stellar. The D80, which uses the same CCD as Nikon's higher-end D200, has similar resolution, averaging over 2200 lines — indisputably Excellent. Color accuracy squeaked into Excellent, and noise suppression was exemplary: Extremely Low or Very Low right up to ISO 1600, and Moderately Low at ISO 3200 — where resolution was still at the Excellent level.
The D80's handling is quite similar to the D70's, which is to say very good. The chunky grip provides a secure handhold, and the front and back command dials, focus/exposure lock button, and four-way jog dial are within easy reach of index finger or thumb.
The view through the glass pentaprism finder, with its 0.94X magnification, is much improved over the tunnel-visioned D70. A trade-off, though: The larger screen image reduces eye relief a bit, so eyeglass wearers may have to shift their view to see the finder readouts outside the frame.
Sorting through the menus of the D80 proves how far DSLR monitors have come in the past few years: Big, clear lettering on the 2.5-inch LCD can be read at arm's length and off angle, with menu choices plainly spelled out in words, not mystery icons. Need more help? Press the "?" button to bring up an on-screen user's guide.
Not to say that the menus always make perfect sense — a few of the items are oddly categorized. Why, for example, is the battery-condition gauge in the Setup menu rather than the Shooting menu?
What's Hot • Exemplary image quality. • Outstanding low-light performance. • Lots of in-camera picture editing. What's Not • Lots and lots and lots of menus. • Adobe RGB color space difficult to set. • The hot RAW software costs extra. Who's This For? • Nikon enthusiasts who want D200 performance at a bargain. • DSLR buyers who want the best image quality for the buck. • Rate this Camera
Also, the top LCD control panel has very small readouts. We found it nearly impossible, for example, to switch the white balance in dim light, even with the control panel illuminated. So it's good that many of the functions on the control panel — like white balance — can also be reached through the menus.
There wouldn't be enough real estate on a dozen D80's to give every control a switch of its own. Here's a rundown of operation and performance by subsystem.
Autofocusing: A real strong point of the D80, the Multi-CAM 1000 AF module ported over from big brother D200 is a benchmark for SLR speed and sensitivity. Focusing points are arrayed in the now-familiar Nikon pattern of a 3×3 grid of cross-sensors, plus a linear sensor on either side of the grid acting as sentries for motion across the frame.
AF speed is comparable to the D200, including the ability to focus at EV -2, a dimness level where most other DSLRs simply can't autofocus, in 1.5 sec or less. In fairly dim light (EV 1-2), it focused crisply at 0.75 sec or less, and in brighter light at consistently under 0.5 second. Note that these tests are done with the AF-assist lamp turned off; you'll get snappier performance with the bright (and obtrusive) assist lamp.
Image controls: Like a number of recent DSLRs, the D80 has presets for color/contrast/sharpness profiles in the Optimize Image menu. These are Normal, Softer, Vivid, More Vivid, and Portrait. Unlike Canon's Picture Styles, though, the Nikon presets can't be individually tweaked.
For that, you have to select a Custom profile, which we recommend — not because we have anything against preset profiles, but because, strangely, this is the only way you can select Adobe RGB color space. (All the other profiles use the narrower-gamut sRGB color space.) And if you like to fiddle with your pictures in Photoshop, or make prints on a high-quality printer, Adobe RGB is the way to go. A Custom profile also lets you import a custom tone curve that you create in the optional Nikon Camera Control Pro software ($80, street).
Acknowledging that black-and-white photography is alive and well and increasingly popular among digital shooters, Nikon gave the D80 a monochrome image profile, too, and you can tweak this one to your heart's content: sharpness, contrast, filter effects, and toning.
Noise reduction: The D80 additionally allows you to choose the level of noise reduction used in photos shot at ISO 400 and above. We performed our noise tests with the setting at Normal; you can also choose High reduction, Low reduction, or reduction off (which still performs some minimal noise suppression at the highest ISOs). It's obvious where noise reduction kicks in big time: at ISO 800, where noise is even less evident than at lower ISOs.
Typically, noise reduction comes at the expense of sharpness, but with the D80 that loss is minimal. At ISO 800 with Normal noise reduction, the camera can still resolve just under 2000 lines, which is nothing short of awesome. At ISO 1600, resolution was around 1825 lines, and at ISO 3200, it was around 1740 lines — still good enough for an Excellent rating. Switching to Low noise reduction boosted resolution by a few percentage points; High noise reduction took resolution down by a few percentage points. We found there was no real advantage to switching noise reduction off.
In short, Nikon has made tremendous strides in controlling noise, and the D80 is an excellent available-light camera.
Metering: The D80 has 3D Color Matrix metering, the 420-pixel type developed for the D50. We found ourselves using it for just about everything, given that it could figure out exposures as well as or better than we could. Nice options for careful shooters; the 2.5-percent spotmeter (moves to whatever focusing point you're using. You can adjust the centerweighted metering's circle of greatest sensitivity to 6mm, 8mm, or 10mm. The narrowest is useful for those who shoot a lot of backlit or spotlit subjects.
Capture and storage: The camera uses an SD card rather than CompactFlash card, and will accept the higher-capacity SDHC cards, which is a good thing, given how quickly the D80 can capture big images.
With a relatively fast SD card in the camera (a 1GB SanDisk Ultra II), we fired off 100 highest-quality JPEGs at 10MP before the camera gave up — and the manual says it should stop at 23. It maintained 3 fps for about 25 frames, at which point it slowed, but still managed 2.6 fps over the 100 shots. Impressive! Lowering the resolution and/or the quality enabled the camera to swallow up 100 images slightly faster than 3 fps overall.
And for those who want to relive the thrilling days of the '60s, the D80 can make multiple exposures — three in one image, anyway, with the ability to automatically compensate exposures for the multiple.Power options: The EN-EL3e battery has a huge CIPA battery rating of 2,700 shots per charge, which can be increased with the MB-D80 battery grip ($150, street), which can take two EN-EL3e's or six AAs and adds a vertical shutter release. The fuel-gauge battery condition gauge is a great idea, but we wish it weren't two levels down in the menu.
Flash system: For those familiar with the D70's wireless Commander Mode and its limitations, the D80 is a welcome upgrade. The built-in flash can now control compatible Speedlights (SB-800, SB-600 and SB-R20) in any of four channels, and can operate two groups, which allows you to set different output levels on individual flashes. Moreover, the built-in unit can fire in a multiflash setup (and operate essentially as a separate group). The D70 limited the built-in flash to triggering only in Commander Mode.
Postproduction: There's lots of fun to be had with the D80 after you take a shot. In the camera, you can convert an image to monochrome, with conventional black-and-white tonality, sepia tone, or cyanotype blue tone. You can add a skylight effect or a warming filter to color shots. You can combine two RAW images into a multiple image, with adjustments to the relative opacity of the image.
Perhaps of greater use are the image fixes. D-Lighting can give a moderate boost to shadow detail in contrasty pictures; Red-eye Correction detects, then retouches, redeye; Trim lets you crop a picture in-camera, reducing the file size proportionally with your crop. Best of all, each of these fixes is saved as a separate file, so you don't lose your original.
Our favorite tool is Color Balance, which is hidden in the Filter Effects menu. This lets you color-correct an image within a two-axis graph using the jog dial. RGB histograms appear simultaneously to show the relative color levels in the image. You can fix lighting mismatches and white balance goofs (for example, the fluorescent greenies), or warm up or cool down photos to your taste. We wish, though, there were some way to zoom into the image during correction.
The Bottom Line: Perhaps you're thinking this is One Complicated Camera. Absolutely not. Pick it up, put it on Program, choose a resolution, and shoot. When you need advanced controls or after-shooting tweaks, they're there, but they don't intrude on the shooting experience.
After testing this camera, we began to suspect that the people at Nikon have simply gone crazy. The D80 in many instances equals the performance of the $700-more-expensive D200. Sure, the D200 has a tougher body and tougher shutter, but that's still quite a gap.
Should you buy it? If you're into the Nikon system, and want to move up from a D70 or D70s, absolutely. If you're a D200 owner and want a backup that can do it all, absolutely. If you're a first-time DSLR buyer, it gets murkier. The D80 is $100-150 more expensive than 10MP DSLRs from Canon, Sony, and now Pentax — and the Sony Alpha 100 and Pentax K10D have in-camera image stabilization. Nikon still makes you pay extra for its good RAW converter software.
But given the image quality of the D80, we say it's still a sensational buy.
Imaging: 10.2MP (effective) CCD sensor captures 10MP images (3872×2592) with 12 bits /color in RAW mode.
Storage: SD/MMC cards. Stores JPEG, RAW NEF, or JPEG + RAW NEF files.
Burst rate: Up to 100 highest-quality JPEGs at 2.6 fps; up to 100 at 3 fps with lower resolution or higher compression.
AF system: 11 selectable AF zones with red activation lights. Single-shot, continuous, and autoswitching AF with foreaft and across-the-frame tracking. Sensitive down to -2 EV (at ISO 100, f/1.4).
Shutter speeds: 30 to 1/4000 sec plus B (1/3 or 1/2-EV increments).
Metering: TTL metering with 420-pixel evaluative metering, variable centerweighted, 2.5% spotmeter coupled to the active AF point.
ISO range: 100-3200 in 1/3-EV increments.
Flash: Built-in pop-up unit with i-TTL automation, GN 42 (in feet, ISO 100), covers field of view of 18mm lens. Flash sync at 1/200 sec. Dedicated hot-shoe.
Viewfinder: Eye-level fixed pentaprism. On-demand viewfinder screen gridlines.
LCD: 2.5-in. TFT with 230,000 pixels and 170-degree viewing angle.
Output: Hi-Speed USB 2.0 and video. PictBridge compatible.
Batteries: Nikon EN-EL3e proprietary Li-ion rechargeable. CIPA battery life rating 2,700 shots per charge.
Size/weight: 5.2×4.1×3.0 in., 1.5 lb. with card and battery.
Street price: $1,000, body only; $1,300 with 18-135mm f/3.5-5.6G IF-ED AF-S Zoom-Nikkor DX.
For info: www.nikonusa.com.
VIEWFINDER TEST:
Accuracy: 95% (Excellent)
Magnification: 0.94X (Excellent)
Nikon D80 Noise Analysis
This may be the camera that sets the standard for low noise and superior noise reduction technology at higher ISO settings. Based on test results and graphs from DxO Analyzer 2.0 software, the D80 suppresses noise levels remarkably from ISO 100 to 800, and has one of the highest signal to noise ratios (at L175) that we've seen in a DSLR (Average 44 from ISO 100 to 400, a very good number). From the graphs you can see that the blue and red channel noise is higher in the shadow and midtone areas and eventually equals the green channel noise in the tone and highlight areas. This is the same from ISO 100 to 400. Therefore, if you want to apply any kind of noise reduction in post processing to images taken in this ISO range, target the Red and blue channels in the midtone and shadows. But don't expect noticeable improvements since the noise levels are already too low to see in most enlargements.
At ISO 800 Nikon kicks in some intelligent noise reduction that slightly lowers the resolution while taming the color noise and shape. Signal to noise ratio maintains a high 44 average but blue channel noise increases in the highlights. At ISO 800 and 1600 Nikon's NR brings the curves together to reduce color noise in the shadows and midtones, and noise "grain" shape is very symmetrical, but signal to noise ration drops to a respectable 38 average — higher than most compact digital cameras can achieve at ISO 100.
Here's how the Nikon D80 stacks up against the Canon Rebel XTi, Pentax K10D and Sony Alpha 100.
Canon EOS Digital Rebel XTi
Canon's first consumer-level DSLR to break the 10MP barrier, the Rebel XTi, is set to sell for a doorbuster $800 body only, $900 with 18-55mm kit lens-a $200 savings over the Nikon D80. This latest Reb has both self-cleaning sensor and software dust-mapping (the D80 has only the latter). And, with an AF system from the Canon 30D, we expect it will focus slightly faster than the D80 down to EV 0, after which the Nikon will have the advantage. In addition, the Canon lens line has greater depth in image-stabilized optics. But we think the Nikon D80 body is sturdier, and the D80's TTL flash system is superior-Canon built-in units still don't function as wireless triggers. We'll see if the Reb can match the Nikon's image quality when we test the camera.
Check specs and pricing on the EOS Digital Rebel XTi in our Buying Guide.
Pentax K10D
While we are still waiting for a production model K10D to test, at first glance Pentax's surprise 10-shooter looks like a real competitor. The K10D has better environmental sealing than the Nikon D80, and it comes with both self-cleaning sensor and sensor-based anti-shake, which the D80 lacks. It will also sell for about $100 less than the D80. The K10D provides wireless TTL flash control with the built-in unit, although the D80's system is the more sophisticated. Pentax promises improved AF with the K10D, so we'll have to wait and see how it compares with the Nikon's. While Pentax has a deep lens line, it's no match for the Nikon catalog. And the K10D will have to perform very well indeed to match the D80's image quality.
Check specs and pricing on the K10D in our Buying Guide.
Sony Alpha 100
Sony's groundbreaking Alpha 100 stacks up well against the Nikon D80, and not just in savings ($150 less). Sony's advantages include self-cleaning CCD (the Nikon has software dust mapping, but this take both forethought and post-production trouble), on-the-fly dynamic range fixes (Nikon's D-Lighting can only boost shadows, and only after the shot), and, most important, CCD-based anti-shake that works with any lens (Nikon's Vibration Reduction is available in only a few lenses). The Sony's AF is slightly faster throughout the EV range, although the Nikon AF is still better in motion tracking, has more zones, and can focus down to EV -2. Their TTL flash capabilities are comparable. The Nikon has the clear advantage in image quality (10 percent higher resolution and awesome noise control-moderately low at ISO 3200, a sensitivity the Sony doesn't even have), better in-camera color controls, and a much bigger lens catalog.
Check specs and pricing on the Alpha 100 in our Buying Guide.