Camera Test: Nikon D50
This Nikon DSLR redefines "entry level."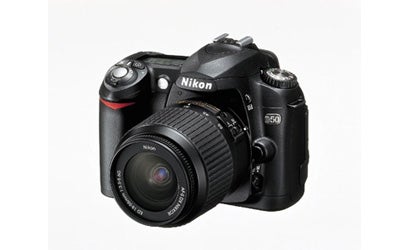 We may earn revenue from the products available on this page and participate in affiliate programs. Learn more ›
First impressions mean a lot. That's why we were eager to get our hands on a production version of Nikon's 6.1MP D50 DSLR-to confirm our positive first impression (see "First Look," July 2005). At a street price of $750 (body only; $1,150 with 18-55mm f/3.5-5.6 and 55-200mm f/4-5.6 Nikkor DX lenses, reviewed on page 56), it's priced below the $900 Nikon D70s and aimed at budget-conscious photographers shopping for their first DSLR. But as our lab and field tests confirm, the D50 is hardly an entry-level DSLR.
Admittedly, it's not built as ruggedly as the D70s and doesn't have as many external control buttons, dials, custom functions, or bells and whistles (like an illuminated LCD data panel). Many of these were removed to trim the D50's size and weight-a plus to those moving up from featherweight compacts. Nikon also reduced size by switching to an SD card memory slot on the D50. And while SD cards currently top out at 2GB compared with 8GB for CompactFlash, they cost about the same per GB and offer similar read/write speeds. More weight is cut with the 18-55mm and 55-200mm kit lenses.
So the D50 weighs less, but it's no lightweight. In fact, its AF speed out-performs the D70s, Canon's 8MP EOS Digital Rebel XT ($800 body only), the 6.1MP Pentax *ist DS ($700), and the 8MP Olympus Evolt E-300 ($700).
While the D50's AF system appears similar to the D70s' (on paper), its 5-area setup was faster in bright and moderate light than the D70s or Rebel XT, and most sensitive in very low light-still focusing at EV -1.
Like the D70s, the D50's pop-up flash and dedicated hot-shoe supports up to 1/500-sec flash sync-again faster than the Rebel XT or the other sub-$1,000 DSLRs. The benefit of this faster flash sync shows when using fill flash outdoors. Slower sync speeds force you to use a smaller aperture in bright sunlight, even when you want to limit depth of field in a portrait or close-up of a flower. Plus, fast-moving subjects blur a bit at slow sync speeds due to ambient light. And unlike some competitors' pop-up flashes, the D50's has exposure compensation.
Another speed boost comes in the form of a Hi-Speed USB 2.0 connection for quick image transfer to computers and similarly equipped PictBridge printers.
However, burst mode speeds are slower than those on the D70s (2.5 vs. 3 fps) and the Rebel XT's 3.5 fps. While most DSLRs have RAW storage plus JPEG, this option on the D50 limits JPEGs to a Basic size at full resolution but higher, 1:16 compression.
Who are you kidding?
While the D50 includes nearly all of the advanced exposure and metering controls of the D70s, including 3D Matrix II metering, it also sports a new Child setting in the Vari-Program section of the main mode dial. Nikon says it gives pictures of kids the right amount of vivid color and contrast. Hokey, we think. The problem with photographing children isn't color and contrast, it's capturing the fleeting expressions and composition in the split-second window of opportunity. With its superfast and sensitive AF system, accurate viewfinder, and advanced flash capabilities, the D50 can pull this off without a special mode. It also can match a kid's energy, with its battery capacity rated at 2,000 shots per charge (based on CIPA test reports).
Image Quality Shines
New DSLRs are constantly boosting image quality. The D50 is no exception. Despite its similar CCD specs and image quality controls (all in the menus), Nikon tweaked the image-processing circuits to give the D50 a very slight edge over the D70s in resolution, about the same color accuracy, and noticeably lower noise.
This last improvement wasn't even needed, since the D70s already held noise to a minimum compared with other DSLRs. The result? The D50 gets an Excellent image quality rating from ISO 200 to 1600, achieved only by one other camera, the Nikon D2x. However, the D2x, Canon EOS Rebel XT, and Olympus Evolt all have higher resolution, so you can make larger photo-quality prints with these cameras. Still, the D50 will produce stunning 10×15-inch prints from photos shot at ISO 1600, an existing-light shooter's dream.
The D50 does have quirks. We found that the SD memory card door slides open too easily when holding the camera tightly. That could be fixed with a small piece of black tape. There's also a slight vignetting in an otherwise decent viewfinder caused by a narrow opening at the eyecup. While the viewfinder has similar data and magnification to the D70s, it shows improved accuracy (96% vs. 92%), but we miss the D70s' on-demand grid.
Nikon also removed the front control dial, so aperture adjustment in manual mode must now be done by holding in a button behind the shutter while twirling the back dial. That may be difficult in cold weather with gloves on.
The 2-inch LCD beats the 1.8-incher on the Rebel XT. But it doesn't include a removable plastic cover as on the D70s and most other Nikon DSLRs.
Finally, with the new kit lenses, flipping the switch on the camera body from AF to manual focus doesn't give you manual focus-unless you also set the lens to manual focus. That's because these lenses are missing the AF/MF override switch found on other DX lenses that lets you focus manually and get an instant AF assist when you press the shutter.
Bottom Line
To its credit, Nikon didn't design the D50 as an entry-level model in terms of features and performance. Instead, the D50's supersensitive AF system, low noise levels, excellent image quality, high-speed flash sync, and bright 2-inch LCD could sway prospective buyers away from its higher-priced sibling and many of its competitors.
Certified Test Results
Resolution: Excellent (1450Vx1600Hx1550D lines). Color accuracy: Excellent (Avg. Delta E: 7.14). Highlight/shadow detail: Very high. Contrast: Normal. Adjustable via menus. Noise: Extremely low at ISO 200 to 400, very low at ISO 800, and low at ISO 1600. Image quality: Excellent from ISO 200 to ISO 1600. AF speed: Best in its sub-$1,000 class. In very bright light (EV 12 to EV 7), Its extremely fast AF ranged from 0.43 to 0.49, outperforming the D70s and Rebel XT, but slightly slower than the Maxxum 7D. In moderately low light (EV 6 to EV 3), it's very fast at 0.52 to 0.63 sec. only outgunned by the original EOS Rebel. In very low light (EV 2 to EV 1), it's still very fast at 0.71 to 0.81 sec, but slightly slower than the EOS 20D. In extremely low light (EV 0 to -1) it still worked at 1.20 to 1.50 sec, matching the more expensive Maxxum 7D. Viewfinder: The viewfinder's 0.77X magnification gets a "Good" rating, but is less desirable than the Rebel XT's excellent (0.86X) rating. It shows 96% of the picture area, an excellent performance that is better than the 95% of the Rebel XT. The etched focusing screen (below) shows five selectable AF zones with sensitivity patterns (in red) identical to the D70, but there are no on-demand grid lines. The center zone covers the spotmeter area and is the only true cross sensor of the five. Info: www.nikon-usa.com; 800-645-6689.