Camera Test: Nikon D300
From the outside, the D300 looks a lot like the D200. But what's on the inside pushed the D300 to new performance records in the Pop Photo Lab.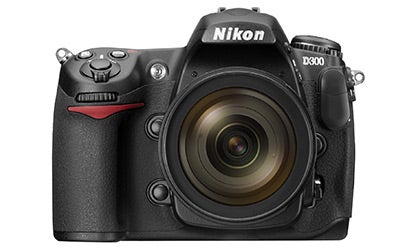 We may earn revenue from the products available on this page and participate in affiliate programs. Learn more ›
Nikon could have played it safe. By just tweaking its highly rated D200, the company could have come out with a camera priced closer to Canon's new 10.1MP EOS 40D ($1,300, street, body only). Instead, the engineers went wild, revamping everything from the viewfinder to the sensor, adding live view, and taking such pro-level features as the 51-zone AF system from the new Nikon D3 ($5,000, body only).
The result: the new 12.3MP D300 ($1,800, body only).
Now, after our Lab and field tests, it's clear that Nikon made the right decision. We're so convinced of it that the editors of Pop Photo named the D300 The Camera of the Year 2007 — and in the face of heated competition in the middleweight DSLR class from the just-as-new 10.1MP Olympus E-3 ($1,700, body only) and 12.2MP Sony Alpha 700 ($1,400, body only).
From the outside, the D300 looks a lot like the D200. But what's on the inside pushed the D300 to new performance records in the Pop Photo Lab:
• It's the first DSLR to earn an Excellent image quality rating from ISO 200 all the way up to ISO 3200.
• It sports the fastest (and most sophisticated) AF we've tested so far.
A major factor in the D300's stellar image quality is the new Sony-made 12.3MP (effective) CMOS sensor that captures RAW data with up to 14 bits of color per red, green, and blue channels. Most other DSLRs in this class only provide 12 bits per channel. This gives the D300 an advantage in reproducing fine color gradations, shadow details, and wider dynamic range. But it also increases the file size of images recorded in the 14-bit mode (selectable over normal 12-bit RAW).
To handle this tsunami of data, Nikon turned to the D3's new high-speed EXPEED image processor. Not only does it move RAW data, but it also works its noise-reduction, dynamic-range, and color-algorithm magic on stored JPEGs.
Results from the Pop Photo Lab show how well this works on Fine-quality JPEGs:
• Excellent image quality, ISO 200-3200.
• Excellent color accuracy, ISO 200-1600.
• Excellent resolution, up to ISO 6400.
• Noise levels, Extremely Low at ISO 200 to only Moderate at ISO 6400.
The only reason the D300 didn't earn an Excellent image quality rating at ISO 6400 was the higher noise levels in shadows.
Since the EXPEED processor leaves RAW data pretty much alone, other than applying some data compression or converting 14-bit color to 12-bit to save space (all options you can select), RAW files processed in the supplied ViewNX software don't get the full benefit of the processor's noise-reduction savvy. As a result, noise ratings for RAW images are noticeably higher than for JPEGs when using that utility. However, our test results confirm that the noise reduction algorithms in Nikon's RAW converter, Capture NX version 1.3, match or exceed the noise reduction capabilities of the EXPEED processor.
In the past, Nikon charged extra for Capture NX, while other manufacturers included a solid RAW converter with their cameras. Now that's finally changed. NX now ships with Nikon's D300 and D3, allowing advanced exposure, white balance, and lens-distortion correction, D-lighting and sharpening tools, and the powerful U-Point technology (with an assortment of filters) inherited from Nik Software, Inc.[Nikon originally stated that Capture NX would be included in the software bundle. That was updated after we went to press. A trial version is included, and the full version of Capture NX is available for $129 street price.]
BANG, BANG, BANG
If you're a sports photographer and photojournalist, then you might want to stick with the amazing low-light image quality and burst capacity of Fine-quality JPEGs, and leave RAW (or RAW + JPEG) to those who can accept the hit to burst capacity and have time to process the files later. After all, the D300 captures up to 100 Fine-quality JPEGs at 6 frames per second (tested with a 16GB Kingston Elite Pro 133X CompactFlash card).
At 6 fps, the D300 gulps down 19 RAW files, two more than the Canon EOS 40D. While the Canon, with its 6.5 fps up to 160 images, outguns the Nikon in JPEG mode, the D300 has slightly more data to process due to its higher-megapixel sensor, which delivers 5-10 percent more data than the Canon. You can boost the D300's burst rate to 8 fps with the MB-D10 Multi-Power Battery pack or an AC adapter.
The Sony A700, which has a sensor with similar resolution, stores more RAW files (up to 20) and JPEGs (unlimited depending on card speed and capacity) but at 5 fps.
The EXPEED image processor also cuts startup time (Nikon claims 0.13 sec), enables true HDTV video output (via an HDMI connector), and serves up dynamic-range enhancements in the Active D-Lighting controls. When turned on, Active D-Lighting manages high-contrast scenes by preventing blown-out highlights without blocking up shadow details, much like Sony's Dynamic Range Enhancement. For NEF RAW files, Capture NX software must be used to apply D-lighting adjustments.
ULTIMATE AUTOFOCUS
For more virtuosity, look at the AF. Taken from the D3, it's a 51-zone, TTL phase-detection system with 15 cross-type sensors capable of vertical and horizontal detail detection when using any Nikkor lens with a f/5.6 or wider aperture. (The Canon EOS 40D has nine cross-type sensors active at f/5.6 or larger, plus a center sensor active with f/2.8 or larger-aperture lenses.)
In our tests, the D300 focused extremely fast in bright and moderate light from EV 12 to EV 6, slightly faster than the EOS 40D, but not as quick as the Sony A700 or Olympus E-3. In low light from EV 4 to EV 1, it was just behind the Canon but much faster than the Olympus. And in very low light from EV 0 to -2, it was faster than any other DSLR we've tested, maintaining an AF speed of under 1 second even at its limit of EV -2 (the Olympus stopped at EV -1).
You can select individual AF zones or groups in patterns of 11 zones, and fine-tune the AF for individual lenses (great for third-party glass or old Nikkors that don't provide object-distance data to the camera). The 51-zone pattern also covers a wider area of the image than Nikon's full-frame D3 (a 1.5X 35mm lens factor benefit) so the D300's 3D-Tracking should, in theory, be able to lock onto a moving subject and follow it across more of the field of view than the D3.
Without a testable D3, we couldn't confirm this in our field tests. But we verified Nikon's claim that the D300's Auto-Area AF mode, with its Scene Recognition System (SRS), can track an object by color and shape. It gives higher priority to off-center skin areas (such as a face, exposed shoulder, or arm) rather than centrally located background elements. So instead of manually locking onto a person in a scene and then recomposing, you can let the AF do it all in one move. We like the way this camera thinks!
SEE IT LIVE
The AF system also works in live view — albeit with a delay in focus and capture due to the time it takes the mirror to swing up and down. Predictive focus tracking doesn't work in this mode, but there's a second AF method that uses contrast detection and analysis of image detail. You can position an AF zone anywhere in the scene and zoom in on the live image up to 13X to check focus, but we found it much slower and not useful for moving subjects, such as an insect or swaying flower.
Do pros and advanced amateurs need live view? We don't think it's about to replace the D300's excellent optical viewfinder, with 0.94X magnification and 99 percent accuracy. But it sure comes in handy for macro and overhead shots.
Unlike the Olympus E-3 and Panasonic Lumix DMC-L10, the D300 doesn't have a swiveling LCD. But its 307,000-pixel (920,000-dot, VGA resolution) 3-inch screen packs twice the resolution of those moveable monitors and of the 3-inch (230,000-dot) display on the Canon EOS 40D. It has a wide 170-degree viewing angle, and you can read images and text even in bright sunlight.
ANY WHICH WAY
Metering systems and most image-quality controls on the D300 are similar to those on the D200. With that 3-inch LCD, menu controls are a snap. Modify the Picture Control presets to fine-tune contrast, sharpness, brightness, saturation, and hue. Monochrome? Adjust for color filter effects and tone.
In addition, you can create custom Picture Controls in the supplied software and upload them to the camera — especially useful for studio shooters with different lighting setups.
Our field tests confirmed the accuracy of the metering and white balance systems. If you've shot with Nikons before, you'll find the external controls easy to master while looking through the viewfinder. And the number of setting variations is astounding. That's one reason the D300's manual is so thick.
Of course, we doubt that most photographers will read all the way through the manual before firing up the D300. Taking pictures with this camera is simply irresistible.
Imaging: 12.3MP (effective) CMOS sensor captures images at 4288×2848 pixels with up to 14 bits/color in RAW mode.
Storage: CompactFlash Type I/II including UDMA; microdrives. Stores JPEG, RAW (12 or 14 bit), RAW + JPEG and TIFF files.
Burst rate: Fine-quality JPEGs: 6 fps up to 100 shots. RAW: Up to 19 RAW at 6 fps (12-bit); 8 fps with optional battery grip.
AF system: TTL phase detection with 51 illuminated focus points (15 cross-type). Single-shot and continuous AF with 3D focus tracking. Sensitive down to EV -2 (at ISO 100, f/1.4).
Shutter speeds: 1/8000 to 30 sec plus B (1/3, 1/2, or 1-EV increments). 150,000 cycle rating.
Metering: TTL metering using 1005-pixel RGB sensor, 3D Color Matrix II, centerweighted, and spotmetering (approx. 2.0% of viewfinder). EV 0-20 (at ISO 100).
ISO range: Normal: ISO 200-3200; expanded: ISO 100 or 6400 (in 1/3-EV increments).
Flash: i-TTL built-in pop-up flash, GN 39 (ISO 100, feet). Flash sync to 1/250 sec. Provides wireless control of Nikon SB-600 or SB-800 units. Dedicated Nikon hot shoe.
Viewfinder: Fixed eye-level pentaprism.
LCD: 3-in. TFT with 307,00-pixel resolution, 170-degree viewing angle.
Output: Hi-Speed USB 2.0, HDMI video, 9-pin GPS, and 10-pin remote control.
Battery: Rechargeable EN-EL3e Li-ion, CIPA rating, 1000 shots, 50% with flash.
Size/weight: 5.8×4.5×2.9 in., 1.82 lb without card and battery.
Street price: $1,800, body only; $2,100 with Nikkor 18-135mm f/3.5-5.6G ED-IF AF-S DX lens.
For info: www.nikonusa.com.
VIEWFINDER TEST
Accuracy: 99% (Excellent)
Magnification: 0.94X (Excellent)
COMPETITIVE SET
• Sony Alpha 700 ($1,400, street, body only): With its similar-sized 12.2MP CMOS sensor, the A700 captures nearly as much detail as the D300, but the color is not as accurate. The noise control advantage also goes to the D300 at ISO 1600 and above, and its AF system squeaks past the A700's in very low light (the A700 is faster in very bright light). The A700 boasts the same spectacular 3-inch LCD monitor — but with no live view, and it captures 5 fps in burst mode vs. the Nikon's 6 fps. To its credit, the A700's SteadyShot IS gives it up to a 3-stop handholding advantage with any lens.
• Olympus E-3 ($1,700, street, body only): For only $100 less, the E-3 ranks as the closest competitor to the D300 in most categories. Like the Sony, it features a sensor-based IS system, but it also has a swiveling LCD monitor (albeit a 2.5-incher) and live view with AF. The tough body has more control buttons (some in odd places), and its AF system is slightly faster in very bright light. However, the D300's AF wins hands-down in moderate and very low light. Plus, its AF tracking is superior, and its better noise reduction at high ISOs also gives it the image-quality advantage.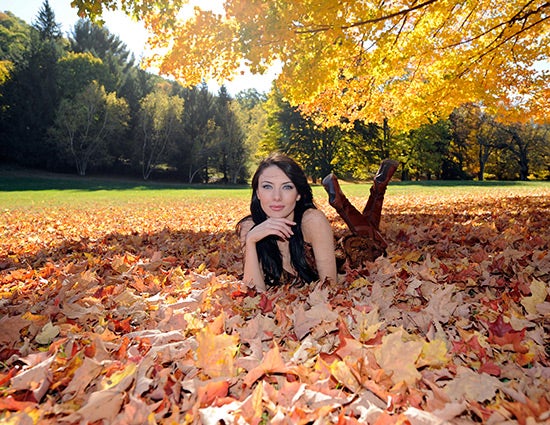 Nikon-D300-The-D300-provides-Excellent-image-qual
The D300 provides Excellent image quality, and its advanced AF, flash, and metering systems easily tackled this tough backlit scene. Shot with 14-24mm f/2.8G ED Nikkor AF-S lens, Nikon SB-600 flash; 1/250 sec at f/6.3, ISO 200.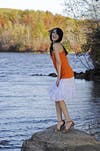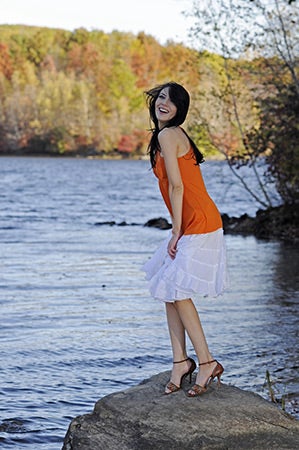 Nikon-D300-The-goal-was-to-make-the-model-appear
The goal was to make the model appear to be lit by early morning sunlight, and the SB-800 triggered remotely pulled off the illusion. 1/200 sec at f/7.1, ISO 200. 135mm focal length on 135mm lens.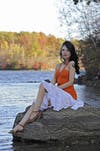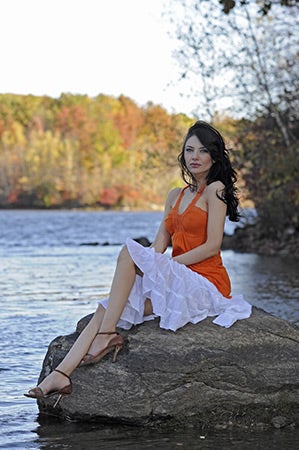 Nikon-D300-A-combination-of-multiple-flash-D-lig
A combination of multiple flash, D-lighting settings applied later to a RAW-NEF file in Capture NX, and depth of field control help this photo succeed. 1/200 sec at f/6.3, ISO 200. 135mm focal length on 135mm lens.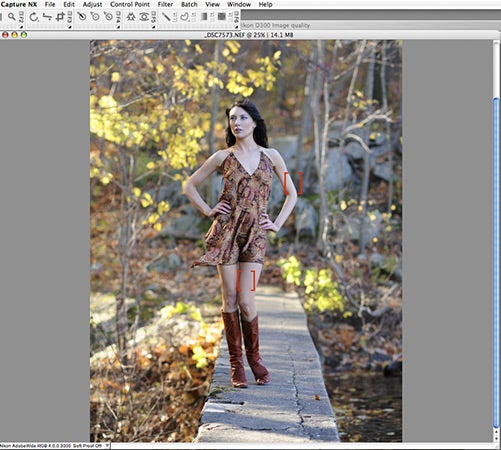 Nikon-D300-Within-View-NX-or-Capture-NX-you-can-t
Within View NX or Capture NX you can turn on the AF zones that the camera used to lock onto a subject. In this example, the camera chose two obvious skin tone areas on the models arm and leg, and ignored branches in the background.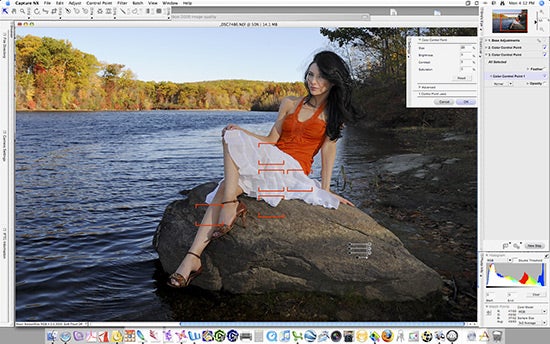 Nikon-D300-Nikon-now-ships-Capture-NX-1.3-with-th
Nikon now ships Capture NX 1.3 with the D300 and pro D3. It's one of the best RAW converters available and utilizes innovative U-point technology from Nik Software.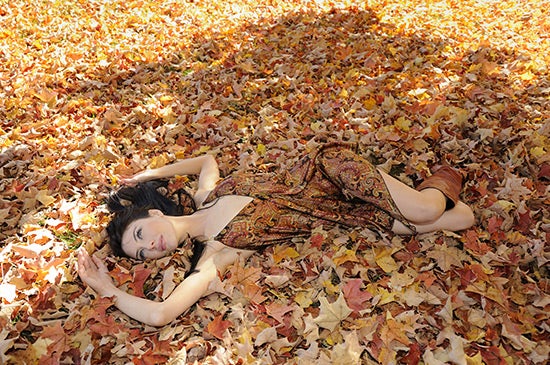 Nikon-D300-RAW-files-from-the-D300-show-plenty-of
RAW files from the D300 show plenty of highlight and shadow detail, plus excellent color accuracy and skin tones. 1/250 sec at f/4.5, ISO 200. -33 stop EV compensation. Fill flash from popup. 24mm focal length on Nikkor 12-24mm AF-S f/4G ED lens.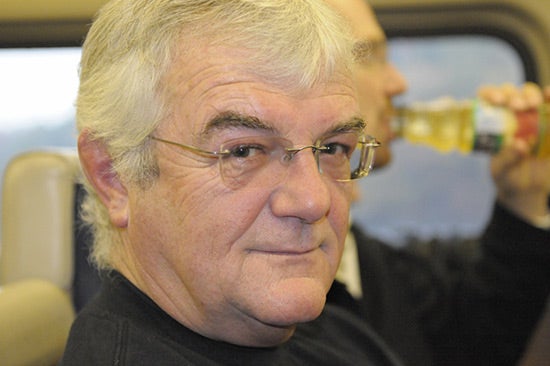 Nikon-D300-At-ISO-3200-noise-is-still-Low-and-R
At ISO 3200, noise is still Low, and Resolution is still Excellent. This candid portrait was captured under Fluoresent lights with help from the popup flash. Shot with Nikon D300 using AF-S Nikkor 18-200 VR f/3.5-5.6 G ED at 1/200 @ f/2.8.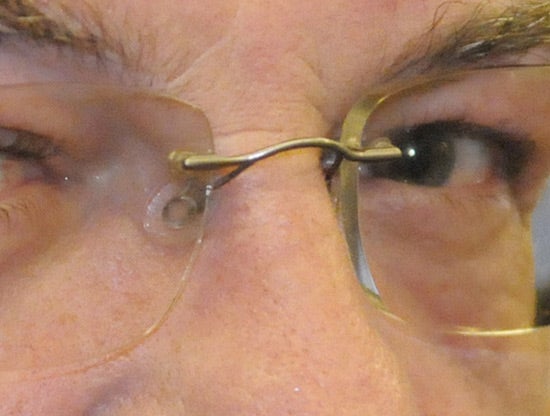 Nikon-D300-This-is-a-100-pixel-view-of-the-previ
This is a 100% pixel view of the previous image shot at ISO 3200, showing the Low noise and Excellent Resolution.