Camera Test: Nikon D200 DSLR
Amazing image quality and shockingly low noise.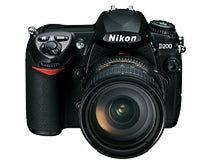 We may earn revenue from the products available on this page and participate in affiliate programs. Learn more ›
In our January issue we looked at a pre-production version of Nikon's new 10.2MP D200 ($1,700, body only), and we were left with some unanswered questions. First, what kind of performance would we get from an actual production model? Second, how would the final features and images from the D200 stack up against its newest competitor-the $1,400 (body only) 8.3MP Canon EOS 30D? And third, would the D200 cannibalize the sales of Nikon's pro flagship, the 12.4MP D2x ($5,000, body only)?
Now that we've run the actual D200 through a host of Pop Photo Lab and field tests, we've discovered the answers to the first two questions. In terms of color accuracy, images from the D200 rival those from the D2x, and are nearly as good as the EOS 20D. But the real surprise is that the D200 captures images with higher color accuracy than Canon's full-frame 12.8MP EOS 5D ($3,000, body only). In the resolution department, the D200 averages 2,075 lines, nearly 300 lines higher than the Canon EOS 20D, but lower than the higher megapixel D2X (avg. 2430 lines) and the EOS 5D (avg. 2200 lines.)
Despite their similarities, the D200 body lacks a few features found on the D2x, most notably the monochrome data display on the back. It's also missing the fast FireWire connector for PC and Mac found on the original D1x, and it has a shutter mechanism that Nikon rates at 100,000 shots-similar to the new EOS 30D, but not as durable as the 150,000 rating of the D2x.
However, the D200 has a Hi-Speed USB 2.0 connector, plus it offers more flash capabilities. These include a pop-up flash that can be used as a primary or fill flash, or as a means to wirelessly control multiple flash arrangements via the iTTL Commander Mode built into the camera. We also preferred the D200's locking mechanism for its CF card door.
To correct our original description of the EN-EL3e battery: It will work in other Nikon bodies that originally used the EN-EL3 or 3a-including the Nikon D50, D70, D70s, and D100. But the older batteries will not work with the D200. However, if you buy the MB-D200 grip ($170, street), you can use AA cells for power.
Nikon reveals all with its CIPA battery life estimates, which can vary depending on criteria used for testing. The number of shots per charge ranges from 340 (for large normal-compression JPEGs, focusing between shots, half with flash and flash assist light) to 1,800 (for medium-sized, basic-compression JPEGs, three focusing cycles between shots, no flash or assist lamp, and 5-second LCD playback after each shot).
Since the majority of D200 users probably will buy a separate, more powerful and versatile SB-800 flash unit, and shoot either high-res JPEGs or RAW-NEF + JPEG images, a more realistic shot number is closer to 1,000. At any rate, a look at the D200's battery-life menu screen tells you approximately how many shots remain, and when your battery is past its prime.
The D200's excellent viewfinder also lets you see exactly what you're shooting-and at a magnification that's close to life-size at 0.97X (using a 50mm f/1.4 lens). It's fairly bright, and the 11 visible AF zones don't block your view. The AF system is incredibly fast and sensitive, though not as sensitive in the lateral AF zones as the D2x, especially when trying to lock on horizontal detail. Still, the low-light sensitivity of the central AF zones and its overall performance in moderately bright light is outstanding.
| | |
| --- | --- |
| Dowload the Pop Photo News Podcast for this article and see the full gallery of Nikon D200 images | |
| PC User: Right Click > Save Target As… Mac User: Control + Click > Download Link to Disk | |
| NEWS PODCAST | GALLERY OF IMAGES |
Note: This review has been updated to reflect our updated test results for the Nikon D200. For more on this, please see The McNamara Report: Beware the Ides of March
The D200's 5 fps burst mode makes it as fast as the D2x and Canon's 30D. But in our test, it captured 30 fine-quality JPEGs at a time, not the 37 that Nikon claims.
Hot Tuner
Nikon did a great design job on the D200's menus and image controls. They're easy to navigate, relatively uncluttered, and you can select them with just your thumb using the four-way dial. Several new controls help improve image quality and fine-tune noise reduction. For example, you can set JPEG compression to either Size Priority or Optimal Quality-besides setting it to Basic, Normal, or Fine. Size Priority compresses each JPEG to roughly the same storage size, independent of scene detail, although highly detailed parts of a scene can suffer a bit. Optimal compression takes scene content into account, typical of most cameras.
Choices for noise reduction include a setting for long exposures or shooting at higher ISOs. In our tests, turning on the higher-ISO noise reduction allowed the D200 to reach Extremely Low noise levels at ISO 1600. That coincided with a 5-percent drop in resolution-a great tradeoff for anyone needing low-light, ISO 1600 shots without flash that rival those taken at ISO 100 by most other DSLRs in bright light.
More proof of the D200's pro pedigree is its 44 custom settings, allowing you to fine-tune everything from the burst speed to the Optimized Image compression algorithms. Nikon dedicated nearly 30 pages of the owner's manual to custom functions alone.
If you're willing to spend the extra $300 that the D200 costs over the Canon EOS 30D, and you don't have a Canon lens stockpile, then choosing the D200 is a no-brainer. If you're a pro, the choice is harder. Sure, Nikon's D2x can take more abuse and has a longer-life shutter, but you could buy two D200s, a battery grip, a few lenses, and a flash for the price of one D2x body. And the only advantage an EOS 5D has over the D200 is its full-frame sensor, which gives you the same field of view on a lens as on a 35mm SLR. Is that worth $1,300 more? You decide.
The eye above is a 100 percent crop made from the full sized version of the portrait, shot with the D200, shown below.
What's Hot: Excellent image quality and low noise up to ISO 1600. Big LCD, accurate viewfinder.
What's Not: No vertical shutter release built-in. RAW-NEF Capture software costs $99.
Certified Test Results
Resolution: Excellent (2050Vx2170Hx2005Diag lines). Color accuracy: Excellent (Avg. Delta E: 7.54). Highlight/shadow detail: Extremely High. Contrast: Normal, and adjustable to six presets via menus. Noise: Extremely Low at ISO 100, Very Low at ISO 200 to ISO 800, Low at ISO 1600. Image quality: Excellent from ISO 100 to 1600. AF speed: Extremely Fast in bright light (EV 12 to 8) from 0.46 to 0.56 sec, about the same as the EOS 30D (0.49 to 0.55 sec). In moderate light (EV 6 to 4), still Extremely Fast at 0.49 sec to 0.57 sec. In low light (EV 2 to 0) it slowed down to 0.75 to 1.1 sec. At its super-sensitive limit (EV -2), the D200 tops all at 1.51 sec. Burst rate: In tests using a Kingston 4GB Ultimate 100X CF card, captured up to 30 fine-quality JPEGs at 5 fps and stored them all within 15 sec. Viewfinder: The etched focusing screen (below) shows 11 selectable AF zones with a center-cross type in center, on-demand grid lines, battery life and missing CF card indicators. CIPA battery life rating: Ranges from 350 to 1,800 shots with rechargeable EN-EL3e Li-ion battery (see main text). Size/weight: 5.8×4.4×3.1 in., 2.07 lb with battery. Street Price: $1,700. For info: www.nikonusa.com; 800-645-6689.
Viewfinder Accuracy: 95% (Excellent)
Viewfinder Magnification: 0.97X (Excellent)
Related Links
Hands On: Nikon D200
News Flash! Nikon Announces 10.2MP D200