Camera Test: Mustek MDC530Z Digital Camera
Lots of megapixels for your money. But not a whole lot more.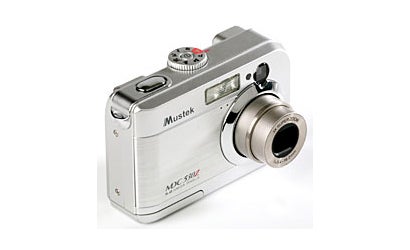 We may earn revenue from the products available on this page and participate in affiliate programs. Learn more ›
How many megapixels can $179.00 buy? If you consider the Mustek MDC530Z, the answer — this month — is five. But megapixels are only one thing to consider when you choose a digital camera. Image quality, ease of use, buffer and image processing speed, and quality of construction should also factor into the equation.
Those suffering "megapixel envy," but looking in the budget category, may be interested in the MDC530Z, but there are some things to consider when looking at this model.
The MDC530Z features a 3x Optical Zoom (32-96 equiv), a 2-inch LCD, and uses widely available AA batteries. It has a limited ISO range of ISO 50, 100, and 200. Once focus is achieved, "burst mode" fires three shots in a row in about 6.5 seconds, even if you stop holding down the button (no flash in this mode). It will not, despite what the manual states, continue to keep shooting until you release the button, even if you hold it until the three "burst" images are processed. In the testing lab, with daylight-balanced Dedolights, the AWB showed strange color casting that was pinkish when underexposed, then greenish when overexposed.
Without flash, the camera managed to focus and shoot 5 shots in 30 seconds, although the fifth photo was still processing until 35 seconds had elapsed. Indoors, with flash, it was close to 10 seconds (3 shots with flash in 28 seconds, camera recycled for next photo at 36 seconds) between shots.
This camera is exceedingly slow. The LCD screen is always on until the camera goes to sleep, and then it takes a couple of seconds to wake for a new shot. The video record mode is 320×240 @ 20fps, so moving subjects look choppy in playback. The lens assembly also does not feel particularly sturdy. There is moderate noise at the slow maximum ISO 200.
The camera does incorporate a couple of nice features, including a small, but functional optical viewfinder. Another nice feature is the "Rule of Thirds" framing screen in shooting mode.
The Mustek MDC530Z may appeal to the budget shopper who wants 5 megapixels. However, the company must improve the image quality (noise and color accuracy), ISO range, processing speed, and quality of build if it wants to make serious inroads with tech-savvy buyers.
What's Hot:
Optical viewfinder
"Rule of Thirds" framing screen in picture mode
What's Not:
Plastic tripod mount
Brutally slow time between photos, with or without strobe
Limited ISO Range
Noise even at low ISOs
Certified Test Results
Resolution (HxVxD): Extremely High at ISO 50 (1630) and ISO 100 (1573), High at ISO 200 (1295)
Color Accuracy: Acceptable (Average Delta E: 13.39)
Noise: Low at ISO 50 (1.615), Moderately Low at ISO 100 (2.0975), Moderate at ISO 200 (2.7575)
Lens Distortion: Visible Barrel (.51%) at Widest, Imperceptible Pincushion (.04%) at Midzoom, Imperceptible Pincushion (.06%) at Tele
Battery Life: CIPA estimate of 155 shots
Dimensions: 3.6″ x 2.4″ x 1″
Street Price: $180
In the box: Camera, USB Cable, A/V Cable, User's Manual, Software CD, Camera Pouch, Camera Strap, 2AA Batteries, AC Power Adapter