Camera Test: Kodak EasyShare V610
Twin-lens supercompact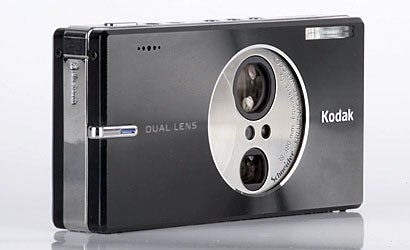 $410, street
It fits in a shirt pocket, yet has a superzoom range from 38mm to 380mm (35mm equivalent). The impossibly small 6-megapixel Kodak EasyShare V610 has just wrested the title of World's Smallest 10X optical zoom digicam from the short-lived former champ, the Panasonic Lumix DMC-TZ1, after a reign that lasted just about two months.
Kodak accomplishes this long reach in an economy of space by employing dual 5x lenses (38-144mm and 130-380) and dual sensors. This technology and design was first introduced with the EasyShare V570. Rather than a replacement to the V570, the V610 is an expansion of this stylish line.
The V610 is tiny-just 4.4×2.2×0.9 inches-amazingly small when you consider they pack a 2.8-inch LCD, two lenses, and two sensors into this tiny package. And if this wasn't enough, the V610 also has BlueTooth for sending photos wirelessly to EasyShare printers, computers, camera phones and other bluetooth devices. All in all, a heck of a lot of camera in a tiny amount of space!
There are some drawbacks to wedging so much into such a small package. In its zeal to create the world's smallest 10X zoom, Kodak overlooked a crucial feature: Image Stabilization. We always prefer optical, but even digital stabilization for still shooting mode would be better than nothing, especially since the LCD is your only framing option. Past the 5X zoom range in anything but the best light, and you'll have to crank up the ISO to try to keep it steady, which drops resolution and increases noise, based upon our test results. Also, we've found that the most secure grip for holding the camera steady puts your thumb on the LCD screen.
Resolution numbers are low for its pixel class. The 38-44 shows Visible barrel (0.44%) at 38mm and Slight pincushion (0.20%) at 114mm. The 117-380 shows Slight barrel (0.19%) at 117mm and Imperceptible pincushion (0.10%) at 380mm. Noise numbers varied greatly between lenses/sensors at ISO 200 and 400. We observed flare issues with both lenses in outdoor situations, probably due to the flush, nonhooded lens design.
As with most compact digicams these days, the EasyShare V610 has Kodak's version pre-selected presets for various shooting conditions. Of note are the Panning mode for capturing motion while blurring the background, provided you move the camera in sync with your subject (the manual fails to mention that you must follow your moving subject, which may leave users confused as to what this setting is all about).
In-camera Panoramic Stitch is a very cool shooting mode. The display helps line up your framing for the second and third shots by displaying a portion of the previous frame, which should assist users in the field.
The Kodak EasyShare V610 shoots video at up to 30 frames per second. You can zoom, even across lenses, while recording-a nice touch.
Image playback includes a slideshow mode, along with Kodak's "Perfect Touch" image correction tools to prep photos in-camera before zapping them to the BlueTooth printer.
The Kodak EasyShare V610 is not perfect-but it is a stylish record-setting camera that looks great. If you're looking for a super cool ultramodern camera for snapshots of subjects nearby and far away that you can slip into the pocket of your favorite jeans, this might be the one for you.
Distortion: 38-114mm lens: Visible barrel (0.44%) at 38mm; Slight pincushion (0.20%) at 114mm.
130-380mm lens: Slight barrel (0.19%) at 130mm; Imperceptible pincushion (0.10%) at 380mm.Noise: 38-114mm lens: Low at ISO 64 (1.7), Moderately Low at ISO 100 (2.0) and 200 (2.0), Low at ISO 400 (1.9), and Moderate at ISO 800.130-380mm lens: Low at ISO 64 (1.7) Moderately Low at ISO 100 (2.1), Low at ISO 200 (1.6), Moderate at ISO 400 (2.5) and ISO 800 (2.9)Color Accuracy: 38-114mm: Extremely High (Average Delta E: 9.15, ISO 64 AWB), 130-380mm: Extremely High (Average Delta E: 8.21, ISO 64 AWB)Resolution: 38-114: Very High at ISO 64 (1393), ISO 100 (1390), and ISO 200 (1328), Acceptable at ISO 400 (1173), Unacceptable at ISO 800 (1093)130-380: Very High at ISO 64 (1416), ISO 100 (1398), ISO 200 (1420), and ISO 400 (1333), High at ISO 800 (1228).AF speed: Exceptionally fast for a compact under very bright conditions at wide angle. AF slows noticeably, even with AF assist beam, under indoor and dim conditions, especially at telephoto.Video: 640×480 with mono sound at 30 fps to capacity of the card.CIPA battery life rating: 135 shots, 50 percent with flash.Imaging: 6.1MP (2832×2128). Lens: 38-114mm (equiv.) f/3.9-4.4, 130-380mm (equiv.) f/4.8 for combined 10X zoom range, 4X digital zoom. LCD: 2.8-in.Storage: 32MB internal memory, SD/MMC card slot. JPEG format, PictBridge enabled, proprietary Li-ion rechargeable battery. Size/weight: 4.4×2.2×0.9 in., 6 oz with card and battery.Street price: $410.In the box: Battery, charger cord, strap, case, A/V and USB cables, insert for camera and printer docks, software (Kodak EasyShare browser and editing).For info: www.kodak.com; 800-235-6325.
WHAT'S HOT:
• Incredibly slim and stylish package.
• In-camera panorama stitch.
• Built-in BlueTooth
WHAT'S NOT:
• Lenses prone to flare.
• No image stabilization for stills.
• Subpar resolution at higher ISOs.