Camera Test: Kodak EasyShare V570
Kodak introduced its 5MP EasyShare V570. Small, black and silver, it is the only digital compact on the market that sports two lenses.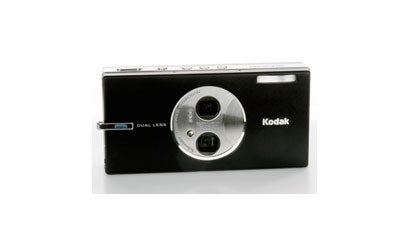 We may earn revenue from the products available on this page and participate in affiliate programs. Learn more ›
For a while now, Kodak has been ignoring the growing glam cam market popularized by cameras such as Sony's T-series and Fuji's FinePix Z1. But that all ended at CES this year, when Kodak introduced its 5MP EasyShare V570 ($364 street). It's small, black and silver, and is the only digital compact on the market that sports two lenses, each with its own sensor. That's not just a testament to the falling price of imaging sensors. It's also a confirmation that style and innovative design continue to be driving factors in the camera world.
Kodak's dual lens design is useful. For example, if you combine the ultra-wide, fixed focal length 23mm (equivalent) f/2.8 lens with the V570's in-camera stitching function, you can easily create an almost 180 degree panoramic photo without a computer. Plus, the fixed focal length design lends itself to less distortion. Even with the V570's distortion correction feature turned off, we measured less distortion from the Kodak's 23mm lens than we did from the 24mm setting of the Zeiss T* zoom lens built into Sony's Cyber-shot DSC-R1. And with distortion correction on, the Kodak's 23mm lens' distortion measurement cuts in half.
The V570's other lens is a 39-117mm (equiv.) f/3.9-4.4 Schneider-Kreuznach C-Variogon zoom lens. Moving between the lenses is as simple as using the camera's zoom control, though an extra press of the zoom control is necessary at the transition point. And if you have digital zoom enabled, the V570 will use it to fill the gap between the two lenses. Just remember that the digital zoom will eat up some of your pixel resolution. If digital zoom is turned off, the camera just jumps from one lens to the other.
Like all EasyShare cameras, the V570 has a dock connector on bottom, so you can use it with one of Kodak's EasyShare printers, or with the dock that ships with the camera. Plus, once in the dock the camera can act as a small slideshow device, using its 2.5-inch, 230,000-pixel LCD screen.
Camera controls are fairly intuitive, but since a handful of buttons are on the left side of the screen, the V570 isn't very accommodating to one-handed shooters. The tiny joystick control is nice though. And it doubles as an exposure compensation control, which is much more convenient than having it tucked away inside the menu system. A small button on top of the camera, just to the left of the shutter release, lets you choose one of the 22 scene modes.
Included among the scene modes is a custom mode, which is the only way to save certain settings after the camera is turned off. That camera also reverts to auto mode each time you power it on. So, remember to choose your custom scene mode if you like to customize your camera settings. Kodak isn't the only company that does this, but advanced users may find it annoying.
If you like slow shutter speeds, you'll appreciate the V570's metal tripod socket. It isn't perfectly centered below the lenses, but at least it's not all the way on either side. And since many compacts seem to be leaving out tripod sockets altogether lately, it's nice to see one included at all. Battery life is rated by Kodak at 150 shots according to CIPA standard testing. That's a bit lower than we've been seeing lately in compact cameras, but with two image sensors and a 2.5-inch screen, that still fairly impressive. Images are recorded onto SD cards, which load into the right hand side of the camera. There's also 32MB of internal memory, in case your memory card runs out of space.
In our lab tests, the V570 fared well. Despite the fact that its color space is limited to sRGB, the camera scored an Extremely High rating (Avg. Delta E: 9.37) in our color accuracy test. In resolution, it achieved a Very High rating. And, like most compacts, noise was its worst attribute. While noise was Very Low at ISO 64, it jumped to Low at ISO 100, Moderate at ISO 200, and was Unacceptable at ISO 400. The V570 has an ISO boost mode that lets you shoot at ISO 800, but reduces the pixel resolution to 1.3MP. At ISO 800, the V570 scored an Unacceptable rating.
Certified Test Results
Resolution: Very high (1390Vx1320Hx1265D lines). Color accuracy: Extremely high (Avg. Delta E:9.37). Noise: Very low at ISO 64, Low at ISO 100, Moderate at ISO 200, Unacceptable at ISO 400. AF speed: Fast in bright light, slower in low light. Distortion: Visible barrel at 23mm, Slight barrel at 39mm, Imperceptible pincushion at 78mm, and Imperceptible pincushion at 117mm. CIPA battery life: Approx. 150 shots with rechargeable KLIC-7001 Li-ion battery. Street price: $364 In the box: EasyShare Photo Frame Dock 2, camera insert for dock and printer docks, USB 2.0 cable, A/V cable, wrist strap, cloth camera case, EasyShare software CD, manual.