Camera Test: Kodak EasyShare P880
Big Yellow builds one smokin' hot rod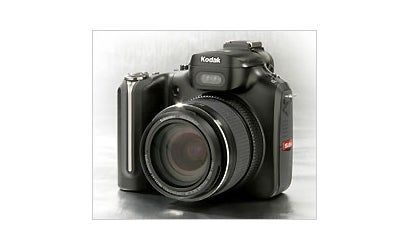 We may earn revenue from the products available on this page and participate in affiliate programs. Learn more ›
Let's make something clear: this is not your mom's Pocket Instamatic. The EasyShare P880 is an 8MP electronic viewfinder camera with a 24-140mm equivalent f/2.8-4.1 Schneider zoom, dedicated TTL flash shoe, RAW capture, and tons of control. In other words, it's almost an SLR, at a pedal-to-the-metal street price of $530.
If it sounds like a good deal, our test results definitely confirm it. It has Excellent resolution (an average of 1,770 lines) and stunning color accuracy, with one of the best Delta E readings we've obtained. Noise was Moderately Low up through ISO 200, just creeping into Unacceptable at ISO 400. And viewfinder accuracy, at a whopping 99 percent, beats what you get on an SLR-whether digital or traditional.
The somewhat ungainly proportions of the P880 (it's nearly as tall as it is wide) belie superb handling and control accessibility. The tall grip allows a comfortable hold even for large hands, and the shutter button and input dial are right where your index finger and thumb expect them. A slew of buttons and dials spread out over the camera may look daunting at first, but this arrangement makes for much faster adjustments than the menu-surfing demanded by so many other cameras.
One well-conceived touch: a translucent bar at the bottom of the frame (in both LCD and EVF views) that displays settings such as shutter speed, aperture, and exposure compensation.
Spin the thumbwheel to highlight the desired control in the frame, poke the Set button, and you can make that particular adjustment-although the recessed Set button is hard to find with gloved hands. Metered manual can thus be done quickly with only the thumb while the camera is at eye level; shutter- and aperture-priority auto are similarly speedy. And (four cheers for Kodak!) these on-screen controls include flash-exposure compensation.
The P880 also lets you program your favorite shooting configuration into a custom setting (actually, three of them), accessed right on the mode dial. When you do have to delve into the menus, you'll find that they're logically arranged and easy to navigate. While you're there, you'll also find surprising sophistication. For example, you can set a custom white balance from a white card or from the last picture taken, and then tweak the color using a two-axis graph on the screen.
You can check your exposures with a histogram, as well as with a graphic highlight/shadow warning. And both these features are accessed by the quick info button-no menu forays necessary.
More smartness comes by way of the battery system. The P880 is supplied with a beefy Li-ion rechargeable that consistently gave us more shots than the CIPA rating would suggest. The battery compartment can also take the skinnier Li-ion battery (the KLIC-5000) used in Kodak pocket compacts, and both battery types fit on the same charger. We could get used to interchangeability like this.
The P880 will also work with current EasyShare camera docks (for quick uploads of pictures and battery charging) and printer docks (for all of the above, plus computer-free, one-touch 4×6-inch dye-sub printing).
This is a hard camera to find fault with. The 237,000-pixel EVF is a bit on the grainy side, but it has decent magnification, provides excellent eye relief for eyeglass wearers, and has very fast redraw-almost no jumpiness even during quick panning. If you shoot with both eyes open, you may notice a slight tilt in the viewfinder image, but this has no effect on the final image. The autofocusing can be quite balky in low light, even when focusing on a detail with the bright (and very obtrusive) red focus-assist lamp. The oddest (and most annoying) anomaly is the automatic orientation sensor: If you take a vertical shot, the camera will balk, sometimes for several seconds, while it's storing the image. The simple fix: Use the menu to turn off the orientation sensor.
Just to reinforce that this is a serious camera for serious shooters, Kodak makes a dedicated TTL accessory zoom flash for the P880 and P850: the P-20, complete with autozoom and bounce head ($150, street). There's no swivel on the P-20 flash head, though, so you can bounce the flash off the ceiling for horizontal shots only. (You can bounce the flash off a nearby side wall for verticals.)
Hard to believe, but the P880 also has a PC flash connector. And front-mounting accessory lenses-you'll also need an adapter ring-increase the range of the zoom to 17mm on the wide end and 195mm on the long end.
So, if an 8MP digital SLR with a 24-140mm equivalent lens appeals to you (but a $1,000+ price tag does not) definitely check out this little powerhouse at half the price.
Certified Test Results
Resolution: Excellent (1780Vx1750Hx 1785D lines). Color accuracy: Excellent (Avg. Delta E: 5.92). Highlight/shadow detail: Very Good. Contrast: Slightly low, adjustable to three levels. Noise: Moderately low at ISO 50-200, unacceptable at ISO 400. Image quality: Excellent at ISO 50-200. Distortion: Visible barrel at 24mm (0.64%), with light falloff gone by f/5.6; Imperceptible pincushion (0.05%) at 50mm; Imperceptible pincushion (0.04%) at 140mm. AF speed: Moderately fast in medium to bright light, slow and sometimes balky in low light. Video: 640×480 with mono sound at 30 fps (tested), to capacity of the card. CIPA battery life rating: 320 shots.
Vital Statistics
8MP (3264×2228), 5.8X optical zoom (24-140mm 35mm equivalent) f/2.8-4.1; 2X digital zoom; 2.5-in. LCD screen; SD/MMC card slot plus 32MB internal memory; JPEG, TIFF, and RAW formats; PictBridge enabled; proprietary Li-ion ?battery; 4.5×3.8×3.6 in., 9.2 oz with card and battery. Street price: $530. In the box: Rechargeable Li-ion battery, charger, A/V and USB cables, wrist strap, lenshood, insert for Kodak camera and printer docks, software (Kodak EasyShare). Accepts optional tele and wide-angle converters, filter adapter, dedicated P-20 accessory flash. Info: www.kodak.com; 800-835-2365.
What's Hot
• Knockout image quality.
• Big LCD, accurate EVF.
• Genuine wide-angle view.
What's Not
• Only goes to ISO 400.
• So-so autofocus.
• Lenshood can shade flash.