Camera Test: HP Photosmart R927
Cool looks and slick features just aren't enough.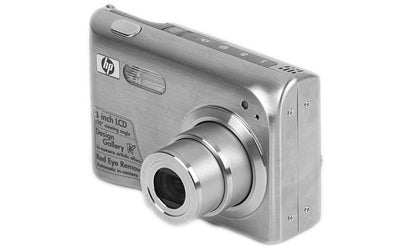 We may earn revenue from the products available on this page and participate in affiliate programs. Learn more ›
The 8.2-megapixel HP Photosmart R927 (street: $375) is a good-looking camera. With a rounded edge, brushed silver face, a curvy indented finger grip below the shutter button, and a big 3-inch LCD, it also feels great in your hand. The buttons and 3x zoom mechanism are nicely damped and everything about the exterior design says it's a well-built piece of machinery.
The color-coded icons and menus are easy to read and navigate. On-screen tips explain why to choose this setting or that function. Image Playback has fun features as audio annotation, slideshow (which will play back your audio annotations), and a whole "Design Gallery Menu," which allows you to play with your images by altering colors, adding borders, and adding effects such as watercolor and ink dots. There's even a "slimming" mode to make subjects appear thinner in the printed image.
Digital noise, however, is an issue throughout all three ISO settings in the limited sensitivity range. ISO 100 rates 2.74, Moderate. ISO 200 (3.38) and ISO 400 (3.34) are High/Unacceptable.
As for the lens, the 3x (35mm equivalent 35-105mm) shows Visible Barrel Distortion at 35mm (.69%), Imperceptible Barrel at 70mm (.07%), and Imperceptible Pincushion at 105mm (.01%).
Color is Extremely High (Average Delta E: 9.82, ISO 100 Daylight). Resolution is Excellent at all ISOs: 1775 at ISO 100, 1733 at ISO 200, and 1708 at ISO 400.
We noticed that the camera can be very slow between shots, with or without flash, and if you shoot a handful of shots in a row, the screen flashes the word "processing" for several seconds before you can take the next snapshot.
Newbies looking for shooting tips can turn to the built-in "Image Advice," signified by eyeglasses that pop onscreen during quick review. You also can summon Image Advice during playback. Much of the advice is helpful, though in some cases it can be unrealistic, or even seem to cover for the camera's shortcomings. For instance, Action Mode suggests: "To increase the likelihood of a successful action shot, try pre-focusing on the area ahead of the action by pressing and holding the Shutter button halfway down. When the action enters the frame, press the Shutter button all the way down to take the shot. For best results, the area ahead of the action should be of the same subject distance and scene brightness as the subject when it enters the scene." In my experience, this doesn't reflect real-world shooting conditions.
If you use the camera's Adaptive Lighting function (sort of a digital fill-flash) with an ISO higher than 100, don't be surprised to read: "This image was taken with ISO Speed set to 200 [or 400] and with Adaptive Lighting set to High. This can result in unrealistic or grainy looking images. For better image quality, try setting one of these settings to its default value." You'll get a similar warning if the camera is "slightly warm."
In fact, warnings pop up for all sorts of reasons. And after a few shots, or after reviewing your photos for a few minutes, don't be surprised to see the hint: "This image may appear noisy or grainy when printed larger than 10 x 15cm (4″ x 6″) because the camera was very warm when it was taken. This may be because the camera had been on for a long time or stored in a hot location. This effect is typical for all digital cameras and will not occur if the camera is cool or slightly warm when a picture is taken. For best image quality, avoid storing the camera in hot locations."
In reality, heat is a real issue with this camera. Reviewing images can make it noticeably warm. This brings up the noise "hint," and it takes several minutes for the camera to cool down.
After testing the HP Photosmart R927, I'd say that HP is onto something with the basic idea behind this camera-lots of features, lots of advice, and lots of good looks. But for it to be a success, there's still much work to be done in terms of the camera's image quality, focus speed, processor, and heat dissipation. Until HP takes care of those issues, the R927 and its equivalents will be just a series of pretty faces.
What's Hot:Good looking, solidly constructed camera design
Fun in-camera effects
User interface is among the best we've seen
What's Not:Noise issues at all ISOs
Camera heat affects image quality under normal use conditions
Slow refresh time with or without flash
Certified Test Results:
Noise: Moderate at ISO 100 rates 2.74, Moderate. ISO 200 (3.38) and ISO 400 (3.34) are High/Unacceptable.
Lens Distortion: Visible Barrel Distortion at 35mm (.69%), Imperceptible Barrel at 70mm (.07%), and Imperceptible Pincushion at 105mm (.01%).
Color: Extremely High (Average Delta E: 9.82, ISO 100 Daylight).
Resolution: Excellent at all ISOs: 1775 at ISO 100, 1733 at ISO 200, and 1708 at ISO 400.
In the box: HP Photosmart R927 Digital Camera – HP Photosmart R07 Lithium-Ion rechargeable battery – HP Photosmart 6220 digital camera dock – USB cable for connecting camera to PC or PictBridge compatible printer – Warranty and regulatory brochure – User's manual on CD – Quick Start guide – CD with HP Photosmart software for Microsoft Windows and Macintosh – Wrist strap
Dimensions: 3.67 x 0.93 x 2.4 in. Weight 5.4 ounces with battery and SD card.
Street: $375
Web: HP.com