Camera Test: FujiFilm FinePix F50fd
Can a 12-megapixel ultracompact with a few new tricks live up to the legacy of the Fujifilm FinePix F30?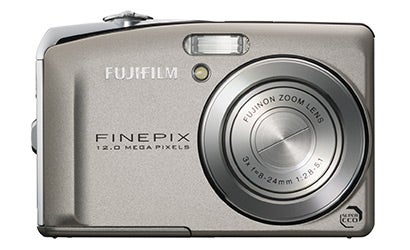 We may earn revenue from the products available on this page and participate in affiliate programs. Learn more ›
When the 6-megapixel FujiFilm FinePix F30 was released last year, its high ISO limit of 3200 was groundbreaking. And when we tested it in the Pop Photo Lab, it boasted full resolution capture with astounding noise and resolution results all the way up to ISO 3200. That legacy is both a curse and a blessing, however, when we tested Fuji's follow-up to the F30, the 12-megapixel, 3x zoom (35-105mm f/2.8-5.1) FinePix F50fd (street: $250).
Were it not for the high ISO lab results of its ancestor, we'd simply report that FujiFilm was a little too ambitious with its ISO range on the F50fd. It's a mistake that many other camera companies have made, and continue to make, with virtually unusable high ISO settings on their compact cameras.
Sadly, not even the F50fd's great additions, of which there are many, can convince us to recommend it over its predecessor.
CERTIFIED LAB RESULTS
Like so many 10- and 12-megapixel compacts, FujiFilm's F50fd performs great at low ISOs, but image quality suffers dramatically as the sensitivity climbs. At ISO 100, resolution is Excellent (2300), Noise is Low (1.9), and Color is Excellent (Average Delta E: 7.4 Manual White Balance, ISO 100). At ISO 200, noise is Moderately Low (2.2). But it climbs to Moderate at ISO 400 (2.7) and ISO 800 (2.8). At ISO 1600, the last full-resolution ISO, Noise is Unacceptable (4.0), and Resolution drops significantly to Extremely High (1525). Shedding half its megapixels to double the sensitivity at ISO 3200, Noise climbs even higher into Unacceptable territory (4.7), and with less recording pixels, its only natural the Resolution drops yet again, staying just this side of Acceptable (1110). Shedding half its pixels once again for 3MP ISO 6400 mode, Noise climbs yet again (Unacceptable 5.4), and Resolution drops to an abysmal Unacceptable (800).
You've got to give FujiFilm credit for trying, but these lab numbers don't live up the legacy of the F30. ISO 100 images look fantastic, ISO 200 and 400 images look very good, but at ISO 800, you'll start to notice noisy shadows and soggy edges. This wasn't the case with the F30. In fact, the F30 performed significantly better at ISO 3200 than the F50fd (both of which capture at 6 megapixels at this ISO), which is disappointing.
Typical of a retracting-lens ultracompact, there's Slight Barrel Distortion (.34%) at wide angle (35mm/35mm equiv). Barrel Distortion is Imperceptible at mid-zoom (.06% @ 70mm/35mm equiv) and telephoto (.04% @ 105mm/35mm equiv).
Regular Autofocus feels fast in most lighting, but Face Detection feels sluggish at times. It can take nearly a second to find a face, particularly at indirect angles. But that it can usually grab a near-profile at all is, in itself, quite an evolution in Face Detection focus technologies.
Low ISO shots look gorgeous, with great detail in highlights, midtones, and shadows, but noise and detail loss becomes more and more distracting each time you double the ISOs. Turn on Image Stabilization, and stick to low ISOs (100-400) whenever possible!
As a member of FujiFilm's F-series cameras, the F50fd inherits the family's idiosyncrasies, including the Top 3 or Last 3 burst options. It'll burst a bunch of shots in a row in rapid succession (nearly 2 fps), but locks up at three shots in Top 3 mode. Last 3 meanwhile, keeps machine-gunning away for as long as you want, but only the last 3 shots once you stop squeezing the shutter are actually saved. In either case, the F50fd takes several seconds to unbuffer after a 3-shot capture burst. Long period continuous capture will fire away until the card is full or battery is drained at an unhurried pace of just about 1 frame every 2.3 seconds.
Another of the F50fd's peculiarities includes a "manual" mode, which is described as an "auto mode with several manual overrides." You can control a number of image quality settings in Manual, but Aperture or Shutter speed are not among them. To control Aperture or Shutter, you've got to use A/S mode, and then you can control one or the other, but not both at the same time.
The F50fd has four metering modes; however, only Spot, Average, or Multi are accessible via the "Photometry" menu option. Face Detection mode, which is both a focusing and metering mode, has a dedicated button on the rear of the camera.
There are 14 scene modes and two dial settings for Scene modes, which isn't as weird as it sounds. Both SCN1 and SCN2 bring up the same scene modes, but you can save any of the 14 modes as the default setting for SCN1 and SCN2, which allows you to switch quickly to your favorite mode(s) without having to scroll through the menu each time.
In Auto mode, the camera chooses the settings, including strobe. If you do not want strobe at all, there's a Natural Light option. Not sure if you want the harshness of direct flash or the natural light? Choose Natural & Flash. The F50fd will fire two shots in a row — the first with no strobe (and a high ISO in low light) and the second with strobe — and let you choose the best one. It's an interesting work-around, but in some of our tests, we weren't all that pleased with either photo!
Dual IS mode, in all but Manual and A/S mode, both boosts the ISO and activates the sensor-shift mechanism. True, both of these functions can minimize camera shake, but in anything less than broad daylight, the ISO is cranked way up, which diminishes image quality. Fortunately, in Manual and A/S mode, you can select your own ISO or maximum ISO (ISO Auto 400/800/1600).
Movie Mode captures at VGA resolution (640×480 px at 30 fps) with mono sound. You can record at any focal length, although there's no zooming during capture. Image Stabilization can be activated for video capture, although it doesn't appear to be all that effective. There's still a little bit of drift and shake to be seen, with even the slightest movements.
The F-Mode menu contains a Power Management option, which allows for Power Save, Quick Autofocus, or Clear Display. It is interesting to have an option to choose how to make the camera perform, and even when set to Quick AF, the LCD display looks very good during playback (although it is a little noisy in low light capture), and the battery life doesn't seem to suffer too much from either non-power save setting.
Playback mode can remove red-eye if faces were detected during capture. You can also annotate photos with voice notes, crop the photo in-camera for DPOF printing, and sort photos by date of capture. The F-mode button allows for Slideshows, trimming to VGA resolution for online sharing, and irSimple communication with other FujiFilm cameras with irSimple or other irSimple-capable devices.
Fujifilm's F50fd offers an interesting mix of features and functions that will make for an easy and fun-to-use ultracompact 3x zoom pocket digicam. The build quality is top notch, and it feels natural in the hand. The 2.7-inch, 230,000-dot LCD is bright and crisp in playback, although when Quick AF is selected, rather than Clear Display in Power Management, the image preview can be noisy in moderate to dim light. Image Stabilization and Face Detection modes are a great addition to this line. However, the lab results and high ISO image quality are disappointing. We've come to expect great high-ISO images from the FujiFilm F series, and ultimately, the F50fd falls shorter than our expectations in terms of image quality, and that's what matters most. We'd really love to see FujiFilm put these technological advances — IS, Face Detection, irSimple, dual-memory format — in a replacement for the 6-megapixel F30 or F31fd, to make the most of the F50fd's feature set and the F30's image quality.
TECH SPECS
Fujifilm FinePix F50fd Specifications
| | |
| --- | --- |
| CCD Sensor | 1/ 1.6-inch Super CCD HR |
| Number of Effective Pixels | 12 million pixels |
| Number of Recorded Pixels | Still image : 4,000 x 3,000 / 4,224x 2,816 (3:2 format) / 2,848 x 2,136 / 2,048 x 1,536 /1,600 x 1,200 / 640 X 480 pixels |
| Image Processing Type | Still image : JPEG (Exif Ver 2.2 ) (Design rule for Camera File system compliant / DPOF-compatible)Movie: AVI (Motion JPEG ) with soundAudio: WAVE format, Monaural soundStill image : JPEG (Exif Ver 2.2 ) (Design rule for Camera File system compliant / DPOF-compatible) |
| File Formats | Movie : AVI (Motion JPEG ) with soundAudio: WAVE format, Monaural sound |
| Internal Memory | Internal memory (approx. 25MB) |
| Lens | Fujinon 3 x Optical zoom lens , F2.8 – F5.1 |
| Lens Focal Length (Rated) / (35mm Equiv.) | f=8.0mm – 24.0mm, Equivalent to 35-105mm on a 35mm camera |
| Aperture Range | F2.8 -F8 |
| Digital Zoom | Approx 8.2x (Max) |
| Focus | Auto focus (Area, Multi, Center)/Continuous AF AF assist illuminator available |
| Focusing Range | Normal : Wide angle :Approx. 45cm/1.5 ft to infinity |
| Normal | Telephoto :Approx. 60cm /2.0 ft to infinity Macro: Wide Angle: Approx. 7cm/2.8 in to 80cm/2.6ft |
| Macro-Close-up | Telephoto: Approx. 30cm/1.0 ft to 80cm/2.6ft |
| Exposure Control | TTL 256-zones metering |
| Color Control Modes | B/W, Standard Auto/Auto (1600)/Auto(800)/ Auto(400)/ Equivalent to ISO 100/200/400/800/1600/3200/6400 (Standard Output Sensitivity) * ISO3200 : Number of recorded pixels: 6M pixels or lower |
| Sensitivity | ISO6400 : Number of recorded pixels: 3M pixels or lower |
| Shutter Speed | 8 sec. to 1/2000 sec. (depends on Shooting mode) Automatic scene recognition Preset (Fine, Shade, Fluorescent light (Daylight), Fluorescent light (Warm White), Fluorescent light (Cool White), Incandescent light) |
| White Balance | Custom |
| Flash | Auto flash Flash mode: Red-eye Removal Off: Auto, Red-eye reduction, Forced Flash, Suppressed Flash, Slow Synchro. Red-eye Removal ON: Red-eye Reduction Augut, Red-eye Reduction & forced flash, Suppressed Flash |
| Flash Mode | Red-eye Reduction & Slow Synchro |
| Effective Range (ISO Auto) | Wide-angle: approx. 0.6m – 4.4m / 2.0ft – 14.4 ft Telephoto : approx. 0.6m – 2.4m / 2.0ft – 7.9 ft Macro : approx. 0.3m – 0.8m / 1.0 ft – 2.6 ft |
| LCD Monitor | 2.7-inch , approx.230,000 pixels, Amorphous silicon TFT color LCD monitor, approx. 100% coverage |
| LCD Low Light Viewability Gain-up Brightness Mode | YES |
| Power Source | NP-50 Li-ion battery (included)/ CP-50 with AC power adapter AC-5VX (sold separately) |
| Pictures / Battery Charge (CIPA Standard) | Approx. 230 shots |
| Camera Dimensions (W x H x D) | 3.6(W)× 2.3(H)× 0.9(D) in. / 92.5(W)× 59.2(H)× 22.9 (D) mm (excluding accessories and attachments) |
| Camera Mass (not including accessories, batteries & xD Card) | Approx. 5.4 oz. / 155 g |
| Shutter Lag Time | Approx. 1/100th sec. |
| Shooting Modes | Mode dial : Auto, Natural Light, Natural Light with Flash, SP1, SP2, A/S -Aperture or Shutter priority-AE, M -Manual), Movie SP1/SP2 : Portrait , Portrait Enhancer, Landscape, Sport, Night, Fireworks, Sunset, Snow, Beach, Underwater, Museum, Party, Flower, Text |
| Continuous Shooting Modes | Top-3-(max 2 frames/sec) High-speed Top-12 (max 5 frames/sec, 3 Megapixels or lower/ISO400 or higher) Final 3-(max 2 frames/sec) High Speed Final-12 (max 5frames/sec, 3 Megapixels /ISO400 or lower) Long-period (max. 0.5 frames/sec) |
| Movie Recording | 640 x 480 pixels, 320 x 240 pixels, 25 frames/sec. with monaural sound |
| Video Out | NTSC / PAL selectable |
| Playback | Face Detection (with Automatic Red-eye removal), Slide show, Trimming, Single frame, Multi-frame playback including Micro thumbnail mode, Sorting by date, Image rotate,Voice Mem |
| Memory Type | Internal memory (approx. 25MB) / xD-Picture CardTM (16MB – 2 GB) SD memory card (512MB to 2GB)/ SDHC memory card (4GB to 8GB ) |
| Other Features | Face Detection 2.0; IrSimple™ xD-Picture Card TM : 256MB, 512MB, 1GB, 2GB Li-ion battery NP-50 Battery charger BC-50 DC coupler CP-50 AC power adapter AC-5VX PC Card Adapter DPC-AD |
| Optional Accessories | CompactFlash TM Card Adapter DPC-CF Li-ion battery NP-50 Battery charger BC-50 Strap A/V cable USB cable CD-ROM |
| What's in the Box | Owner's manual |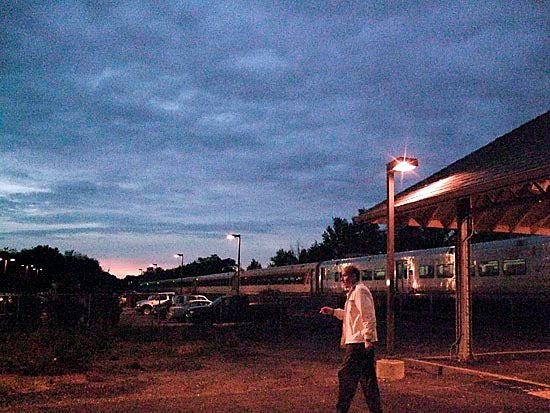 FujiFilm-FinePix-F50fd-The-12-megapixel-FujiFilm
The 12-megapixel FujiFilm FinePix F50fd can capture ISO 3200 images at 6 megapixels, although image quality suffers greatly. Notice the amount of noise throughout this image.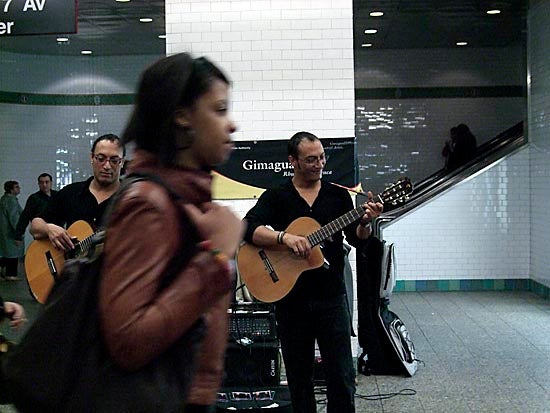 FujiFilm-FinePix-F50fd-Face-detection-locked-onto
Face detection locked onto the two musicians in the Times Square Subway station nicely. White Balance is excellent in the F50fd, even in challenging situations such as this subterranean scene.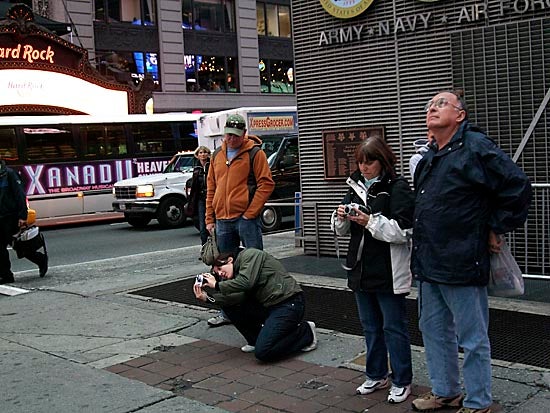 FujiFilm-FinePix-F50fd-There-s-very-nice-shadow-d
There's very nice shadow detail in this ISO 400 scene of tourists in Times Square.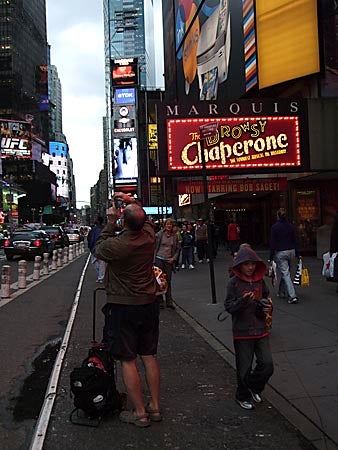 FujiFilm-FinePix-F50fd-Evaluative-metering-did-a
Evaluative metering did a nice job of keeping highlight details, along with shadow details in this late afternoon midtown scene. At ISO 200, noise isn't a problem.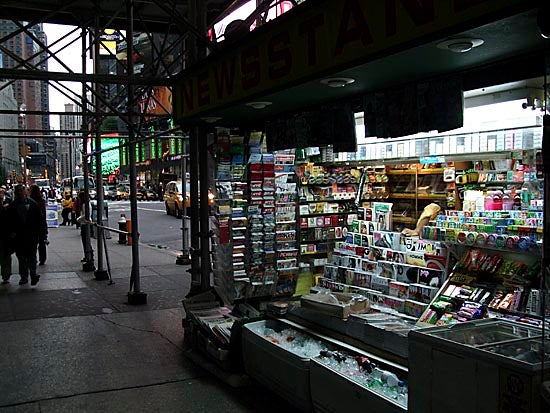 FujiFilm-FinePix-F50fd-This-ISO-200-scene-shows-g
This ISO 200 scene shows great white balance again, with good shadow details.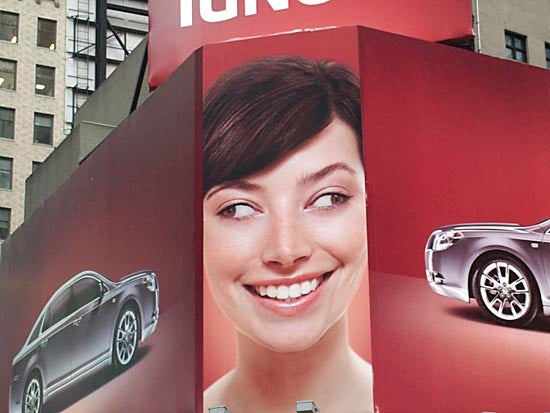 FujiFilm-FinePix-F50fd-Face-detection-locked-righ
Face detection locked right on to this wall-eyed face on a billboard in midtown Manhattan. Image stabilization did a good job of keeping it sharp at full zoom (105mm equiv) at 1/25 second.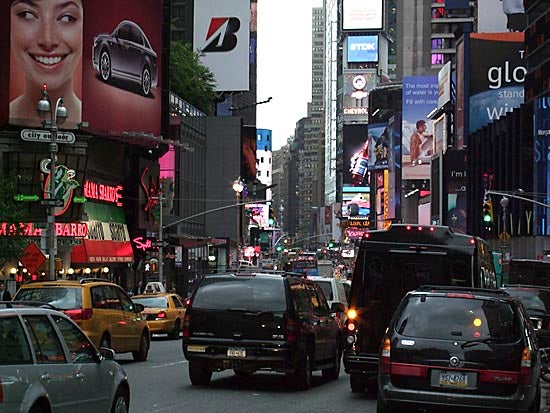 FujiFilm-FinePix-F50fd-Whenever-possible-try-to
Whenever possible, try to stay at ISO 400 and below with the Fujifilm Finepix F50fd, as we did here, setting Auto ISO to stop at 400.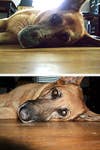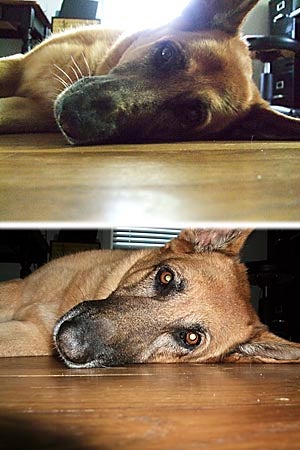 FujiFilm-FinePix-F50fd-Natural-Flash-mode-fires
Natural + Flash mode fires two shots in rapid succession, one with flash, and one without. The ISO 1600 shot at top has, perhaps more intrigue, and most definitely more noise, than the ISO 200 strobed shot at bottom.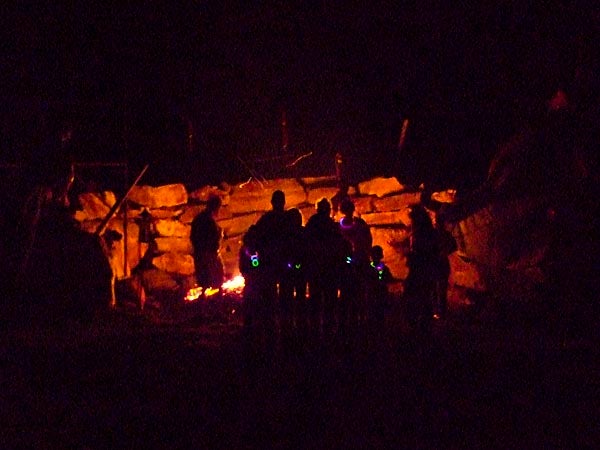 FujiFilm-FinePix-F50fd-It-s-a-bit-noisy-and-the
It's a bit noisy, and the edges are soft, but Image stabilization did a good job of trying to keep this ISO 1600 shot of a bonfire sharp at a ridiculously slow 1/4 second at wide angle.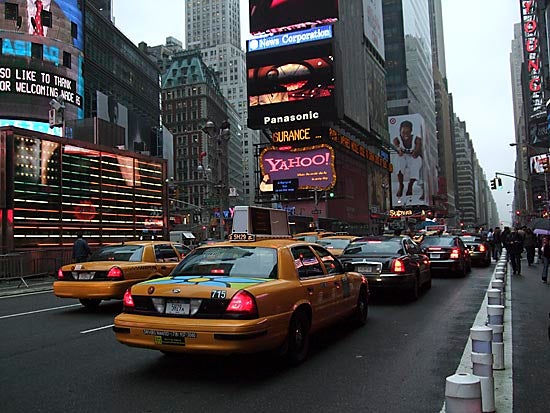 FujiFilm-FinePix-F50fd-The-FujiFilm-FinePix-F50fd
The FujiFilm FinePix F50fd does great with Shadow details on less-than-perfect days.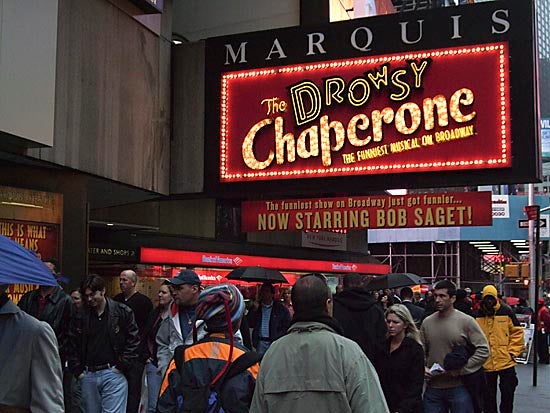 FujiFilm-FinePix-F50fd-The-FujiFilm-F50fd-did-a-r
The FujiFilm F50fd did a really nice job holding shadow details on a rainy, gloomy day in Manhattan. We set it to ISO 200 to keep images sharp, and to control noise.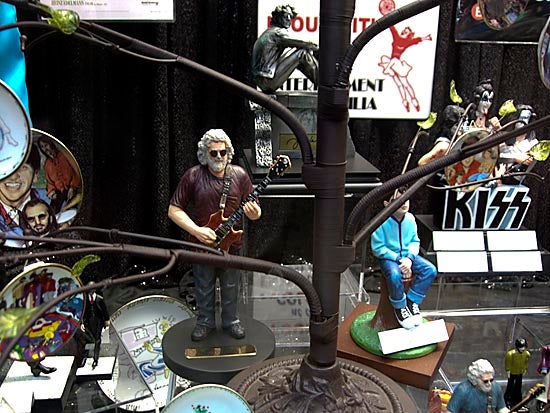 FujiFilm-FinePix-F50fd-This-ISO-100-detail-of-a-s
This ISO 100 detail of a shop window shows great shadow and midtone detail, although there are a lot of blown highlights.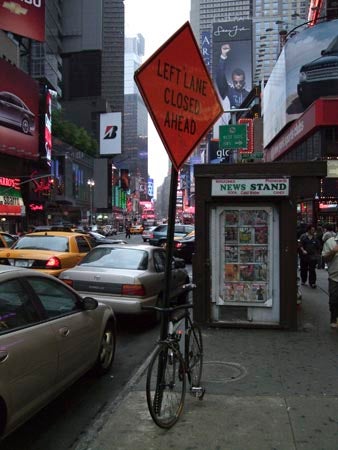 FujiFilm-FinePix-F50fd-The-Fujifilm-F50fd-has-exc
The Fujifilm F50fd has excellent color accuracy, and at ISO 400 (as this shot shows) and lower it's capable of producing very nice photos. But at ISO 800 and up, image quality begins to suffer quite seriously.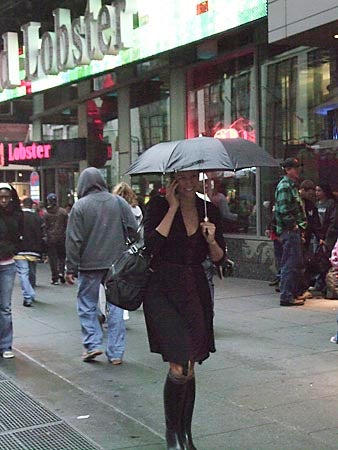 FujiFilm-FinePix-F50fd-Despite-gloomy-mixed-light
Despite gloomy mixed lighting, color balance is dead-on on this shot of midtown flowers and reflections.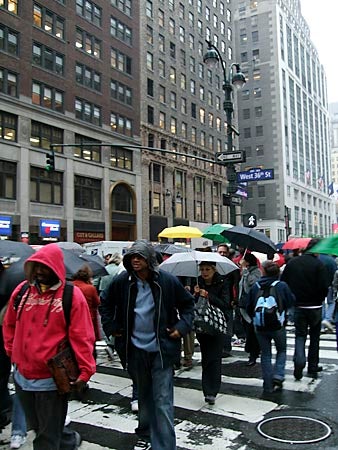 FujiFilm-FinePix-F50fd-At-ISO-800-image-quality
At ISO 800, image quality takes a serious downturn. Edges aren't crisp, and noise becomes distracting.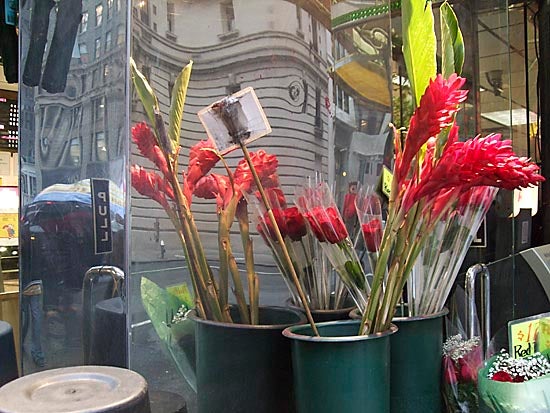 FujiFilm-FinePix-F50fd-Whenever-possible-keep-th
Whenever possible, keep the Fujifilm Finepix F50fd to lowest ISOs. This ISO 100 shot has great detail in midtones and shadows, with near-perfect auto white balancing.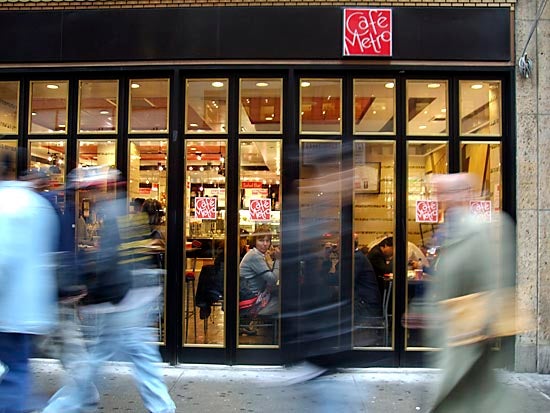 FujiFilm-FinePix-F50fd-This-ISO-100-shot-at-1-30
This ISO 100 shot at 1/30 second is nice and sharp in the static elements with IS activated.