Camera Test: Fujifilm Finepix F30
This 6MP digicam seems designed for the photographer who wants a lot of big-camera functions and performance in a small package.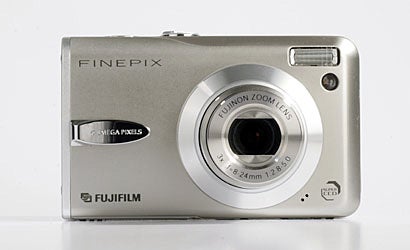 We may earn revenue from the products available on this page and participate in affiliate programs. Learn more ›
There's nothing about the design of the 6-megapixel Fujifilm Finepix F30 ($340 street) that screams "look at me!"
It's your basic contemporary boxy rectangle 3x retracting-lens digicam. There's a nice 2.5 inch LCD on the back that gains up and down well enough on its own, along with a button to crank it up in sunlight. It's got a couple of buttons and knobs here and there in the typical places to control modes and settings. In short, it's very similar in design to so many other digicams on the market right now. But what's inside this camera differentiates it from all the other 3x rectangular boxes on the market — an ISO range all the way up to 3200(!).
While so many other cameras on the market try to dazzle (or baffle) the buyer with superfluous bells, whistles, buzzers, and non-photo extras, it is nice to see a compact camera that is pushing the envelope in terms of performance as a camera — and not as an arcade, iPod substitute, instant diet machine, or portable multimedia slideshow player.
This camera seems designed for the photographer who wants a lot of big-camera functions and performance in a small package. The Fujifilm Finepix F30 caters to this market with such functions as custom white balance, an Aperture or Shutter Priority mode, and three metering modes: Multi-segment, average, and spot. The metering modes are accessed via the obtusely titled "photometry" menu item, by the way. "Metering" works just as well, and takes up less space.
Another odd and obtuse characteristic of this camera is the "Manual" setting. It does not allow the user to control shutter or aperture, but does allow ISO selection, white balance, and autofocus mode. We can see this confusing users until they read the manual, to understand what Fujifilm means by "Manual" with this camera. As for "manual" control of shutter speed and aperture, you can choose to control one or the other via the A/S mode dial. Switching from Aperture Priority to Shutter Priority is via the LCD menu.
The 8-24mm lens (38-108mm 35mm equivalent) varies in aperture from f/2.8 at widest to a sluggish f/5 at full optical zoom — but because of the very usable ISO range based upon our lab testing, Fujifilm can get away with this slow maximum aperture at the tele end. It would be nice for Fujifilm to improve the optics to bring the max tele f-stop closer to f/4 in the next version, but we'll have to wait and see.
The Fujifilm Finepix posted impressive numbers in the lab, keeping noise at bay all the way up to ISO 3200, which scored a 2.45 (Moderate) in our noise test, with just about a 20% drop in resolution (1310-Very High) over the resolution results for ISO 100 (1655-Extremely High.) Fujifilm is doing a lot of things right with their in-camera processing and noise suppression algorithms to post results such as these. Color accuracy is excellent (Average Delta E: 7.94 ISO 100 Auto White Balance.) The 3x zoom shows slight barrel distortion at 38mm (17%), imperceptible barrel at 78mm (.07%) and imperceptible pincushioning at 108mm (.02%.) Click for full test results.
Bear in mind that there is visible noise, or "speckling," as Fujifilm calls it, at the higher ISOs of 1600 and 3200. But noise, grain, or "speckling" is a reality at higher ISO ratings, whether you are talking film or digital.
|| |—| | ISO 100 and 3200 compared| The light-recording medium in a camera, whether emulsion on acetate or a CCD in a digicam, is making an image with 1/32 the amount of light at ISO 3200 than at ISO 100! Regardless of what amazing breakthroughs in image processing and optical engineering may come about, ISO 3200 will almost always be grainier/noisier than ISO 100 in the same system, whether it be a line of film emulsion, or the in-camera processing of a specific camera.
Would you choose to use ISO 3200 if you could make a usable image at ISO 200, 400, or 800? Some fine-art types may say yes to convey a sense of something, but for the most part, a good general rule to follow is to use the slowest ISO that provides a fast enough shutter speed to freeze a subject and minimize camera shake under the lighting conditions.
In a pinch, when you need to (or just really want to) make an image under abysmal lighting conditions, a noisy image with some resolution loss may be a better option than no image at all — and there are few compact cameras that will handle low light as well as the Fujifilm Finepix F30. The noise results that this camera boasts at ISO 800 are better than the results many other compact digicams post at 400, even 200 in some cases!
In burst mode, the Fujifilm F30 will fire off three shots (without flash) in just under one second in "Top Three" mode. It can fire off multiple shots at the rate in "Final Three" mode, but will only save the last three images after you stop shooting. In "Long Period" continuous mode, the camera fired off 10 shots in 20.5 seconds at ISO 100, and slowed just a bit to 24.9 seconds for 10 shots at ISO 3200.
With its high ISO range, the Fujifilm Finepix F30 goes with a digital Anti-Shake function, which cranks up shutter speed to minimize camera shake. There is also the now-common scene mode, where the photographer can select from presets for many situations, from sports to sunsets and so on. Each scene mode has presets that may optimize results under various conditions.
On the playback side, there is a rudimentary slideshow feature, Direct Printing, in-camera cropping, and up to 30 seconds of Voice memo which can be added to a selected image, and the usual functions: Protect, Rotate, and Erase.
Video is recorded at 30 frames per second, at up to 640 x 480 resolution. You can record at any focal length; however, you cannot zoom during recording.
ISO 100 and 3200 compared
This camera has a truly usable ISO range of ISO 100 to ISO 800, and makes images at the extreme ISOs of 1600 and 3200 that can hold up to comparison with ISO 400 and 800 results from some of its competitors.
The world is not made entirely of perfectly lit bright sunny days calling for ISO 100 — and Fujifilm deserves praise for pushing camera performance technology towards much more usable high ISOs in the compact market.
What's Hot:
• Very usable ISO range
• Aperture/Shutter Priority mode
• Ease of use
• Long battery life per charge
What's Not:
• Slow maximum Aperture at telephoto
• Confusing "Manual" setting
• No zoom in movie recording.
In the Box:
• Camera, NP-95 Rechargeable Lithium-Ion Battery
• AC-5VC AC Power Adapter
• USB Cable
• A/V Cable
• Hand Strap
• Software CD-ROM (FinePixViewer, ImageMixer VCD2 LE for FinePix)
• User Manual
• 1-Year Fuji U.S.A. Limited Warranty
Certified Test Results:
Noise: Very Low at ISO 100 (1.35) and ISO 200 (1.35), Low at ISO 400 (1.6) and ISO 800 (1.8), Moderately Low (ISO 1600), and Moderate at ISO 3200 (2.45)
Resolution: Extremely High at ISO 100 (1655), ISO 200 (1640), ISO 400 (1600), and ISO 800 (1570), Very High at ISO 1600 (1360) and ISO 3200 (1310)
Color Accuracy: Excellent. Average Delta E: 7.94 ISO 100, Auto White Balance
Lens Distortion: Slight Barrel (.17%) at 1x, Imperceptible Barrel (.07%) at 2x, Imperceptible Pincushion (.02%) at 3x
Battery Life: Proprietary Rechargeable Lithium-ion Battery CIPA rated at 580 photos.
Dimensions: 2.2 x 3.6 x 1.1″
Weight: Approx 5.8 oz with Battery, card
I shot the same scene at ISO 100 and ISO 3200 (lower left), changing nothing but the ISO setting. Both shots are set to -2/3 exposure compensation, with Multi Metering. The three squares around the image showing the actual pixels at 100% from the image straight from camera, for comparison. No image processing whatsoever, except for resizing was done to either picture.
ISO 100
ISO 3200