Camera Test: Fujifilm Finepix IS-1
IS stands for "Infrared Sensitive," not "Image Stabilized." So why is this the coolest camera you might not be allowed to use?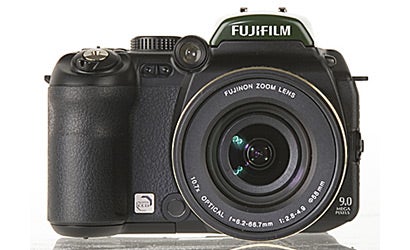 We may earn revenue from the products available on this page and participate in affiliate programs. Learn more ›
On the outside, there is virtually nothing distinguishing the Fujifilm Finepix IS-1 (Street: $800) from the Finepix S9100 (Street: $400) . Both are 10.7x EVF superzooms (28-300mm equivalent) featuring Fuji's 9MP Super CCD HR sensor. Both are built to look and feel like a compact DSLR with a lot of high-end features built in: RAW capture, pc sync and hotshoe, super macro that close-focuses to 1 centimeter, xD and CF card slots, in-camera multiple exposure mode, spot-, center-weighted and evaluative-metering, button-based operations for many shooting-specific functions and a solid build. Externally, the only difference is the pop-up flash housing — on the S9100 it is black and gives the model number, on the IS-1, it's a kelly green and lacks the model number text.
Law enforcement, arson investigators, scientists, academics, medical, and forensics photographers are all specifically enumerated as the only allowed usages for the IS-1, according to the sticker affixed to our test unit.
Furthermore, any usages that may invade privacy, endanger children, or entail any sort of "paparazzi-like activities" are specifically enumerated as prohibited.
Somewhere between the prescribed and proscribed usages, fine art, editorial and landscape photography is missing.
(The ULA disclaimer on at least one online vendor had been recently updated to include Fine Art and Professional Portraiture since we began questioning Fujifilm about this ULA, although the company would not clarify if the language update on the online vendor's website officially reflects Fuji's position — and has once again been switched to append only professional portraiture to the allowed usages.)
Now, there is something behind this. Certain materials reflect differently in infrared, some to the point of transparency, such as synthetic-based bathing suits, particularly when wet. So, while the camera could be misused by someone with nefarious purposes, what about those of us simply looking to capture the grandeur of wildflower-covered foothills in the mystical, magical feel of infrared? Fuji's narrowly defined ULA seems to make no distinction between the two.
Interestingly, our FujiFilm S3 Pro UVIR, which also captures photons into both the UV and IR segments of the spectrum, didn't ship with this restrictive ULA sticker. In fact, mentions on the official Fujilm USA site boast that the UVIR can be used by "photo artists for special infrared effects." Nor does the Sigma SD14, which easily captures IR with a quick and easy removal of the IR cutoff filter. Nor does the Leica M8, which is accidentally IR-sensitive. Nor do the cameras from LDP, an independent company that converts many different brands of digital cameras to infrared-only, and infrared-plus-visible sensitivity.
It is also disconcerting that Fujifilm does not choose to mention the restrictive ULA on its own Web page featuring the IS-1. Unless you read the entire description on the product page of an online vendor, you might not realize this awful ULA is in place until the package arrives at your door.
While we understand that infrared capture, can, in devious hands, be used for less-than-honorable (and possibly illegal) purposes, the same can be said for any camera and lens on the market. What's next? Telephoto lenses shipping with ULAs stating that you may not capture photos of people in public from a distance? We're not happy with Fujifilm's restrictive ULA, and we're going to continue pushing the company to at least amend it to include types of photography that are not, unto themselves, illegal in nature.
In any event, the Fujifilm Finepix IS-1 is a very unique camera. The build is rock-solid and it feels more like a DSLR than many other EVF models in the market. From the lens that zooms with a twist of the wrist on the barrel rather than with a toggle switch, the pc-sync socket, the classic plunger-type cable release threads in the shutter button, and a ton of dedicated buttons and switches controlling much of the shooting experience, rather than a maze of submenus, this is an EVF that won't make the DSLR shooter feel like they are giving up too much by swapping an attached lens for interchangeable ones.
The EVF is bright and crisp, even when viewed in monochrome pinks of IR-only capture, and has a diopter correction dial for fine-tuning the view depending on your eyesight. The zoom is well-damped and glides smoothly from wide to telephoto and back again. When the EVF is used, the camera feels satisfyingly similar to a DSLR, save for the adjustment to an LCD interpretation of the scene rather than true optical experience. In all but the fastest panning, the viewfinder does a good job of keeping the EVF refreshed, and there's an option to select either 30 or 60 frames per second redrawing.
The IS-1 is powered by 4 AA cells, and we strongly suggest long-life rechargables. Basic alkalines will work in a pinch, but will drain quickly, especially if you use the single-axis, articulated, 2-inch, 235,000 pixel LCD screen for extended periods of time. It may seem like a cost-cutting measure to have the LCD articulate only along one axis, but due to the ultra-wide viewing angle, it works well for pretty much anywhere you can reach with the camera.
There's no burst in RAW mode, but JPEG mode captures a burst rate of four shots in just under two seconds. (There's also a "Last Four" burst mode that will shoot more than four in a row, but it only saves the last four shots once the shutter is released. We're not sure how useful this Fujifilm-standard feature truly is.) RAW capture in-camera is slow, and it is even slower to process the RAWs through Fujifilm's clunky Hyper-Utility 2 — taking over a minute to crunch and save a single file with the default parameters, even on a fast dual processor PowerPC G5 tower. Our advice: skip RAW — it'll be a cold case before you manage to open and process a full 4GB CF card of RAWs through Hyper-Utility 2 — unless it is absolutely necessary. And Fujifilm's HyperUtility is pretty much the only game in town right now, as there's not a lot of other RAW converters supporting the IS-1.
Swapping between Infrared-only, Visible-only, and IR plus visible is a simple matter of swapping out the 67mm Peca filters (900 and 916), which can be done easily in a matter of seconds. The filter thread ring on the lens is 58mm, so unless you want to manually hold the filter in front of the lens during your shoot, we strongly suggest a step-up ring to keep your chosen filter secure. We also used our trusty Cokin 89B P-series IR-passing filter and were equally happy with our IR results.
Infrared-only capture can be captured either in the pink cotton-candy color scheme that the images pick up when an IR filter is attached and a custom white balance is not set, or with a custom white balance off a brightly reflecting infrared object which gives a subtle cyan and rose duotone feel, or monochromatic — yielding silvery grayscale images. Cranking the ISO up to 1600 will give the monochrome images the feel of classic silver-halide infrared photos for the creative photographer who isn't afraid of grain as an artistic element.
Being an EVF (or "neo-DSLR" as Fujifilm press materials describe this class of camera), there's VGA video mode at 30 frames per second. The focal length can be adjusted during video capture; however, there's no White Balance or monochrome option in video mode, so infrared-only videos are tinted pink.
The Fujifilm Finepix IS-1 is a versatile camera, capable of capturing images in infrared and visible light in many different ways — limited only by the photographer's imagination and/or IR-capture needs. Low ISO monochromes handle noise well, and despite high noise at ISO1600, the noise doesn't feel detracting — it feels artistic.
In the lab, we tested the IS-1 with the Peca 916 IR cutoff filter attached in JPEG capture, and it put up respectable numbers for a 9-megapixel camera in the visible-only spectrum.
Resolution is Excellent at ISO 80 (1850), dropping to Extremely High (1575) at ISO 1600. Noise is Very Low at ISO 80 (1.4) and ISO 100 (1.5), Low at ISO 200 (1.9), Moderate at ISO 400 (2.5) and ISO 800 (2.6) and High/Unacceptable at ISO 1600 (4.4). Color accuracy is Excellent (Average Delta E: 7.6 ISO 80 Manual White Balance.) The 10.7x Fujinon zoom shows Visible Barrel distortion at 28mm (.55%), and Imperceptible Pincushion distortion at 150mm (.04%) and 300mm (.08%).
Visible-only image quality is Excellent. Visible plus Infrared image quality is simply weird and unsettling, as a sample photo shows in the image quality gallery.IR-only image quality is top-notch.
Autofocus is fast and responsive with the IR-cutoff filter attached. Although it is a little slower with an IR-passing filter attached, it is amazing that it manages to focus at all in IR-only.
THE BOTTOM LINE
The Fujifilm Finepix IS-1 is one of the most interesting cameras to visit the PopPhoto lab this year — for both good reasons and bad. We are impressed with the image quality and build of this DSLR-like EVF that can see into the infrared and bring a hidden world into plain sight with an impressive real-time Infrared preview. However, we are very concerned about the overly restrictive User Licensing Agreement Fujifilm has attached to this camera, and we are worried that this ULA may be the start of an ugly trend with camera companies dictating their beliefs and policies on otherwise law-abiding creative photographers.
CERTIFIED TEST RESULTS
With Peca 916 IR-cutoff filter attached: visible light only test results
Resolution: Excellent (1850) at ISO 80, Extremely High (1575) at ISO 1600
Noise: Very Low at ISO 80 (1.4) and ISO 100 (1.5), Low at ISO 200 (1.9), Moderate at ISO 400 (2.5) and ISO 800 (2.6) and High/Unacceptable at ISO 1600 (4.4).
Lens Distortion: Visible Barrel distortion at 28mm (.55%), and Imperceptible Pincushion distortion at 150mm (.04%) and 300mm (.08%).
Color Accuracy: Excellent (Average Delta E: 7.6 ISO 80 Manual White Balance.)
IN THE BOX/strong> (Camera-only)
• 4x AA Alkaline Batteries
• USB Cable (Mini-B)
• A/V Cable
• Shoulder Strap
• Lens Cap & Lens Cap Holder
• Lens Hood
• Software CD-ROM 1 (USB Driver, FinePixViewer, ImageMixer VCD2 LE for FinePix, RAW File Converter LE)
• Software CD-ROM 2 (Hyper Utility Software)
• Software CD-ROM 3 (Owner's Manual in PDF format)
• User Guide
• 1-Year U.S.A. Limited Warranty
****STREET:** $800.00 (camera only)**
****COMPETITIVE SET****
Other IR-sensitive digital cameras
• Fujifilm S3 Pro UVIR: The IS-1's big brother takes Nikon lenses and can also see into UV.
• Sigma SD14: Sigma's newest DSLR is easily convertible from visible to IR capture with a removable IR-cutoff filter.
• Sony Cybershot DSC-H9: Sony's 15x zoom EVF has an infrared Night Shot mode, but it's only high ISO, doesn't work well in daylight and is always tinted green.
• Leica M8: Leica's digital rangefinder is accidentally sensitive into the infrared.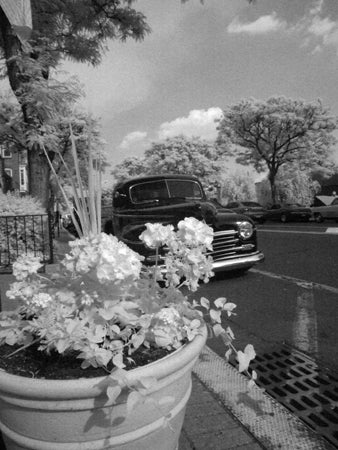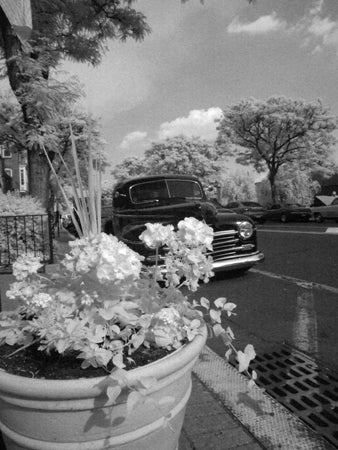 Fujifilm-Finepix-IS-1-Cranking-the-ISO-up-to-1600
Cranking the ISO up to 1600 and shooting through the Peca IR-passing filter gives a retro black-and-white infrared film feel, with the added digital benefits of real-time preview.1/850 @ f/7.1 ISO 1600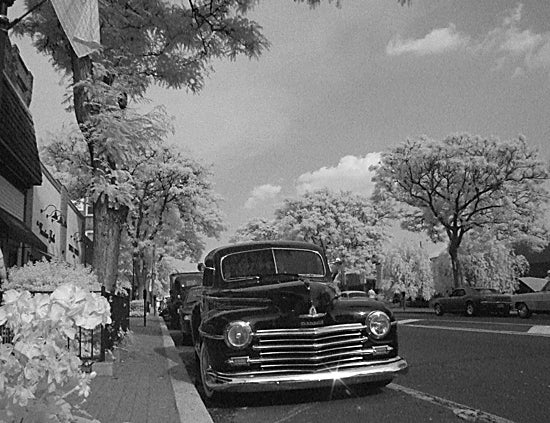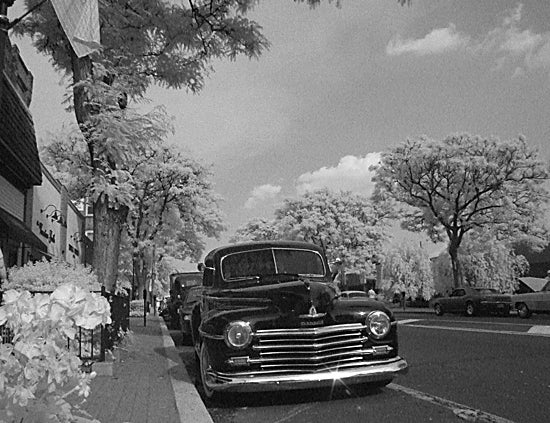 Fujifilm-Finepix-IS-1-Again-shot-at-high-ISO-to
Again, shot at high ISO to give the feel of classic IR film. Notice how vibrant the foliage is. 1/400 @ f/7.1 ISO 1600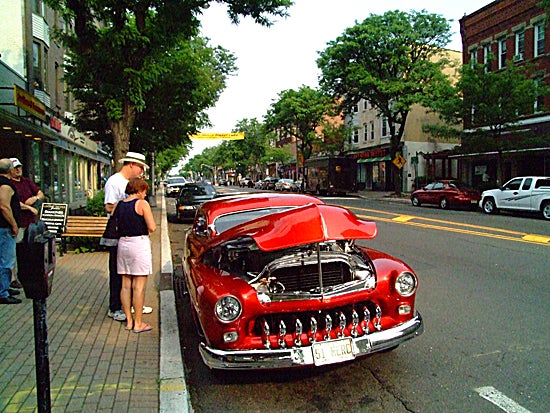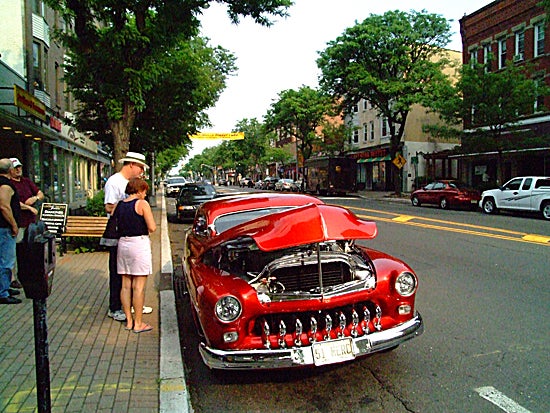 Fujifilm-Finepix-IS-1-Another-in-the-retro-feel-s
Another in the retro-feel series. The visible sky was much more hazy, but IR capture pulled out the clouds. 1/640 @ f/6.4 ISO 1600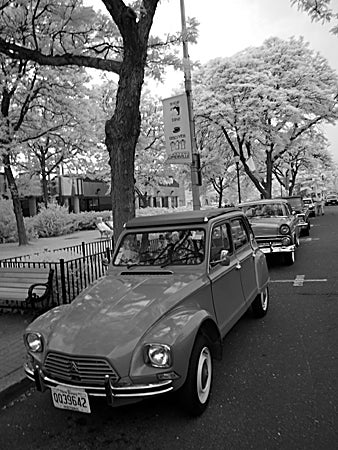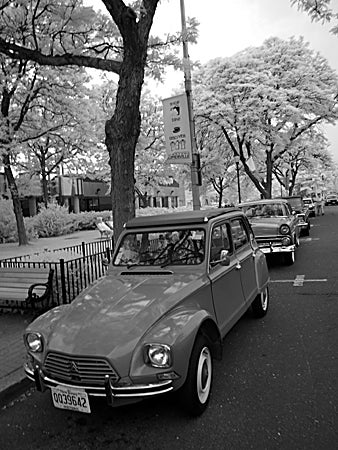 Fujifilm-Finepix-IS-1-The-Fujifilm-Finepix-IS-1-c
The Fujifilm Finepix IS-1 can capture visible-spectrum only, as seen here, with a Peca IR cutoff filter blocking infrared mounted to the lens. 1/1000 @ f/8 ISO 1600.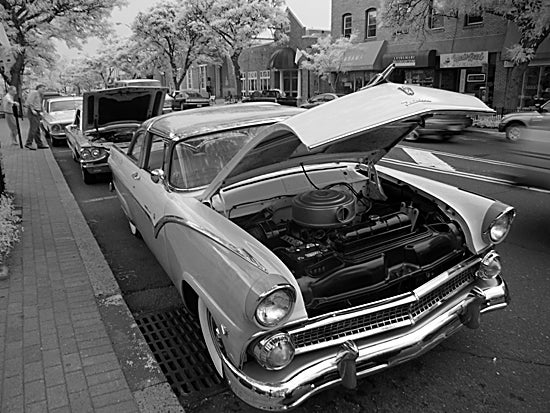 Fujifilm-Finepix-IS-1-At-ISO-80-monochrome-infrar
At ISO 80 monochrome infrared captures show very little noise, but still have a nostalgic feeling when the subject is antique cars. 1/20 @ f/2.8 ISO 80.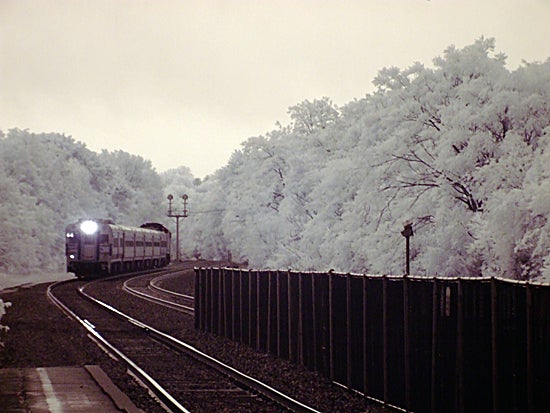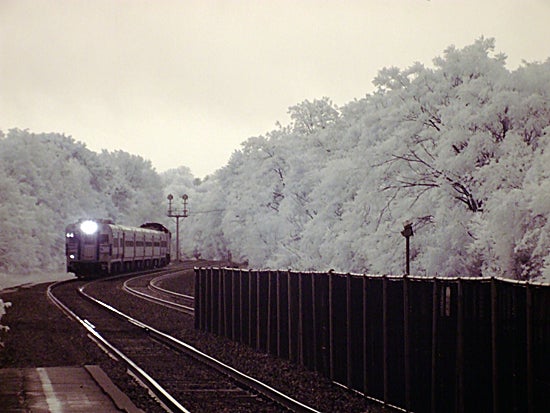 Fujifilm-Finepix-IS-1-There-s-very-little-differe
There's very little difference between the colors of the red and cream two-tone classic when captured in infrared with the Fujifilm Finepix IS-1. 1/20 @ f/2.8 ISO 80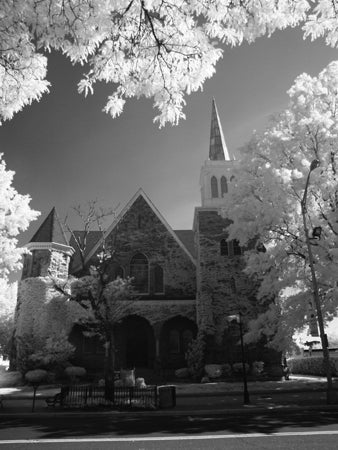 Fujifilm-Finepix-IS-1-There-s-a-subtle-duotone-ef
There's a subtle duotone effect in this image, captured in color, but with a custom white balance taken from the sky. 1/140 @ f/4.9 ISO 400.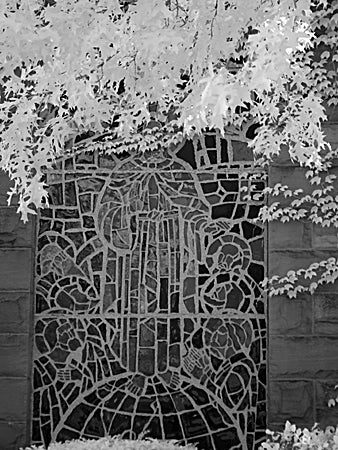 Fujifilm-Finepix-IS-1-Wide-angle-lens-distortion
Wide-angle lens distortion is evident on the church in the IR-only scene/ 1/420 @ f/2.8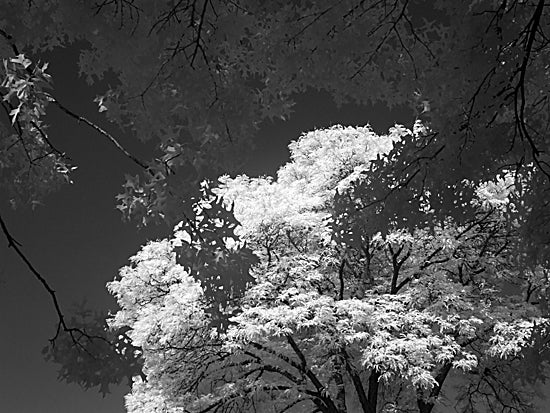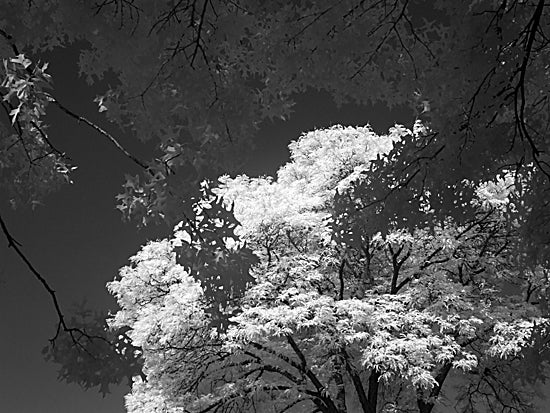 Fujifilm-Finepix-IS-1-In-visible-spectrum-only-ca
In visible-spectrum only capture, this scene would not look nearly as interesting, but IR-only makes the leaves pop and shows the differences in the non-backlit stained glass. 1/380 @ f/2.8 ISO 200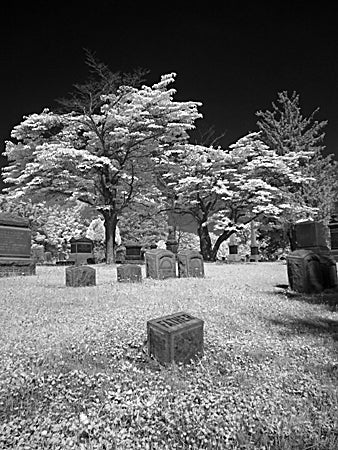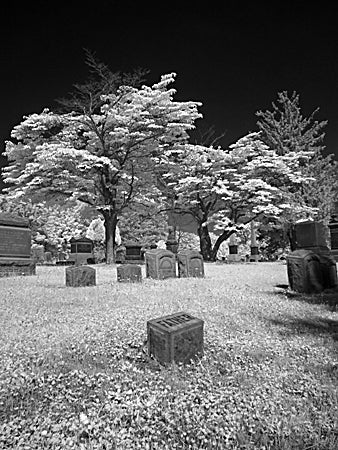 Fujifilm-Finepix-IS-1-Notice-the-difference-in-th
Notice the difference in the foreground and background leaves in the IR-only capture? The foreground is totally shaded, while the sunlight striking the farther tree makes the leaves explode with IR-reflected light. 1/340 @ f/5 ISO 200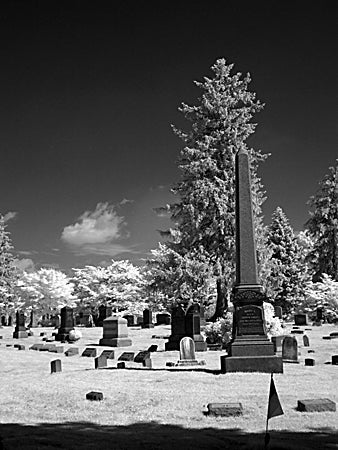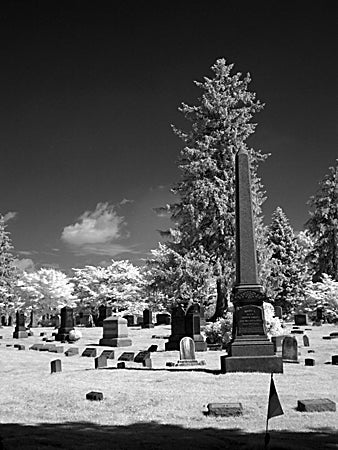 Fujifilm-Finepix-IS-1-Foliage-can-be-very-dramati
Foliage can be very dramatic when capture in infrared. 1/640 @ f/5.86 ISO 200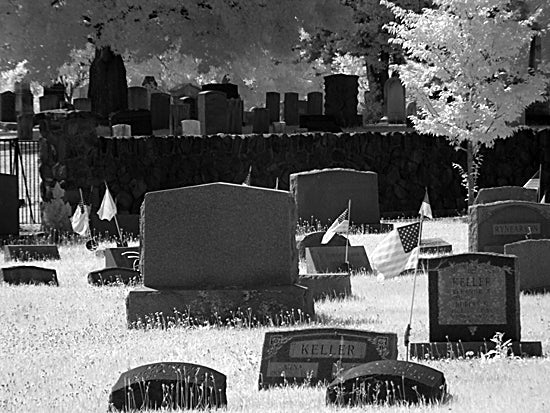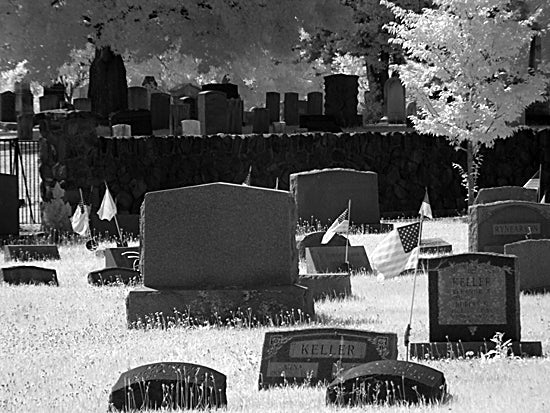 Fujifilm-Finepix-IS-1-Infrared-capture-can-be-qui
Infrared capture can be quite intriguing when the framing includeds objects that reflect IR dramatically, along with other objects which are less reflective in IR. 1/350 @ f/5.6 ISO 200.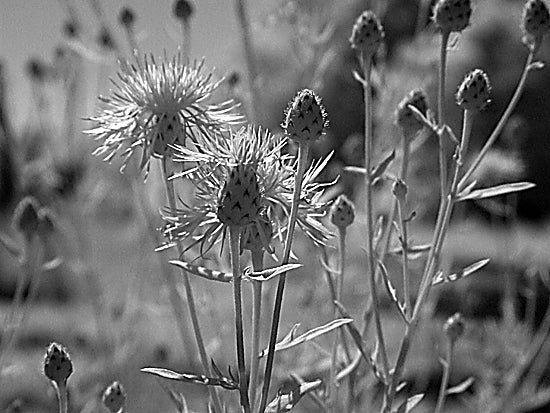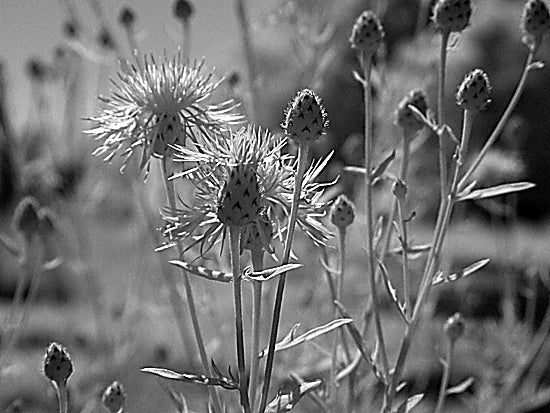 Fujifilm-Finepix-IS-1-Notice-how-high-key-the-bla
Notice how high-key the blades of grass and the leaves on the tree are in this mid-morning infrared scene. 1/340 @ f/4.9 ISO 200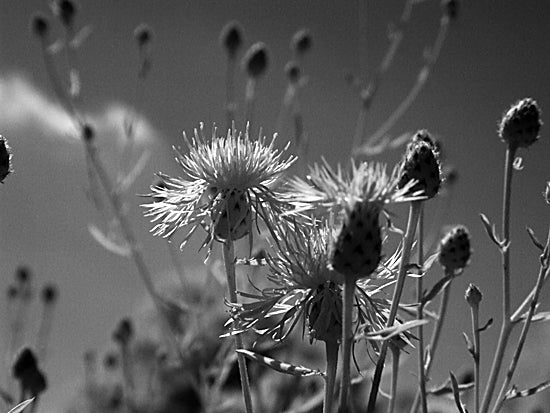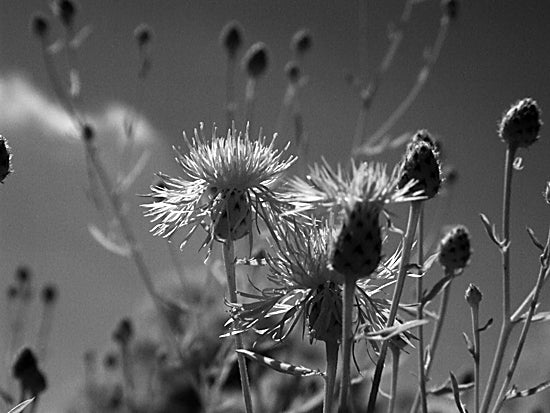 Fujifilm-Finepix-IS-1-Live-view-preview-and-autof
Live view preview and autofocusing that worked in infrared-only capture makes for a whole new world in infrared capture. 1/48- @ f/7.1 ISO 200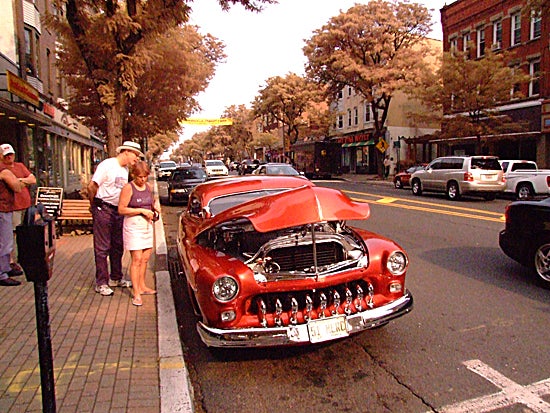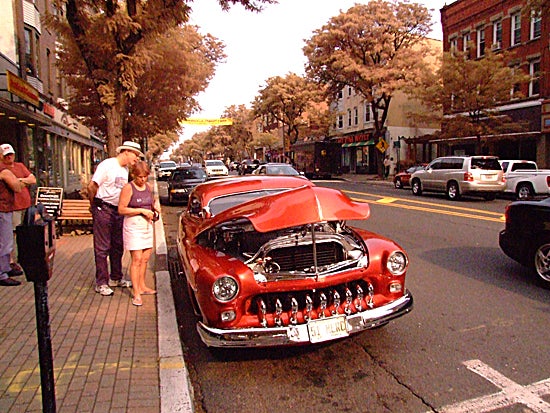 Fujifilm-Finepix-IS-1-To-the-naked-eye-the-sky-b
To the naked eye, the sky behind this thistle was pure haze, but in infraraed, the clouds pop out. 1/550 @ f/7.1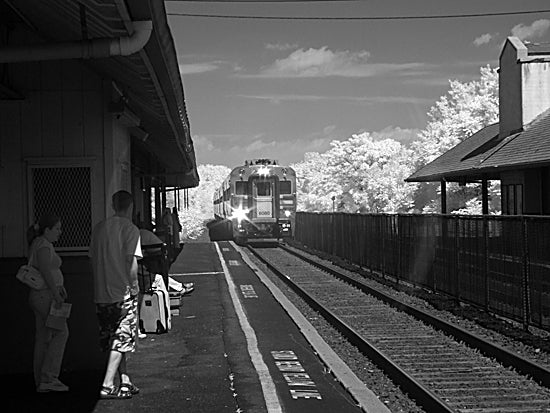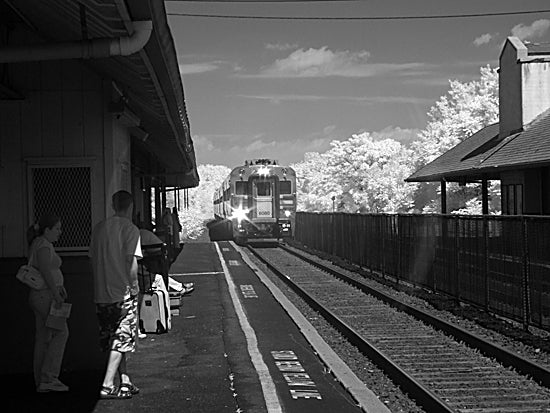 Fujifilm-Finepix-IS-1-Without-the-IR-cutoff-filte
Without the IR-cutoff filter attached, the IS-1 captures in both Infrared and visible spectrum. Note the difference in the foliage between this and the previous shot. 1/1600 @ f/8 ISO 1600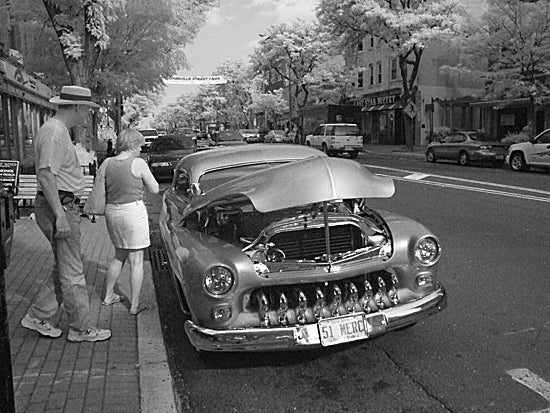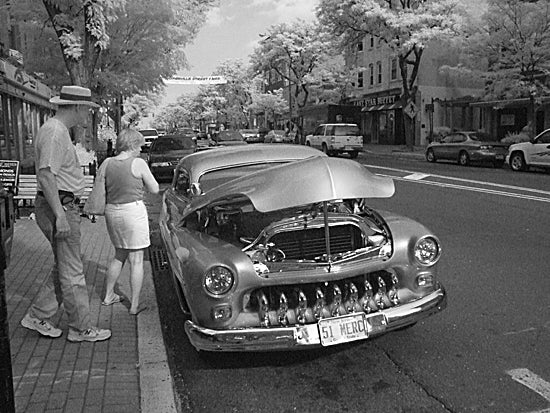 Fujifilm-Finepix-IS-1-Again-the-combination-of-v
Again, the combination of very reflective IR elements such as the foliage, and less reactive objects in the same frame adds a sense of intrigue to an otherwise everyday scene. 1/400 @ f/5.6 ISO 200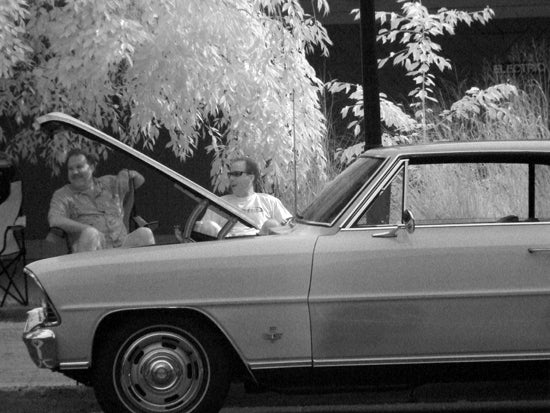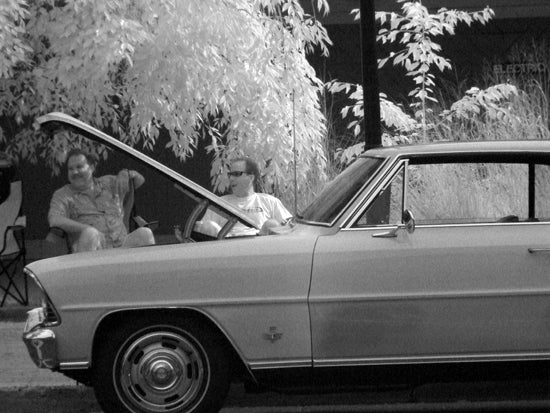 Fujifilm-Finepix-IS-1-With-the-Peca-IR-passing-fi
With the Peca IR-passing filter, the IS-1 captures Infrared-only. This image captured in Black and White to eliminate the red/pink casting of the filter in the monochrome color image. 1/550 @ f/5.6 ISO 1600