Camera Test: Casio Exilim EX-Z600
Taking care of bidness.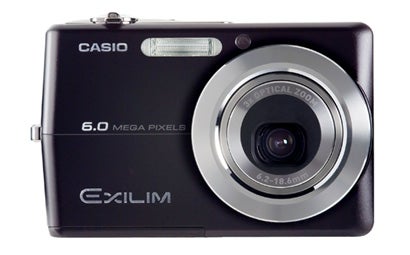 We may earn revenue from the products available on this page and participate in affiliate programs. Learn more ›
The digital camera field is crowded with unusual and creative features. The Casio Exilim EX-Z600 (street: $260), however, managed to break through and create some buzz with its debut earlier this year. After all, what other camera can boast an "eBay Mode"? This function produces a 2MP image optimized for the online auction site, and has the ability to switch automatically to Macro mode and back. But lost in the eBay mode buzz is a camera that deserves recognition for its performance as an all-around compact.
The EX-Z600 focuses blazingly fast in bright light, and very fast in low light with the autofocus assist beam. Without the AF beam, the focus slows to about half a second in dark indoor conditions.
The EX-Z600 has a 2.7-inch LCD, a 3x, 38-114mm f/2.7-5.4 (35mm equivalent) zoom lens, and writes to SD media. The rechargeable Li-ion battery is also rated at 550 shots. It can burst three shots in one second without flash, and surprisingly for this class, has the same 3-frame-per-second (fps) burst rate with flash. In both of these burst modes, 3 shots is the limit. On the other hand, it can shoot continuously at 1 fps for a long time. There is a "soft flash" mode, which, while not standard issue in this class, is gaining popularity. Also, the flash can be controlled manually in full-stop increments from -2 to +2, which is rare in this breed of camera.
The live preview of Exposure Compensation, White Balance, and Filter effects is a great help in pre-visualizing your photographs, and the live histogram is also a nice touch. Anti-Shake and High Sensitivity Best Shot Modes help you make sharp images in challenging low-light conditions.
Color accuracy is Excellent (Average Delta E: 6.89, ISO 50, Manual White Balance). Noise is Very Low at ISO 50 (1.23), Low at ISO 100, 1.88, Moderately Low at ISO 200, and Low at ISO 400 (1.93). Resolution (HxVxD/3) is Very High at ISO 50 (1470), ISO 100 (1433), and ISO 200 (1368), and Acceptable at ISO 400 (1148). There is Visible Barrel Distortion (.55 percent) at 38mm, Slight Barrel (.20 percent) at 76mm, and Slight Barrel (.14 percent) at 114mm.
Whether or not you eBay, the Casio Exilim EX-Z600 has a winning combo of features, functions, and price that make it buzz-worthy.
What's Hot:
Flash Continuous Mode
Live preview of White Balance, Exposure Compensation, Filter effects
Battery rated at 550 photos
What's Not:
Visible barrel distortion at 38mm can affect macro image quality
No zoom in video mode
No manual control of shutter or aperture
Certified Test Results
Color accuracy: Excellent (Average Delta E: 6.89, ISO 50, Manual White Balance) Noise: Very Low at ISO 50 (1.23), Low at ISO 100, 1.88, Moderately Low at ISO 200, and Low at ISO 400 (1.93) Resolution: (HxVxD/3) Very High at ISO 50 (1470), ISO 100 (1433), and ISO 200 (1368), and Acceptable at ISO 400 (1148) Lens Distortion: Visible Barrel Distortion (.55%) at 38mm, Slight Barrel (.20%) at 76mm, and Slight Barrel (.14%) at 114mm Dimensions: 2.3 x 3.5 x 0.8″ Weight: Approx 4.3 oz with battery and SD card In the box: Exilim EX-Z600 Digital Camera, Rechargeable Lithium-ion Battery, USB Cradle, USB Cable, AV Cable, AC Adaptor, CD-ROM, Basic Reference, Casio Warranty Street: $260 Web: Casio.com