Camera Test: Canon PowerShot SX100 IS
Canon's new pocket 10x camera packs really cool features, but cuts a couple of important corners.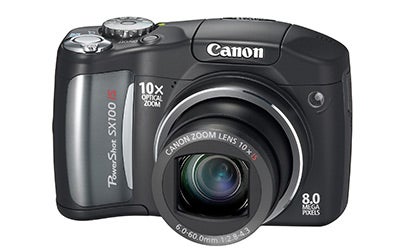 We may earn revenue from the products available on this page and participate in affiliate programs. Learn more ›
Looking at Canon's new 8.0 megapixel 10x (36-360mm f/2.8-4.3 35mm equivalent) optically stabilized zoom PowerShot SX100 IS (street: $299), one can't help but recall the old Sure Shot Owl 35mm camera. Sure, the Owl was a fixed focal length film camera, but look at the silhouette. There's certainly a powerful family resemblance in function and focus, even if the guts are now digital, the lens zooms, and that big owl-eye inspired viewfinder has been replaced by a biggish 2.5-inch, wide viewing angle, 172,000-dot LCD.
Like the Sure Shot Owl of yesteryear, the SX100 is first and foremost an easy to use camera with few bells and whistles. It doesn't do party tricks. There's no canned music piped into the obligatory slideshow playback mode. There are no in-camera Photoshop-style image adjustments: resize and redeye fix, sound memo, and some DPOF printer settings are the only "bells" on the playback side. You won't get lost in submenus trying to review an image; this is a camera for people who primarily use their camera for making photos.
In a lot of ways, the SX100 IS is just as Spartan on the shooting side, at least upon first glance. Under all this simplicity however, there's actually some pretty powerful processing courtesy of a Digic III chip — Canon's current top of the line image-processing engine. It'll burst at 1.3 frames per second with fixed focus, or .8 fps with continuous focus until the card is full or the batteries drain. It can record video (VGA: 640 x 480 @ 30fps) for up to one hour or 4GB at a time. (There's no optical zoom while recording. You can digitally zoom up to 4x, which will impact image quality, so you're better off just sticking to one focal length.) There's center, face, and multi-point focusing, and Evaluative, Centerweighted average, and spot metering. Throw in manual exposure mode, and you've got a lot of advanced features in this "easy" camera.
On the subject of easy, the SX100 IS features an easy-to-understand face detection mode that does a good job of finding faces both during capture and playback, provided both eyes are visible. Optical image stabilization allows slower shutter speeds than you'd expect to keep images sharp even at long reach and in low light, with a gain of about 2 stops in our observations. This is a good thing, because it means you can oftentimes keep the SX100 IS at the lower ISOs (80-400) despite a slow shutter speed and get good results. That's important because image quality begins to suffer at ISO 400 and is downright painful at ISO 800 and 1600. (Those born before 1976 will recall, perhaps not fondly, that the same could be said for the results with ISO 400 and up consumer film before the mid-1990s, particularly with compact 35mm cameras!)
IN THE LAB
Let's start with the good news. The JPEG images produced by the Canon PowerShot SX100 IS are sharp and contrasty straight from the camera. Usually just a very light touch in post-processing is necessary to optimize the photos for display. However, there are some unfortunate image quality issues that get worse as the ISOs climb.
Noise is Moderately Low at ISOs 80 (2.0) and 100 (2.3), Moderate at ISO 200 (2.8) and 400 (2.8), and High/Unacceptable at ISO 800 (4.1) and ISO 1600 (4.3). Resolution is Excellent at ISO 80 (1825), Extremely High at ISO 800 (1590), but just High at ISO 1600 (1215). Between the Unacceptable Noise and serious drop-off in resolution, we strongly recommend against using this camera at ISO 1600, and caution using it at ISO 800. Stick with the lower ISOs and hope Image Stabilization helps gain a stop, rather than going into these high ISOs. Your photos should be the better for it.
Like many a Canon compact we've seen recently, there's Visible Barrel Distortion at 36mm (.53%), and Imperceptible Pincushion distortion at both 180mm (.04%) and 360mm (.09%). Color accuracy is Extremely High (Average Delta E: 9.0, ISO 80, Daylight Balanced).
All in all, the SX100 isn't setting the world on fire in terms of image quality. It feels like another area where some corners were cut.
This little composite-bodied camera feels good in the hand. The AA-battery-holding grip bulge is helpful, although its smooth surface may be problematic in hot and humid conditions for some shooters. Most of the buttons and dials have a good feel, the only exception being the spinning/up/down/left/right button-dial, which feels under-damped and cheap to the touch. The manual pop-up flash won't accidentally flip open, and closes with just a light touch.
The 2.5-inch LCD doesn't pack as many dots as we'd like (just 172,000), and while playback images look good, previews can be very noisy, particularly in anything less than decent sunlight. We also noticed a very visible flicker to the LCD in preview mode under fluorescent lighting conditions. The low resolution LCD is one of those "cut corners" that bother us about the SX100 IS.
During playback, however, particularly in focus-confirm playback, the LCD shortcomings aren't as evident, and the ability to quickly zoom in (up to 10x) on the active focus points is a very nice touch that the SX100 IS shares with its bigger stablemate, the PowerShot G9.
Autofocus is very fast in bright light, and is still pretty fast indoors, even with the AF assist beam turned off. Autofocus is also quick in macro mode. Macro can focus down to 1 centimeter, by the way, so close that a U.S. quarter more than fills the frame!
Image stabilization works well to keep the shakes away. In our field tests, we were able to get sharp shots at full 360mm zoom as slow as 1/30 second. And in our test video clip, it did an excellent job of keeping the jitters to a minimum. No matter how stable a shooter you are, you're going to shake a little bit during video capture, but the SX100 IS controlled it very well.
Manual exposure mode skips the live histogram. The LCD does gain up and down as you toggle the shutter and aperture, and once you tap the shutter button halfway, it alerts you to under- or over-exposure. This feature works OK, but a real-time metered manual function — whether it be a histogram or a +/- EV slider — would be better, considering that LCDs, even ones that automatically gain up and down based on the ambient lighting, are less precise than a live histogram or live meter.
There are just a handful of Scene modes to choose from including Beach, Fireworks, Snow, Foliage, Indoors, Night Scene and Aquarium. Other Shooting modes on the exposure dial include Auto, Program, Tv, Av, Manual, Movie, Kids & Pets, Night Snap, Landscape, Portrait, and Panoramic Assist. There's also Canon's "My colors" options, for vivid, neutral, and monochrome images in P, Tv, Av, and Manual modes.
Canon doesn't merge the panoramic shots in-camera, but simply adjusts the filenames to make it easier to do a high-quality, high-resolution panoramic stitch in the bundled Photostitch software. There's less instant gratification, but when it's done like this, you get much higher-quality final panoramic photos. (Be sure to crop loosely for pano-stitching, because you'll lose some of the top and bottom edge during the processing.)
All in all, the Canon PowerShot SX100 IS feels good in the hand, the field shooting experience is quite enjoyable, and the feature set can make for some great images, provided you stick to the low ISOs.
THE BOTTOM LINE
The Canon PowerShot SX100 IS is a cute camera with some powerful functionality hidden beneath an easy-to-use interface. Despite the composite body, it feels good and solid in the hand and it produces very nice images at ISOs 80 and 100. The 10x optically stabilized 36-360mm zoom give a great reach from normal to supertelephoto, and the IS system works to keep the camera steady in both still and video shooting modes. Unfortunately, the low-resolution LCD can be very noisy during capture and medium and high ISO image quality is lacking. The 10x stabilized pocket superzoom category is gaining in popularity, and we're happy to see this. Canon's first jump into this arena brings some interesting features and functions (and lack thereof) into this new category. However, the low-resolution LCD and mid and high ISO image quality are disappointments.
COMPETITIVE SET
A couple of other optically stabilized 10x pocket rockets at that $299 street price:
Panasonic Lumix DMC-TZ3 — Panasonic's second generation pocket superzoom packs 7.2 megapixels and a true 28mm wide-angle setting on its 28-280mm f/3.3-4.9 Leica Vario-Elmarit lens.
Sony Cybershot DSC-H3 — Sony's entry into this camera class boasts a 10x Zeiss lens (38-380mm f/3.5-4.4) and packs 8.1 megapixels.
IN THE BOX:
• PowerShot SX100 IS Body
• AA-size Alkaline Battery (x2)
• SD Memory Card SDC-16M
• Wrist Strap WS-200
• Digital Camera Solution CD-ROM
• USB Interface Cable IFC-400PCU
• AV Cable AVC-DC300

Canon-PowerShot-SX100-IS-We-were-so-surprised-by
We were so surprised by this photo op that we accidentally overexposed it by +2/3 stops EV compensation! You never know what you'll come across in Times Square. Despite the overexposure, there are great skintones in this ISO 80 shot.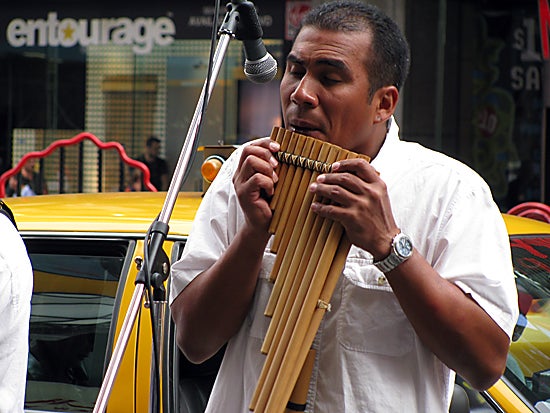 Canon-PowerShot-SX100-IS-Image-Stabilization-help
Image Stabilization helped keep it sharp at ISO 100 when we zoomed in close on this musician in the afternoon shadows of Times Square.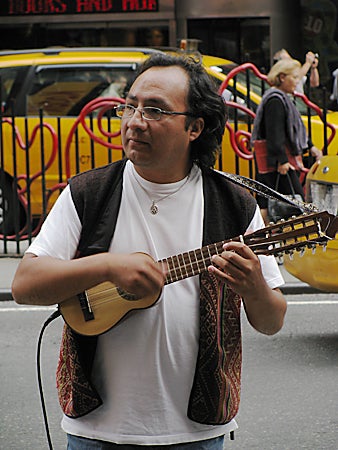 Canon-PowerShot-SX100-IS-Just-your-average-aftern
Just your average afternoon in Times Square. At 1/80 second at about 200mm, IS helped keep the subject sharp, even if it couldn't freeze his furiously fast fingers!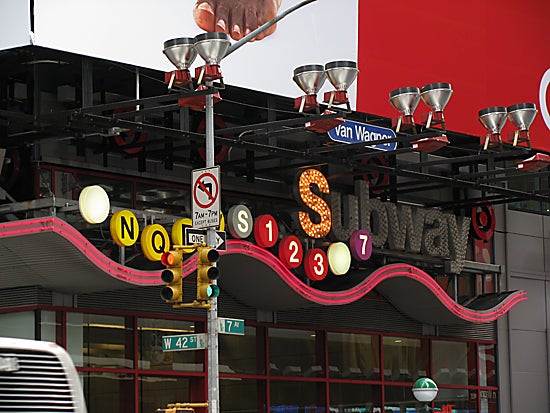 Canon-PowerShot-SX100-IS-Again-IS-helps-keep-the
Again IS helps keep the image sharp at medium zoom with a 1/40 shutter speed. IS really helps when it comes to keeping the camera in the lower, higher image quality ISOs.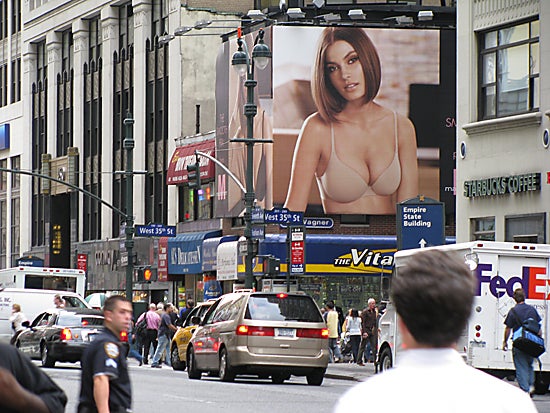 Canon-PowerShot-SX100-IS-Again-in-this-shot-Fac
Again, in this shot, Face Detection locked onto the only face that is looking right at the camera, the one on the billboard in the background.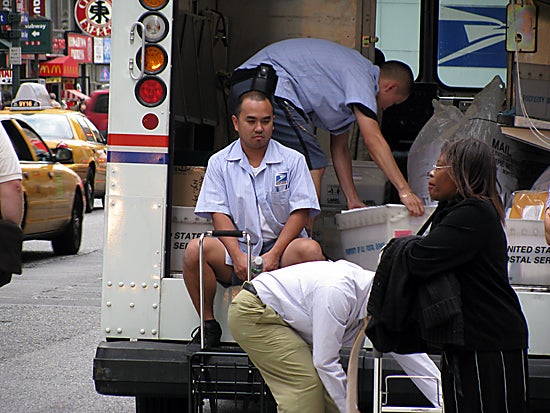 Canon-PowerShot-SX100-IS-In-this-long-reach-shot
In this long-reach shot, Face detection locked onto the sitting postman, and nailed the shot. Image stabilization helped me keep it sharp at ISO 100 1/50 second.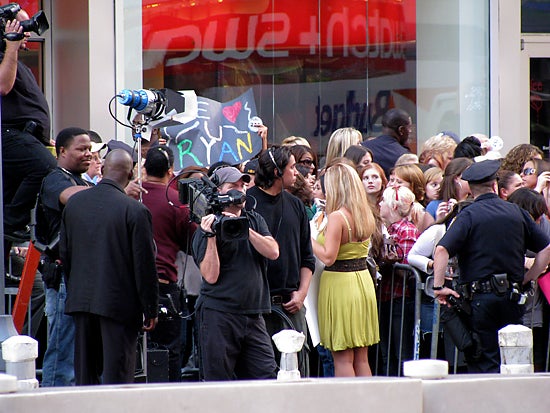 Canon-PowerShot-SX100-IS-We-re-zoomed-past-9x-on
We're zoomed past 9x on this shot of a mob scene outside MTV studios as some unknown celebrity was expected to arrive. At ISO 200, 1/30 second, Image Stabilization again saves the shot!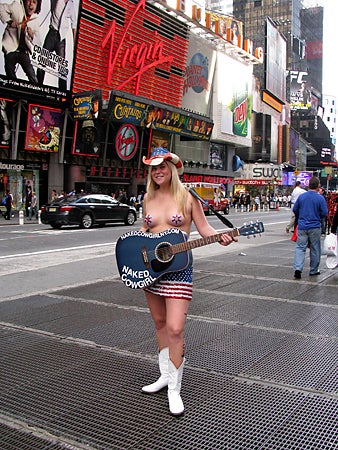 Canon-PowerShot-SX100-IS-When-metered-normally-t
When metered normally, there are less blown highlights on this performer in Times Square, just a touch on her boots and where the sun glares off a billboard. IS again helped keep it sharp at 1/30 second at medium zoom, ISO 80.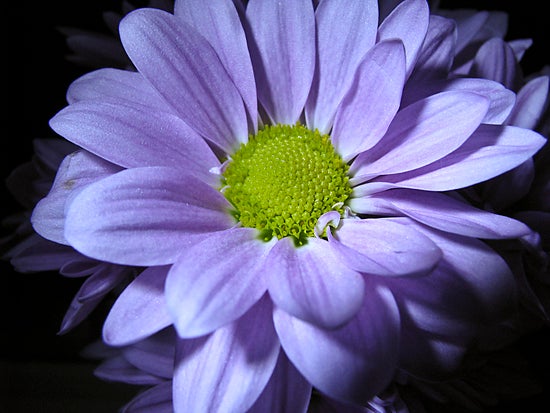 Canon-PowerShot-SX100-IS-We-zoomed-in-close-on-th
We zoomed in close on this single daisy and used a high-powered 42 bulb LCD flashlight for illumination on this ultra-macro.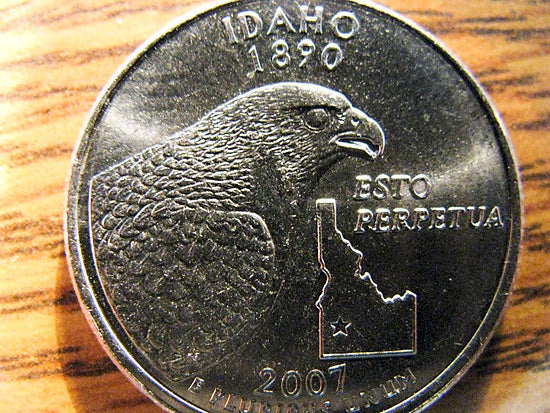 Canon-PowerShot-SX100-IS-How-close-can-you-get-wi
How close can you get with the Canon PowerShot SX100? So close that you can't even capture the whole radius of a quarter in the frame!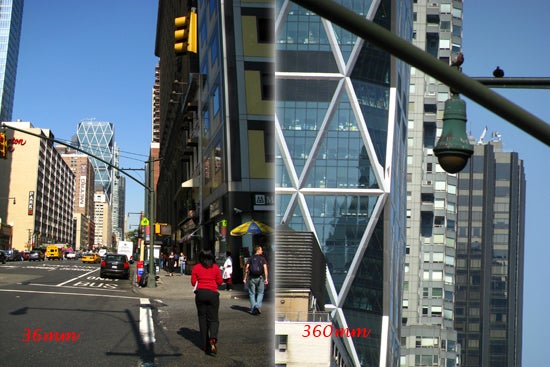 Canon-PowerShot-SX100-IS-It-s-not-the-most-exciti
It's not the most exciting scene in the world, but it gives you a feel for just how much reach you've got with the Canon PowerShot SX100 IS.