Camera Test: Canon EOS Rebel XSi
The only excess is of good stuff.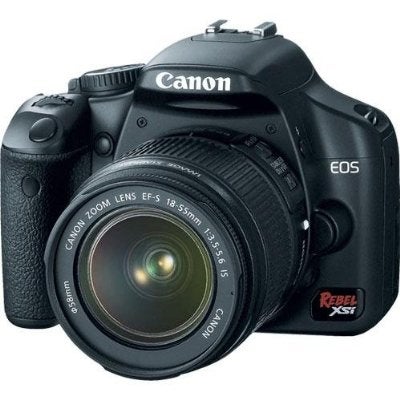 We may earn revenue from the products available on this page and participate in affiliate programs. Learn more ›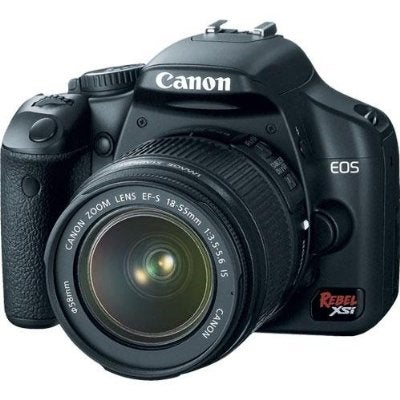 Camera Test: Canon EOS Rebel XSi
SIX, EIGHT, TEN, TWELVE —
the Rebel line continues up the megapixel count to the fourth-generation EOS Rebel XSi. But the 12.2MP XSi ($800, street, body only; $900 with 18-55mm f/3.5-5.6 Canon EF-S IS lens) is a lot more than just another deuce worth of dots. Enough upgrades to performance and convenience have been added — some trickle-downs from the pro-level EOS-1D series — that the XSi qualifies far more as an enthusiast model than an entry-level one. Here are five reasons why.
1. GREAT IMAGE QUALITY
The XSi uses a new Canon CMOS sensor with extra-large microlenses, plus 14-bit A/D conversion rather than 12-bit. Performance in the Pop Photo Lab was impressive: It scored Excellent image quality throughout its ISO 100-1600 range, based on Excellent resolution (2265 lines average), Excellent color accuracy, and noise levels that ranged from Very Low at ISO 100 to Moderately Low at ISO 1600.
What really wowed us, though, was the consistency of its test results. At ISO 800 and 1600, resolution declined by less than 5 percent, resulting in a still-Excellent 2160 lines average resolution. RAW files converted to TIFF at default settings with Canon's included Digital Photo Professional software showed just about the same resolution as JPEGs. The application of high-ISO noise reduction at ISO 800 and 1600 resulted in, amazingly, no discernable decrease in resolution, so we'd suggest leaving it on all the time.
Overall, this is the best imaging performance we've seen so far in the "step-up" class of DSLRs in the $800-900 price range (see Competitive Set for details), and betters that of several more-expensive cameras.
For example, the 14.6MP Pentax K20D ($1,130 street, body only), tested in the March 2008 issue, had slightly higher resolution at ISO 100 but dropped off more quickly at higher ISOs, and it had serious color-accuracy and noise problems in JPEGs over ISO 400. For that matter, Canon's own EOS 40D ($1,140 street, body only), while providing Excellent image quality, is a tick behind the XSi across all indicators. Of cameras costing under $2,000, only the Nikon D300 provides better imaging overall.
Of course, the pricier DSLRs have ISO sensitivities above 1600, and the XSi does not. But given the camera's price, we really can't argue with Canon taking the safe route here.
2. FASTEST IN CLASS
The first Rebel to get Canon's DIGIC III processor, the XSi is currently the quickest-firing 12MP camera in this class, rated at 3.5 frames per second, and for highest-quality JPEGs, up to 53 frames. (The new Olympus E-420 and E-520, both 10MP models, are rated at 3.5 fps up to the capacity of the card, and we will test that claim very soon.) Using a 2GB Panasonic Class 6 SD card, we got 53 and occasionally 54 frames at about 3.6 fps. But the XSi would keep on firing at just under 2.5 fps until the card filled up.
The camera is rated for bursts of up to 6 RAW or 4 RAW + JPEG, which we found accurate. It can continue firing single RAW frames every second or so after that. Also speeding up the shooting is the 9-point autofocusing, essentially the same as the XTi's, which was already the fastest in class and one of the fastest in any DSLR. The XSi does get a high-precision central cross sensor for f/2.8 and brighter lenses. (Fast lenses, with their shallower depth of field wide open, benefit from a high-precision sensor.) Our AF test of the XSi showed it to be about the same speed as the XTi in bright to medium light, and somewhat faster at the lowest light levels.
To keep all this speed powered up, the new lithium ion battery in the XSi, while the same size as the XTi's, provides 50 percent more shots per charge, according to the CIPA rating.
3. BETTER VIEWING
The XSi makes composing images easier on two fronts: an upgraded optical finder, and the addition of live view. Canon says the magnification of the pentamirror finder has been increased to 0.87X, from 0.80X of the XTi. Our actual Lab measurement, though, comes out even better, to 0.95X. No more tunnel vision for the Rebel. Moreover, the readouts below the finder screen can be seen along with the entire frame image, in contrast to the XTi's now-you-see-them-now-you-don't readouts that were a particular pain for eyeglass wearers. And, the finder has been brightened by use of better mirror coatings and a more transmissive focusing screen. Live view works similarly to that of the EOS 40D. Once you enable it in the menu, a press of the Set button flips up the mirror and sends the image from the sensor to the big 3-inch, 230,000-dot LCD (a hand-me-down from the top-of-the-line EOS-1Ds Mark III). Two flavors of autofocus can be used in live view: by contrast detection nearly anywhere on the screen, or by a momentary flip down of the mirror to allow the conventional phase-detection AF sensors, which can employ face detection, to focus the image. Contrast detection is slow and may hunt back and forth, so this method should be reserved for methodical work such as macro or still life. Choosing between the two live AF methods requires yet another foray into the menus — this time a multi-poke adventure in the custom functions. Surely this could have been made simpler! Want a still bigger screen image? Tether the XSi to a computer with a USB cable, then view the image from the sensor and operate the camera remotely with the supplied CameraWindow software — yet another no-cost goodie.
4. IMPROVED CONTROLS AND HANDLING
We've criticized past Rebels on the user interface — too many settings hidden in menus, too few external controls, smallish LCDs — but the XSi takes a big step forward here. While there is still no second command dial as on all other EOS cameras, the XSi's arrangement of control buttons is less cluttered, despite the bigger LCD screen. The ISO button was moved to a more convenient spot atop the camera, near the shutter release. As on the XTi, the Set button can be programmed for a single function of your choice, and we promptly chose flash-exposure compensation. (We still think there should be a dedicated external control for this.) While many controls are still menu-based, the appearance and organization of the menus has been greatly improved over the XTi's. An increase in LCD size to 3 inches from 2.5 may not sound like a lot, but the actual increase in area is about 50 percent. Fonts on the control panel are outright gigantic — you can read the display at arm's length. Menus are also very readable, and are tabbed in such a way that every menu item in each tab is visible — no scrolling to hidden items is necessary. Overall, the camera feels more solid and more ergonomic, even though its construction is the same as the XTi's. Textured, matte plastic inserts in grip areas feel much less, well, plasticky. As for metering, this Rebel also gets a true (4 percent of frame area) spotmeter, in addition to fat-spot, centerweighted, and evaluative metering.
5. HELPFUL IMAGE ADJUSTMENTS
As has become typical of DSLRs, the Rebel XSi provides a smorgasbord of in-camera image tweaks. A menu of Picture Styles lets you apply various profiles of sharpness, contrast, saturation, and what Canon calls color tone (i.e., skin tone). Individual settings within each profile can be adjusted, and you can create up to three custom profiles to be retained in the memory. But the XSi cannot process edited RAW files into JPEGs in-camera, a capability a number of competing cameras have. Highlight Tone Priority, an image control first seen in the latest EOS-1D cameras, can be set to expand the tonal range between a scene highlight and midtone. In practice we found the effect fairly mild, and, unlike Nikon's D-Lighting or Sony's Dynamic Range Optimizer, it offers no levels of adjustment. Another on-the-fly adjustment, Auto Lighting Optimizer, will boost brightness and contrast levels as needed. Again, we found the effect very subtle. Auto Lighting Optimizer cannot be applied in RAW or RAW + JPEG capture. Once you upload your images to a computer, more extensive adjustments can be applied with Digital Photo Professional, including processing and conversion of RAW files, tone curve adjustment, correction of lens aberrations, and software dust-erasure using dust-mapping recorded by the camera. Picture Style Editor lets you apply any preset or customized profile to a RAW file with a click. Canon is notably generous with in-the-box software. Besides the applications already mentioned, the XSi comes with the well-regarded ImageBrowser for sorting, viewing, and editing pictures, and PhotoStitch for making multi-frame panoramics.
THE VERDICT On top of all this, the XSi comes with an Optical Image Stabilizer kit lens at no extra cost over the non-IS lens. This brings us to the $340 question (the difference in price between the XSi and Canon's 40D): What does the higher-priced camera give you? A much tougher metal body with excellent weathersealing, beefier innards including a 150,000-cycle shutter, a smoking burst rate of 6.5 fps, user-changeable focusing screens, and ISO 3200. Shooters who are tough on their stuff will want the 40D, no question. But, given the capabilities of the Rebel XSi, as well as its price, it's one very sweet deal.
VITAL STATISTICS
Imaging: 12.2MP effective CMOS sensor captures images at 4272×2848 pixels with up to 14 bits/color in RAW mode. Self-cleaning sensor.
Storage: SD and SDHC cards. Stores JPEG, RAW, and RAW + JPEG files.
Burst rate: Up to 53 Fine-quality JPEGs at 3.6 fps, up to 7 RAW at 3.6 fps (tested).
AF system: 9-point TTL phase-detection AF in diamond pattern, center enhanced-accuracy cross-type sensor and 8 linear sensors. Single-shot, continuous, and auto-switching AF with fore/aft and across-the-frame tracking. Sensitive down to EV -2 (at ISO 100, f/1.4, tested). Live-view AF uses either the 9-point AF system with momentary flip down of the mirror, or contrast-detection AF on the sensor anywhere in the frame.
Shutter speeds: ¼000 to 30 sec plus B (1/3- or ½-EV increments).
Image stabilization: Lens-based.
Metering: TTL metering with 35-zone evaluative, multi-segment, centerweighted, partial-area (9%), and spotmetering (4%). EV 1-20 (at ISO 100).
ISO range: 100-1600 (in 1-EV increments).
Flash: Built-in pop-up unit with TTL autoflash with +/-2-EV exposure compensation (1/3- or ½-EV increments), GN 34 (ISO 100, feet), covers 17mm lens field of view. Flash sync to ½00 sec. Dedicated Canon hot-shoe for E-TTL II control of accessory Canon EX Speedlites.
Viewfinder: Eye-level, fixed pentamirror.
Live view: From imaging sensor with flip up of the mirror. Video-out to a computer via USB cable for remote viewing and operation of camera with supplied software.
LCD: 3-in. TFT with 230,000-dot (76,000-pixel) resolution.
Output: Hi-Speed USB 2.0, NTSC video. PictBridge compatible.
Battery: Rechargeable LP-E5 lithium; CIPA rating, 500 shots, 50% with flash.
Size/weight: 5.1×3.8×2.4 in., 1.16 lb, body only, with card and battery.
Street price: $800, body only; $900 with 18-55mm f/3.5-5.6 Canon EF-S IS lens.
For info:www.usa.canon.com.
COMPETITIVE SET
• Nikon D60 ($750, street, with 18-55mm f/3.5-5.6 DX Nikkor VR lens): While limited to 10.2MP capture, the Nikon's sensor and processing produce Excellent image quality throughout its ISO range, and Nikon remains the leader in noise control. Still, the Rebel beats it on resolution, AF speed and sensitivity, burst rate, and LCD size. The Reb also has live view; the D60 does not. The D60 won't autofocus with older (non-AF-S) lenses; the XSi has no such limitation. Both come with image-stabilized kit lenses, but neither has wireless control of accessory flashes via the built-in unit.
• Sony Alpha 350 ($900, street, with 18-70mm f/3.5-5.6 Sony DT lens): The A350's live view system is the simplest and fastest to use on any DSLR, period. But this 14.2MP camera put up image quality numbers below that of the Canon or Nikon models, due to noise and resolution-robbing noise reduction at higher ISOs, unless you convert RAW shots to TIFF. The viewfinder is also tunnel-visioned. Still, its price is very competitive, given that its sensor-based image stabilization can steady shots with any lens, and the built-in flash provides wireless control of accessory TTL flashes.