Camera Test: Canon EOS Digital Rebel XTi (400D)
Canon's newest Rebel is a high-end camera in a bargain body.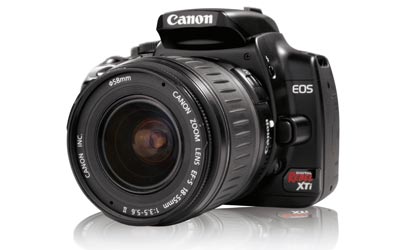 We may earn revenue from the products available on this page and participate in affiliate programs. Learn more ›
Just three years ago Canon started a revolution with the 6.3MP EOS Digital Rebel — the first digital SLR to sell for less than $1,000 with lens. That revolution has been such a wild success that the third-generation Reb, the XTi, arrives with 10.1MP, loads of high-end features, and an even lower price — and still finds itself in a battle with four other manufacturers for that same piece of turf.
We've never known Canon to back off from a fight, and this is no exception. The XTi ($800, street, black body only; $900 with 18-55mm f/3.5-5.6 II EF-S lens) parts company with competitors in the 10MP class by using Canon's own CMOS sensor, rather than the Sony-manufactured CCD found in all the other 10-shooters.
In the Pop Photo Lab, average resolution tested at a little over 2,100 lines (Excellent), besting the Sony Alpha 100 and coming in only slightly behind the pricier Nikon D80. Color accuracy was also Excellent, and the Reb's noise suppression was exemplary — Very Low at lower ISOs, up to Moderately Low at ISO 1600, where it still maintained Excellent resolution. (The Nikon D80 remains the benchmark in noise control.)
What's Hot Top-flight autofocusing, image quality. Control panel can be seen at 10 paces. Sensor dust eradicated two ways. What's Not Needs a second command dial. Flash-level setting buried in a menu. Body won't handle abuse like the EOS 30D. Who's This For? Canon DSLR fans who want near-EOS 5D performance at a Rebel price. First-time DSLR buyers who want 10 megapixels' worth of sensor. • Product Gallery • Image Quality Gallery • Noise Graph Gallery • Rate this Camera • How to Read a Camera Test
Besides its great leap forward in image quality, the Rebel XTi gains enough additional capability (much of it from Canon's EOS 30D) that it strains the term "entry-level." It's now more of a high-end camera in a bargain body. So it makes sense to compare this upstart both to the Nikon D80 and Canon's own 30D, an 8MP camera currently selling for $350 more than the Rebel XTi.
In terms of build quality, the polycarbonate-bodied Rebel XTi shows very good fit of exterior parts and has a solid feel, although nothing like the built-tough magnesium-alloy 30D. The upside to the Rebel is that, weighing nearly a half-pound less than the 30D, it's a lighter load to carry during a day of shooting.
Placement of the shutter button and rear thumb rest are just about perfect. Large-handed users may find the XTi too small, especially the grip, which has no pinky room. Those who want a bigger handhold might consider the $140 (street) Vertical Grip BG-E3, which adds a vertical release and capacity for another Li-ion battery or six AAs.
Controlling Interest
Canon got rid of the top LCD control panel and put all control readouts on the 2.5-inch LCD on the back. Only a few of our testers missed the top control panel, since the rear panel is far more readable, and, conveniently, shuts off automatically when you raise the camera to your eye.
One thing we all missed was the rear Quick Control Dial (the "nose wheel") found on all other Canon DSLRs. With the Rebel, you need to press and hold a button to make adjustments such as aperture in manual mode and exposure compensation in program mode. It slows things down. You can, via custom functions, program the four-way jog buttons to control such settings as AF point selection, but this double duty invites mixups. Canon, give the next Rebel a nose wheel!
Among other control annoyances, flash exposure compensation is relegated to a menu rather than an external control. Yes, you can program the jog buttons to control flash comp, but we think it should be a more obvious (read, clearly marked) control. And a few too many controls, such as ambient exposure compensation, are press-and-hold affairs.
The new Reb uses the autofocusing system of the 30D, with its 9-point wide diamond pattern. Somebody at Canon has been stirring the mix, though, as the Rebel AF tested out both faster and more sensitive than the 30D. Moreover, the AF proved as fast if not faster than the AF on the Nikon D80 and D200 — even down to a very dim EV -2 (at ISO 100), previously the sole province of the Nikon rigs.
In low light, we found that the center AF point of the Rebel XTi is your best bet. When shooting fast-moving subjects in moderate to bright light, continuous AF with auto point selection grabbed a high percentage of keepers, as it did with the EOS 30D. This is top-notch AF.
On image quality, it's worth examining how the XTi handles the resolution/noise balance at faster ISOs. As ISO speeds increase, the XTi seems to apply noise reduction in a linear fashion, with gradual increases in noise matched with gradual loss of resolution.
The Rebel XTi also inherits the 30D's extensive image adjustments, notably the Picture Styles menu that allows selection of profiles governing sharpness, color saturation, and contrast. Your choices here affect image quality in ways that aren't necessarily apparent from the menus. The Standard (default) profile, for example, adds enough saturation to colors that photos look like they were shot in the contrasty sRGB color space — reds, in particular, really pop. For more natural (and accurate) colors, you'll want to use the Neutral Picture Style.
For the record, we tested the color accuracy of the XTi in the Neutral Picture Style; the color test done in Standard dropped accuracy a notch to Extremely High. Similarly, Standard adds a high dose of sharpening, whereas the Portrait Picture Style lowers sharpness somewhat. You can also modify individual settings within any Picture Style or design your own custom profile.
RAW Ingredients
We have mixed feelings about Picture Styles (as we do about Nikon's similar Optimize Image menu). It may be overkill for the casual user, while the more advanced user is more likely to shoot in RAW and make these kinds of adjustments later in image editing. Our advice: Settle on one or two Picture Styles that you like, and stay with them. If and when you reach the point where you want to really fine-tune images, learn to work with RAW files.
The Rebel XTi makes this nearly painless in two ways: You can record RAW files simultaneously with highest-quality JPEGs. And the Canon RAW converter/editing software included with the camera (Digital Photo Professional 2.2) is fairly easy to learn and use.
If you want to add a little warmth or coolness (or some other image tone) to pictures without tinkering with the Picture Styles, you can adjust white balance using a two-axis graphical display — handy for adding digital filters without having to actually carry optical ones.
Dust can be the bane of digital imaging, so Canon gave the XTi both belt and suspenders for dust deterrence. One happens mechanically — turn the camera on or off, and the low-pass filter in front of the sensor gets shaken ultrasonically. The other is software removal of dust images: First, you follow a menu procedure to make a dust map — an exposure that's blank save for the shadow of dust particles — and the camera will attach this file to the images shot afterwards. Later, you load the images into Digital Photo Professional, which can "sweep" the images clean of the dust shadows. Obviously, this is a procedure for the fastidious worker making big blowups or for one shooting in a dusty environment.
The Rebel XTi gets an upgrade in burst rate, too. While the framing rate remains the same (3 frames per second), the claimed maximum burst jumps to 27 frames from 14 on the XT. We consistently got 30 to 31 frames with a moderately fast SanDisk Extreme CompactFlash card. Maximum RAW burst is 10 frames, and we were occasionally able to squeeze out one more.
The built-in flash of the XTi carries over from the XT unchanged: a Guide Number of 42 (in feet, ISO 100), with a beam covering the field of view as wide as a 17mm lens, and a good range of exposure compensation, ±2 EV in 1/3-EV steps. The XTi is fully compatible with E-TTL II accessory Canon Speedlites. We have to scold Canon, though, for the glaring omission of a built-in wireless trigger for accessory TTL flashes. You'll need to have a Speedlight 580EX ($380, street) in the hot-shoe, or a Speedlite Transmitter ST-E2 ($210, street). All the other cameras in this class — the Nikon and Sony, plus the Pentax K10D and Samsung GX-10 — use the built-in flash as a wireless trigger.
So aside from a few inconveniences, shooting with the Rebel XTi is thoroughly pleasurable. It works fast and accurately. No, it's not a bulletproof tank, and some of the control buttons are just barely up from point-and-shoot. But given the image quality, autofocusing, fast shooting, and exposure controls of the XTi, it's not just a deal, it's a screaming, bloody, great deal.
Imaging: 10.1MP (effective) CMOS sensor captures 3888×2592-pixel images at 3:2 aspect ratio with 12 bits per color in RAW mode.
Storage: CF cards Type I and II. Stores in JPEG, RAW, and JPEG + RAW.
Burst rate: Up to 30 highest quality JPEG or 10 RAW files at 3 fps.
AF system: TTL phase detection with 9 selectable AF zones and activation lamps. Single-shot, continuous, auto-switching, and manual focus. Sensitive down to EV -2 (at ISO 100).
Shutter speeds: 30 to 1/4000 sec plus bulb.
Metering: TTL metering with 35-zone evaluative, centerweighted, and 9% center limited-area readings.
ISO range: 100-1600 in 1-EV increments.
Flash: Built-in pop-up unit with TTL metering, Guide Number 42 (feet, ISO 100). Flash sync at 1/200 sec. Dedicated hot-shoe with E-TTL II flash control for optional Canon Speedlites.
Viewfinder: Eye-level fixed pentamirror. LCD: 2.5-in. TFT with 230,000 pixels and 160-degree viewing angle. Up to 10X magnification in playback.
Output: Hi-Speed USB 2.0 and NTSC/PAL video. PictBridge compatible.
Software: Canon ZoomBrowser EX, Digital Photo Professional 2.2, Photostitch 3.1.
Battery: Canon NB-2LH rechargeable Li-ion. CIPA battery life rating: 500 with no flash, 360 with 50% flash.
Size/weight: 5.0×3.7×2.6 in., body only; 1.3 lb with battery and card, body only; 1.7 lb with kit lens.
Street price: $800, body only; $900 with kit lens. Some retailers are offering the silver body for $80 less.
For info: www.usa.canon.com
VIEWFINDER TEST:
Accuracy: 95% (Excellent)
Magnification: 0.80X (Very Good)
The Competitive Set
Nikon D80
($1,100, street, with 18-55mm f/3.5-5.6G ED AF-S DX Zoom-Nikkor)
The D80 costs $200 more than the Rebel with the equivalent lens, but dealers can't keep them in stock. Well-deserved popularity, as the D80 produces Excellent resolution, even at ISO 3200 (which the Rebel doesn't even go up to), and its noise control leads the league.
The Nikon applies noise reduction in a distinct chunk around ISO 800, resulting in lower noise than at ISO 400 — along with a noticeable dip in resolution. So by ISO 1600, the Rebel XTi, while noisier, delivers somewhat higher average resolution than the D80 — about 1,985 lines versus about 1,825. It's not a big difference, but there.
The D80's wireless flash triggering has it all over the Rebel, and it has a selection of useful in-camera fixes. And we think it's a little better-built. But the Reb can meet or exceed the resolution of the D80 at higher ISOs (at the expense of more noise), and can autofocus faster than the already speedy D80.
Sony Alpha 100
($850, street, with 18-70mm f3.5-5.6 Sony DT Zoom)
The Alpha 100 is one great deal, given that its CCD-based Super SteadyShot works with any lens, while you have to buy individual lenses to get image stabilization with the Rebel. It has terrific on-the-fly dynamic range fixes, autofocuses faster at lower light levels, and has built-in wireless TTL flash triggering. But the Rebel has significantly better image quality (both resolution and noise suppression), more sensitive AF, and is backed up by that huge Canon lens catalog.
Pentax K10D & Samsung GX-10
($1,000, estimated street, with 18-55mm f/3.5-5.6 AL Pentax SMCP-DA Zoom or, on the Samsung, Schneider D-Xenon 18-55mm f/3.5-5.6 zoom)
The Pentax/Samsung clones have much to recommend them: They are better sealed than the Rebel, and, like the Sony, have sensor-based anti-shake. They also can provide wireless TTL flash control with the built-in unit. But the Rebel's image quality and autofocusing have set the bar very high for these twins. We'll have a full test of the K10D and GX-10 shortly, so stay tuned.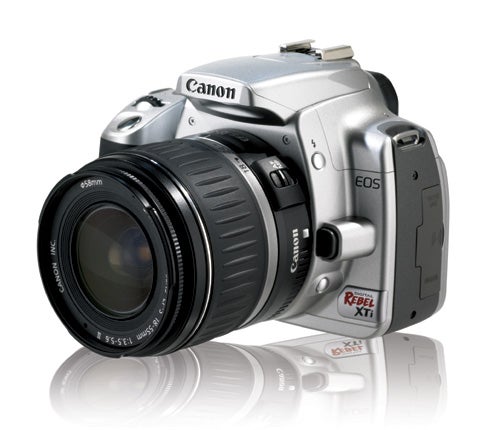 Canon-EOS-Digital-Rebel-XTi
Canon EOS Digital Rebel XTi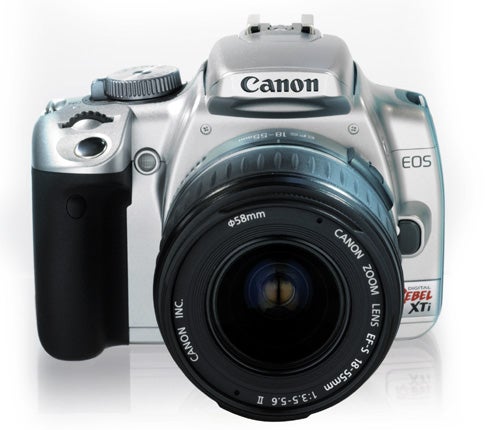 Canon-EOS-Digital-Rebel-XTi
Canon EOS Digital Rebel XTi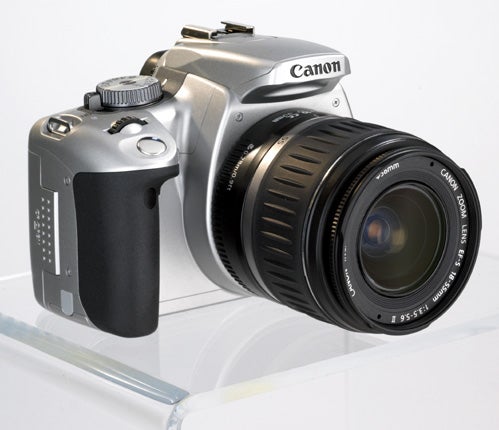 Canon-EOS-Digital-Rebel-XTi
Canon EOS Digital Rebel XTi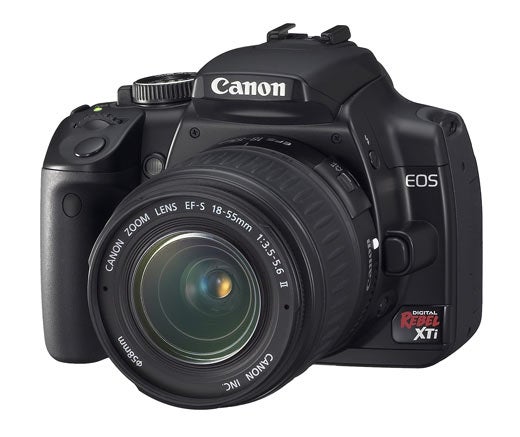 The-Rebel-XTi-sports-a-dust-reduction-system-that
The Rebel XTi sports a dust-reduction system that uses both hardware and software suppression of dust — a first for Canon DSLRs.