Camera Review: Samsung Digimax S600
Some cool features offer fireworks sizzle, but some performance fizzles.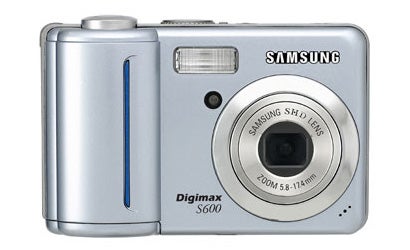 The Samsung Digimax S series is targeted for families looking for an affordable first-time foray into the wonderful world of digital. The lineup includes the S500, S600 and S800, which offer 5, 6, and 8 megapixels, respectively, and come in silver or black shades. The Digimax S600 packs 6-megapixel resolution, a 3X optical and 5X digital zoom into a compact model at the low price point of $230 (street).
The slim and lightweight Digimax S600 can fit in a small purse or pocket, and its ergonomic grip makes it easy to hold. The boxy camera looks a little like some of the past models in Canon PowerShot A series, and it feels much lighter than other models in this class. The S600's 3X optical, 35mm-105mm (35mm equivalent), f/2.8-4.9 zoom lens extends out from the front of the camera when turned on and retracts when turned off.
The camera's power button (which is hard to press), the mode dial, and the shutter release sit on top of the unit. Most of the control buttons (zoom rocker, four-way menu etc.) are placed on the right side of the 2.4-inch LCD screen and are well within your thumb's reach.
The Digimax S600 has some cool special effects functions-including Highlight, Photo Frame, and Composite Shot- that give users unique, and sometimes amusing, shooting experiences beyond conventional picture-taking. You can access each of these special effects with just one touch of the "E" for Effects button. The Digimax S600 offers first-time digital shooters 10 scene modes to obtain the best picture result in a variety of settings. The scene modes provided are Night Scene, Portrait, Children, Landscape, Sunset, Dawn, Backlight, Fireworks, Beach and Snow.
Taking pictures is pretty simple with the preset modes but if you like to do some manual tweaking, you can play around with the ISO settings, color balance and exposure in Program mode. When selecting some of the manual settings, I found the menus to be a little confusing. I had to consult the user's manual a number of times during my testing.
The S600 determines exposures with multi- or spotmetering, and offers 2.0 EV of exposure compensation in ½-EV increments. Good control for a camera in this class. Seven white balance settings are available including an auto mode, five presets and the ability to measure a custom white balance. ISO sensitivity is controlled automatically or manually, ranging from 50 to 400. The Digimax S600 also offers a movie mode, capturing clips at up to VGA resolution with audio, using MotionJPEG compression.
The camera took about 1.9 seconds to power up and capture its first image. Sometimes I had to press the power button a couple of times to make sure it was on. The S600 took fine outdoor shots. Its metering system and auto white balance did a good job and highlights had little or no color fringing. The flash, when used outdoor situations, was also adequate.
However, in low light situations the focusing mechanism started to suffer, especially when the battery was running low. You will see that image quality dips indoors, without using flash. A tripod and a higher ISO setting can help, but look out for a lot of noise and fringing in images at anything beyond ISO 200. At ISO 400, many pictures lacked detail.
If you intend to bring this camera for an extended period of night shooting, like I did on July 4th, make sure you have plenty of spare batteries on hand. The S600 uses up battery power very quickly with extensive use of the flash. Add to that the fact that you don't have an optical viewfinder, so you're completely reliant on the LCD screen. In addition, there is no button to temporarily switch off the display when it's not in use.
Overall, the Digimax S600 is a passable entry-level camera for the first time digital camera buyer on a tight budget, but if you are more concerned with image quality in low light situations, you might want pony up a little more cash and look at other models in the Samsung family, like the L60 and L85, or other entry-level models from other manufacturers.
What's Hot
Affordable price point.
Some manual controls.
5X optical zoom
6MP resolution
What's Not
Lots of image fringing at ISO 200.
Poor startup times.
Menus are a bit confusing.
No optical viewfinder.
Battery drain.
Key Specs
Maximum Shutter Speed: 1/1,500 sec
Equivalent 35mm focal length: 35 – 105 mm
Effective flash range: 8 in – 10 ft
Dimensions: 3.8- x 2.4- x 1-inches (w x h x d)
Weight: 4.8 ounces
Street: $229.99
What's in the Box?
Digimax S600 Digital Camera (Black or Silver), 2x AA Batteries (NOT rechargeable), USB Cable, A/V Cable, Camera Strap, Digimax Master Software, Storage Driver, English & Spanish Owners Manual