httpswww.popphoto.comsitespopphoto.comfilesimages201902meryl-mcmaster-books.jpg
The new body of work will be on display at Ryerson University during the Scotiabank CONTACT Photography Festival.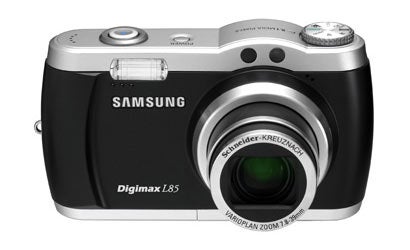 When Samsung's Digimax L85 was released this spring, it was touted as the first digicam to offer users High Definition Multimedia Interface (HDMI). HDMI is a ground-breaking technology, which lets the user view their images on a high definition TV screen in their original quality. While it's a cool feature once HD TV's become more standard, its not one to base a digital camera purchase on.
However, the L85 does make a strong case for the advanced amateur by offering them a nice feature set and plenty of manual options. The L85 comes packed with 8.1-megapixel resolution and incorporates a Schneider Kreuznach 7.8-39mm lens with 5x optical zoom. The L85 offers a host of scene modes to help with your many shooting situations including: Night Scene, Portrait, Children, Landscape, Close-up, Sunset, Dawn, Backlight, Fireworks, Beach & Snow and Text Recognition.
There are also a number of manual modes. A manual exposure control includes Aperture Priority for depth of field, Shutter Priority for high motion shots and Manual adjustment for full aperture and shutter settings. There is also a Continuous Shooting mode on board for consecutive shots and Auto Exposure Bracketing to shoot consecutive images with different exposure.
The L85 also bucks the trend on camera design. While most digicam suppliers today are churning out credit card-size chrome models, the Samsung Digimax L85's rubberized black body with matte-silver accents pays tribute to the cameras of yesteryear. Samsung has also taken that same tack with their new NV series, which resemble the Leica rangefinders of old.
With the L85s design being bigger and "old school," it probably won't fit in your pocket. But, this stylishly designed camera offers a comfortable grip, ergonomic design with the controls nicely placed on the body. Most of them were right at my fingertips.
* More Camera Views * Image Quality Gallery
A 2.5-inch LCD display (approximately 230K pixels) provides the only viewing and shooting capabilities. An optical viewfinder would have come in handy when I was shooting in bright sunlight on the Orient Point ferry in Long Island, New York, because the LCD completely washed out on me. (I think camera manufacturers need to rethink camera design for future models and, in some cases, still try a have an optical viewfinder on board as a second option when extremely sunny conditions abound. Companies like Canon seem to be keeping this in mind with several of their point-and shoot models.)
The L85 provides MPEG-4 video compression, which allows recording times that are said to be longer than most standard models on the market. It captured movie clips in VGA (640 x 480) at a speedy 30fps.
The Digimax L85 is equipped with only 32 MB of built-in memory, so you'll need to purchase an SD card. We tested the camera with a quick Kingston Ultimate 1GB SD card. For viewing those images you want to share in HD you'll also need to purchase the optional docking unit.
We shot some nice images with the Samsung Digimax L85. The photos reproduced color well and displayed some fine details without distortion or compression artifacts. Even at 200 ISO settings, there was minimal observable noise. We did, however, experience some chromatic aberration, so some shots had a purplish-colored fringe to them especially shooting in woodsy settings. Besides lacking an optical viewfinder, the L85 also doesn't have an image stabilization feature or high-sensitivity shooting modes for shooting in low-light. You can't navigate past ISO 400.
But if you don't need some of those options listed above and are looking for a model that takes good pictures along a host of feature and manual options to keep you busy, the Digimax L85 might be the camera for you.
Key Specs
Digital Zoom: 8x
Optical Zoom: 5x
Focal Length: 38-190mm (35mm equiv)
Exposure Sensitivity: AUTO, ISO 50/100/200/400 equivalent
Dimensions (WxHxD): 4.3 x 2.5 x 1.14 inches
Weight: 6.7 ounces
Street: $379
What's in the Box:
Samsung Digimax L85 Camera, USB Cable, AV Cable, Camera Strap, Rechargeable Battery SLB-1237, AC charger, Software CD, Operating Manual.
What's Hot:
Takes sharp, colorful images
Host of manual features
Retro design
HDMI viewing option
What's Not:
Some purple fringing
Slow using burst mode
LCD Screen washes out in bright sunlight
No optical viewfinder
No image stabilization feature
No ISO support for shooting in low-light