Camera Review: Pentax Optio A10
Images shaken, but not blurred.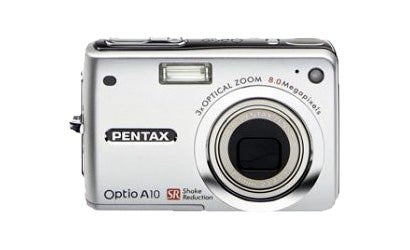 We may earn revenue from the products available on this page and participate in affiliate programs. Learn more ›
Not to be confused with the way secret agent 007 James Bond likes his martinis, the Optio A10 from Pentax sports an impressive shake reduction system that really helps stabilize your shooting.
The slim, stylish Optio A10 is part of the point and shoot line introduced by Pentax earlier this year that offers a big upgrade of their 'S' series. As the flagship of Pentax's new 'A' series of cameras, the Optio A10 is a sharp first introduction. This 8 megapixel point-and-shoot camera is chocked with great, fun features for the amateur shooter. In addition to the larger CCD sensor, the A10 features Pentax's own shake reduction system, which uses gyroscopic sensors to detect and compensate for any kind of movement by physically shifting the sensor.
At about the size of a deck of playing cards, the Optio A10 can fit in almost any size pocket, and the durable metal body ensures it will stand up to the rigors of everyday shooting. The 5.5-ounce slim unit is very ergonomic; there's even a convenient indentation for your finger on the left side of the camera top. I found it quite comfortable in my hands, with controls being well-placed and easy to access. The menu system is very intuitive, and nicely organized, which made for easy quick changes to camera settings.
On the back of the unit, controls include a standard zoom rocker, a playback button, a menu key, and a four-way cursor pad with embedded OK button. The large 2.5-inch LCD is the only viewfinder on the model, and is used for image composition and review as well as menu navigation. Not having an optical viewfinder is a big drawback, however. The LCD has a tendency to wash out in bright sunlight. I had some trouble viewing what I was photographing when I was shooting in the field of sunflowers, for example. The LCD also 'conked' out when shooting in the burst mode on a number of occasions.
Shooting performance was sometimes sluggish for a camera in this class. Turning on the camera to capturing the first image achieved in approx. 3.5 seconds. Shutter lag when pre-focused was approx. 1/10 of a second, slowing to an about 1.1 seconds including autofocus time.
The Optio A10 is powered up by a small 3.7v 710mAh proprietary Lithium-Ion battery pack, which can be charged in camera when placed in the included docking cradle or by itself. Pentax claims you can capture 150 shots on a full charge (based on CIPA standards.) We found the battery life to be unimpressive for a camera in this class.
The Optio A10 produced good images in most conditions we shot in. It produced good results with good detail and sharpness especially at ISO 50. However, there was a lot of noise when used above ISO 200 and above. The Shake Reduction system was very good and the A10 is probably one of the more affordable cameras that offer this normally more advanced option. The A10 offers a full boat of fun features, such as 640×480, 30fps MPEG-4/DivX movie clips, plus plenty of in camera editing options and a slew of shooting modes.
On the minus side the camera can sometimes be slow and unresponsive, and has a screen that has trouble in bright sunlight-with no optical viewfinder as an alternative option. Despite its flaws, the Optio A10 is still a fun camera for the amateur to get their feet wet in digital.
There are rumors in the industry that Pentax will be introducing an upgrade of this model in the near future. Perhaps this next generation in the Optio line-up will build upon the A10's strengths and refine some of its imperfections.
What's Hot:
Shake Reduction system
Great compact size with solid metal construction
Excellent resolution, natural accurate color, subtle processing
Low noise at low ISO settings
A host fun feature options
Image corrections and effects in playback mode
Playback mode and menu operation are easy and quick
What's Not:
Short battery life
LCD Screen washes out in bright sunlight
No optical viewfinder
Slow focus, shutter lag
Slow flash recycling
Key Specs:
Digital Zoom: 4x
Optical Zoom: 3x
Focal Length: 38-114mm (35mm equiv)
Exposure Sensitivity: AUTO, MANUAL, ISO 50/100/200/400 equivalent (800 IN CANDELIGHT MODE)
Battery Life: CIPA estimate of 150 shots with Lithium battery with LCD monitor on
Dimensions (WxHxD): 3.5 x 2.1 x 0.9 inches
Weight: 5.1 ounces w/battery and SD card
Street: $349.99
What's in the Box:
Optio A10 camera, USB Cable I-USB17 (39233), AV Cable I-AVC7 (B) (39553), Strap O-ST20 (39195), Lithium-ion Battery DL-18 (39121), Battery Charging Stand D-BC42 (39318), AC Plug Cord D-CO2U (39477), Software S-SW42 (CD-ROM), Operating Manual, Serial Number Card.