Camera Review: Olympus Stylus 750
All-weather design keeps out the elements while packing in more imaging options.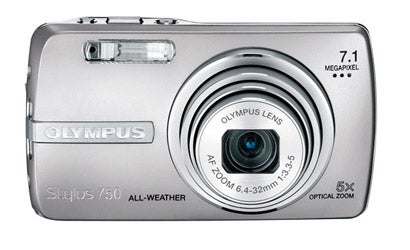 We may earn revenue from the products available on this page and participate in affiliate programs. Learn more ›
Just like the postman's motto, the all-weather Olympus Stylus 750 can go virtually anywhere in all elements that Mother Nature can serve up. The metal body construction is durable and lightweight, with rubber gaskets throughout the interior to ensure that rain, sleet, snow or even dust from the Las Vegas desert won't stop you from making your shooting rounds.
One of the new digicams that Olympus rolled out this summer, the Stylus 750 brings with it a sleek design and new features building on previous Stylus models. This stylish point-and-shoot unit offers a number of evolutionary technologies such as Dual Image Stabilization, Bright Capture Technology, and TruePic Turbo, as well as a powerful 5x optical zoom, all packed nicely into a streamlined metal, all-weather body.
* Product Shots * Image Quality Shots
Olympus has designed brand new lens technology into the Stylus 750 that enables the 5x optical zoom lens (36mm-180mm, f/3.3-5.0 equivalent for 35mm) to bring the action five times closer in a body that's less than an inch thick. This is achieved through a number of key additions, such as Olympus' high-refractive-index lens elements and newly developed dual super aspherical lens elements.
The Stylus 750 offers a nice mix of mechanical CCD-shift image stabilization and digital image stabilization options. The CCD-shift image stabilization uses built-in electro-gyro sensors to record camera movement and adjust the CCD image sensor. This helps the incoming image data to remain stationary on the image sensor, which helps maintain image clarity despite slight movements on the part of the photographer. The digital image stabilization mode boosts ISO sensitivity and shutter speed to minimize the blur caused by moving subjects. This powerful combination of the two image-stabilization technologies should result in sharp images in most shooting situations.
Olympus' Bright Capture Technology allows users to compose images on the LCD in very low light. With specific scene modes for high sensitivity settings (up to ISO 2500 in some scene modes) and quick autofocus, even fast-action photos can be captured under low levels of available light. Although we were capturing images at night in the bright lights of the Vegas strip, there were times when we relied on this neat option to aid in our shooting.
The Stylus 750 is very ergonomic and despite its small size, fits comfortably in your hands. All the buttons and controls are laid out nicely on top and back of the unit. The camera is available in four colors: silver, black, green, and red.
Sporting a bright 2.5-inch LCD, the Stylus 750 also doubles as a portable digital photo album. This high quality LCD is brighter than some cameras we've tested of late but was no match for the extremely bright Las Vegas sun when we shot in the early afternoon.
Olympus' exclusive TruePic Turbo Image Processor works to enhance image quality and delivers faster overall processing speeds for rapid start-up, shutter release, and playback. TruePic Turbo enables the Stylus 750 to capture information from all 7.1 million pixels with what Olympus calls "micro-smoothing"¬ — which Olympus claims will deliver clearer and more color-accurate photos. The camera revs up in less than one second and the shutter release time was extremely fast.
With 23 pre-programmed scene modes, such as Beach and Snow, Available Light Candle, Sunset, Cuisine and Under Water Macro, the 750 is optimized for a variety of lighting and shooting situations.
QuickTime Movie Mode records VGA-quality videos with sound, limited only by the size of the internal memory (17MB) or xD Picture Card (sold separately) in the camera.
One other cool option on the 750 is the built-in Help Guide. It's like having a mini-manual with you everywhere you go. With the Help Guide function, each of the camera's features is described in a drop down menu. By simply holding down the Guide button on the back of the camera, users can access brief descriptions of each of the camera's functions and scene modes. An improved auto-set Shooting Guide provides users with an explanation of which features to use in a given situation, and then sets the camera automatically for the selected feature in the Guide.
The large 2.5-inch LCD, 5x optical zoom, compact body size, and three underwater scene modes also make the Stylus 750 an ideal traveling companion when diving. The new PT-034 underwater housing (sold separately for $249) is constructed of transparent polycarbonate with safety-locked o-ring seals, enabling the Stylus 750 to safely travel down to 40 meters below the surface.
A slew of in-camera editing features such as red-eye fix, resizing, frames, text options, color brightness, and saturation adjustments enable users to edit photos in-camera.
Overall, we were happy with the images produced by the 7.1-megapixel CCD sensor. On-screen the photos appear sharp and vivid. In addition, they can be output to large-formats — up to poster sizes as large as 15 x 20 inches. We think users will enjoy the 750's thin, sleek, take anywhere, all-weather design and the powerful 5x optical zoom.
What's Hot
5x image-stabilized optical zoom
Fast Start-up
Compact, all-weather body
Built-in Help Guide
What's Not
No viewfinder: Some LCD washout in very bright sunlight.
Key Specs
Digital Zoom: 5.6 X (Seamless to 28X)
Optical Zoom: 5X
Aperture Range: f/3.3-5.0
Exposure Sensitivity: Auto, 80, 100, 200, 400, 800, 1600 (equivalent)
Battery Life: CIPA estimate of 190 shots with Lithium battery with LCD monitor on
Size: 3.8 x 2.1 x 0.96 inches (WxHxD)
Weight: 4.2oz.
Street: $349.99
What's in the Box
Olympus Stylus 750, wrist strap, WIN/Mac USB cable, audio-video cable, LI-42B Li-Ion rechargeable battery and charger, instruction manual, warranty card, and CD-ROM with Olympus Master Software.