Camera Review: Olympus SP-510UZ
Although not without its flaws, this 7.1MP EVF with 10x optical zoom is a very likable camera.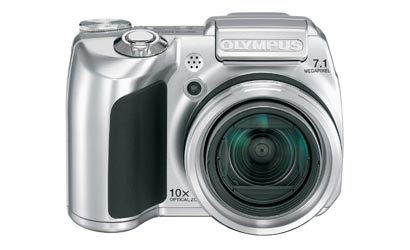 We may earn revenue from the products available on this page and participate in affiliate programs. Learn more ›
The Olympus SP-510UZ is a 7.1 Megapixel EVF (Electronic ViewFinder) camera that has some big-time features typically found in much more expensive DSLR's, but with a street price of only $342. The real surprises for an EVF at this price is that it features a RAW file format, has the ability to make manual exposures and uses ED glass in two elements — all features which are common in much more costly DSLRs.
The SP-510UZ employs a 10X optical zoom, giving you a 35mm equivalent 38-380mm range with a fast f/2.8-3.7 maximum aperture. The camera also features 28 exposure modes and in-camera editing features such as sepia toning images, NTSC quality Quicktime video (640×480 @ 29.9 fps), shutter speeds from 15 seconds to 1/1000th, digital image stabilization and an amazing sensitivity range of 50 to 4000 ISO, although at ISO 2500 and 4000 the images are made at a lower 3MP resolution. As if that weren't enough — the SP-510UZ also has an incredible macro and super macro mode that works all the way down to 1.18 inches with a quality level that really shouldn't have surprised with the ED glass, but it did anyway.
The camera holds well in your hands and has a sleek, chrome finish that's inviting to the eyes and feels good to the touch. The ergonomic design lends itself to a comfortable fit and the function buttons are right where you'd expect them to be. The camera has a 2.5″ LCD that's sharp and contrasty and viewable from just about any angle and light condition. The viewing also switches easily between the EVF and the LCD with the touch of a toggle button. The menu has large, block letters that are easy to read and is organized in a way that makes sense. Even if you've never picked the camera up before, navigating through the menu is effortless.
Another feature that's useful is the "Guide." This useful in-camera feature holds tips and tricks for making the most out of different photographic situations. The nicest feature in the Guide is its ability to switch directly to the mode that best suits the situation you're reading about. Since this camera is designed for beginners and advanced amateurs alike, this is a feature that will help beginners become advanced users. Another plus for the SP-510UZ is that it's powered by four "AA" batteries and only sips their power. Olympus says that these batteries should last a full 630 shots, but field observations show that this is a conservative estimate, especially in daylight without flash.
What's Hot: EDIF lens technology Manual Exposure "AA" Battery power supply Bright, readable menu RAW file format Great value for the money What's Not: EVF finder has bad vertical smear Slow responsiveness and need for "Warm up" 2-3 shot bursts with low fps rate (about 1.25 fps) xD card format Cumbersome controls for manual exposure and a limit of F8 So-so software package
Olympus uses the xD card format. I found this to be both a blessing and a curse. The xD format is used by Fuji and Olympus for most of their cameras and a few other electronic devices that require memory expansion. The format is proprietary, but widely available. The price per megabyte is more than an SD or CF card, however, and you should expect to spend about $45 for a 1GB xD card. The xD format is also slower than SD and there are two different flavors of xD as well.
The "M" series card is older technology and holds a maximum of 2GB with a throughput of 4mb per second. The "H" series, although newer and faster, is limited to 1GB cards, but has a throughput of 15MB per second — a full 3.5 times faster than the "M" series. The "H" cards are also able to perform special functions when used in conjunction with the full version of the Olympus Master software. The basic version is supplied with the camera and to do the panoramic and other specialty image functions requires the purchase of a full version of the Master software, which will stitch together up to 10 images stored on the xD card automatically. The added cost of this software is $19.95 plus tax from the Olympus website, but the actual software is Camedia Master Pro v4.1, which is available on the internet for $16.95. In using the xD stitching program, I could not find any real advantages to having it and could see similar results using Photoshop or other image stitching programs.
There were other disappointments as well. The EVF for example, has serious vertical smear issues. In composing some of the images, the smear level was so pronounced that the main subject of the image wasn't recognizable. The images themselves turned out fine though, but this is a nagging issue for this camera and Olympus would do well to fix it.
Another shortcoming with this camera is that the minimum aperture in manual mode is f/8. So, if you're shooting in very bright conditions, you must either raise the shutter speed or lower the ISO. Normally, this isn't a huge concern, but if you're going to put in manual exposure controls, give a full range of control! Changing the shutters speed and aperture is also cumbersome and Olympus needs to rethink how they have done this as well. The four circular buttons that surround the function button change the aperture and shutter speeds, so if you try changing the exposure while using the EVF, you have to grope for the correct button. Dedicated controls for manual exposure control placed toward the top of the camera would be ideal — maybe replace the EVF/LCD toggle button into a shutter speed and aperture toggle and a wheel in the front to change the values.
The 510 is also touted by Olympus as an excellent camera for capturing action by using their "Sports" setting in the scene selector. This works similarly to shutter priority by raising the shutter speed to at least 1/250th of a second. If that speed is not obtainable with existing light, the ISO is automatically raised until the minimum shutter speed is reached. This works in most situations, but for high action sports, where the subject is moving very quickly, it can cause ghosting and undesirable movement. Using the manual exposure mode with a shutter speed of 1/500th or 1/1000th of a second yielded much better results. It is also disappointing that using a full resolution JPEG setting we were only able to shoot 2-3 frames continuously before the filling the camera's buffer.
The camera also has a pronounced shutter lag that's typical for one chip, consumer grade cameras. By having the shutter depressed half way and keeping the main point of focus sharp, the response improved dramatically and with the manual exposure, we were able to take some nice action images. Even still, I would not consider this a camera that should be purchased primarily as a "Sports" or action camera as Olympus markets it.
The video mode is simple to operate. You place the function wheel onto the movie camera icon, compose the scene, depress the shutter release and you're shooting video. The viewer also shows you in minutes and seconds how much time you have available for video. The video function does not allow you to change focal lengths while shooting, but you can shoot, stop and change focal lengths and start shooting once again. The quality level available for video is also impressive for such a small package and the EDIF optics help here as well.
In all, the Olympus SP-510UZ is a very likable camera, and if you know and understand its limitations, it can be a very good performer. I can see advanced amateurs and even the occasional pro wanting to use this camera on vacations and in shooting situations where they either don't want to or can't carry a large amount of camera gear with them. It has all of the features that these shooters want in a small, convenient package. Novices will appreciate the ease of use and many helpful features, especially the Guide, which answers many questions that the beginner might have. It's almost like having an experienced photographer standing next to you while you shoot. The macro feature alone would cost as much for a comparable lens on a DSLR, and add in the RAW format, endless exposure/scene controls and high quality optics and the camera sells itself. For the money, the Olympus SP-510UZ is a great deal.
Key Specs:
7.1 MP point and shoot with EVF and LCD viewing
38-380mm F2.8-3.7 lens
2.5″ LCD (115,000 pixels)
28 exposure modes
11.6 oz (325 grams) without batteries
4.2″ W x 2.9″ H x 2.8″ D (105.5mm x 74.5mm x 70.0mm)
4-AA batteries for at least 630 images
Street Price of $342
What's in the Box:
SP-510 UZ digital camera
4 AA alkaline batteries
USB cable (CB-USB6)
Audio/Video cable (CB-AVC3)
Neck strap
Quick Start Guide
Warranty card
Basic Manual
2 CD-ROMs (OLYMPUS Master Software and Advanced Manual)