Camera Review: Kodak EasyShare P712
It's a bird; it's an LI Duck; it's 12X superzoom.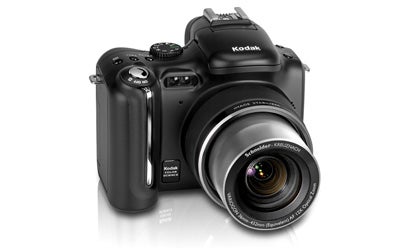 We may earn revenue from the products available on this page and participate in affiliate programs. Learn more ›
Some of the greatest baseball players of all time, like Willie Mays, Joe DiMaggio and Hank Aaron were called "five-tool players" because they: could hit for average; could hit for power; had speed on the bases; were gold glove fielders; had strong throwing arms. In other words, they had these five tools that made them excel.
The new Kodak EasyShare P712 is much like those players, in that it possesses many of the photographic tools to help advanced amateurs step up to the plate and take major league images. A blazing fast autofocus system, a 12X image-stabilized lens, a 7.1-megapixel sensor and a slew of manual options, all combined, produce sharp, colorful photos.
Kodak's EasyShare P712 is touted as a bridge or hybrid digital SLR camera, joining the P850 in line. It's aimed at users who are on their second or third digicam and are looking for a more advanced model to take their imaging skills to the next level. The P712 is kind of in the middle of a point-and-shoot and digital SLR-not as compact as a typical compact digital model and somewhat smaller than an SLR. It has quite an expansive optical zoom range: 36-432 mm (35 mm equivalent) f/2.8-3.7, with a Schneider-Kreuznach Variogon lens.
I was really impressed with the zoom capabilities of the camera when I was shooting at a recent minor league baseball game. The 12X superzoom allowed me to easily follow the off-field antics of Long Island Duck team mascot, QuackerJack, as well as the on-field play of the team, who clinched the 2006 Atlantic League Half Championship on the very night I was there.
The P712's optical image stabilization provides a two-stop advantage over non-image-stabilized systems for better capturing subjects in low light for both stills and video. It also minimizes handheld camera shake at longer focal lengths, which came in handy while I was shooting at the game.
The Kodak EasyShare P712 sports a kind of plain black plastic body and is powered by a rechargeable lithium ion battery. The camera has 32MB of internal memory and uses an SD card, which is purchased separately. For this review, I used a Kingston Ultimate 1GB SD card, which proved to be very fast.
The camera is compact for a bridge model. Its SLR-like ergonomic grip allows for one-handed shooting when you need to. The buttons and controls are laid out nicely and are all within easy reach. In addition to all the controls is the mode dial, which offers direct access to a host of customizable shooting modes including: full manual, aperture- and shutter-priority, program, and auto, as well 17 scene modes including the Sports mode (which I utilized quite a bit in my shooting). It also offers a hot-shoe, which can be used with accessory flash for shedding more light on your subject when you need it.
The P712 offers a large 2.5-inch, 115,000-pixel LCD screen as well as a 237,000-pixel electronic optical viewfinder. The P712 also has onboard metering options that include multi-pattern, centerweighted, spot, and selectable zone.
One major problem that you will probably encounter is a lot of noise, which we noticed in a lot of the low-light situations we shot in. At ISO 200, we started to experience some noise, and it intensified as we hit a lot more at ISO 400 and beyond.
While there are numerous noise issues with the P712 that might cause some swings and misses, the camera still has a lot to offer. Overall, colors looked sharp and well-saturated, and exposures showed plenty of detail. With a 12X superzoom, image stabilization as well being compatible with the EasyShare system, we give the EasyShare P712 a hit on our scorecard.
What's Hot:
12X optical zoom.
Optical image stabilization.
A host of manual controls.
1/3-stop ISO increment settings.
Ergonomic grip for one-handed shooting.
Shoe-mount accessory flash.
What's Not:
Lots of noise at ISO 200 and above.
Plastic body.
Key Specs:
Lens: Schneider-Kreuznach Variogon 36-432 mm lens (35 mm equiv.) f/2.8-3.7
Optical Zoom: 12X
Digital Zoom: 5X
Battery Life: CIPA estimate of 210-290 image on a single charge of the unit's Li-ion battery pack
Dimensions: 4.3 W x3.3 H x 2.8 D inches.
Weight: 14.2 ounces w/o battery or card installed
Street: $499
What's in the Box
Kodak EasyShare P712 zoom digital camera, USB and audio-video cables, Kodak high-capacity, 1,800 mAh Li-ion rechargeable digital camera battery-KLIC-5001, Kodak Li-ion rapid battery charger-K5000, neck strap, lens cap with strap, Kodak EasyShare software, getting started kit, custom camera insert for optional Kodak EasyShare camera and printer docks.