Camera Review: Casio Exilim EX-Z700
Since Casio released its Exilim line four years ago, the cameras have gotten smaller, the LCDs have gotten bigger and the amount of new features packed into them has continued to grow.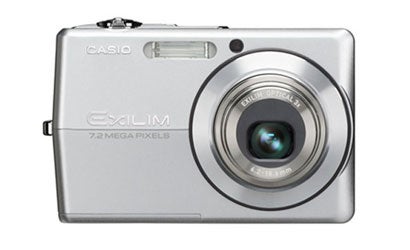 We may earn revenue from the products available on this page and participate in affiliate programs. Learn more ›
When Casio hit the market with their Exilim line of digital cameras four years ago, they offered digital shooters cameras featuring a host user-friendly options in an extremely slim, compact design. As the years went on the cameras have gotten smaller, the LCDs have gotten bigger and the amount of new features packed into them has continued to grow.
The new Casio Exilim EX-Z700 proudly continues this tradition by delivering an effective 7.2-megapixel resolution, while offering Casio's Super Bright LCD for better viewing in bright daylight.
The EX-Z700 is a stylish, slim camera that will easily fit in a pocket or a purse. The attractive aluminum body has a nice brushed finish and comes in black, silver and blue. The black model, which I shot with, was very ergonomic and although tiny, felt comfortable in my hands. The controls are nicely spaced on the unit. The EX-Z700 offers a plastic guard over the LCD and built-in lens cover. When the camera is turned off, the lens fully retracts into the body of the unit.
* Image Quality GalleryWhat's Hot 7.2-megapixels Well-constructed, slim compact design 3x optical zoom with Anti Shake technology 37 Best Shot modes 2.7-inch Super Bright LCD display Long-life battery What's Not Images appear a bit noisy at ISO 400 Menu system lightly difficult to navigate Power button very small and hard to press Some LCD washout; No optical viewfinder
On top of the camera sits a power button, shutter release and microphone. The power button is tiny and recessed a bit to prevent accidental power on. This was a slight problem for me. On a number of occasions I had a little trouble finding and pressing down on the button to power the camera up and down.
The back of the camera offers a Super Bright LCD screen that is both big and bright: the 2.7-inch screen with 1200cd/m2 of brightness that gains up makes things easy to see. This LCD came in handy shooting in the hot sun of Las Vegas, but there were times when it did wash out in bright daylight conditions.
At a huge 7.2 megapixels, the EX-Z700 produced sharp images with plenty of detail. The long-life battery (CIPA estimate of 460 shots )is energized with enough power to shoot plenty of images on a single charge, and the camera comes with Casio's patented Anti Shake DSP to reduce photo blur due to shaky hands or moving subjects. The EX-Z700 takes SD and MMC memory cards. It also offers 8.3MB of internal memory space.
The EX-Z700 strikes an attractive balance between slim, stylish looks and high-performance functionality. One of the things I liked most about the unit was the whopping total of 37 Best Shot scene modes to shoot with. A dedicated button provides quick access to the Best Shot menu. I had fun trying out many of the options available to me for different shooting conditions.
With this fun option I was able to make water stand still in the Splash Water Mode, the Retro Mode gave the New York, New York Hotel and Casino a 1940s look, and the eBay Mode caught Ringo and Chad's best sides; although nether is for sale. (Check out the Image Quality Gallery to see these test photos.)
The popular eBay Best Shot Mode has been exclusive to the Casio Exilim line of digital cameras since it was announced at PMA 2006. The eBay Best Shot takes photos at a size optimized for display on eBay, allowing picture takers to quickly and easily create photos for selling items on the popular online auction site.
Layout-shot is another cool feature that allows users to combine multiple shots of friends taken with the same scenic backdrop into a single collage, or even mix shots with different compositions to create a single artistic layout.
Movies on the EX-Z700 can be captured in several modes: 640×480 and 512×384 at 30 fps; 320×240 at 15 fps.
The Casio Exilim EX-Z700 is ideal for someone looking to purchase a compact camera to take anywhere with them that sports some style and features. Since there are no manual modes, the Best Shot scene modes will guide you in your shooting. For the most part, the image quality was pretty good, especially in outdoor shots. Indoor shots in low light did offer some digital noise and graininess, especially as we went from ISO 200 to 400. All in the all the 7.2-megapixel EX-Z700 packs a big punch in such a small package.
Key Specs
Focal Length: 38-114 mm (35 mm equiv.)
Sensor Resolution: 7.2 megapixels
Optical Zoom: 3x
Digital Zoom: 4x
Shutter Speed: 1/2-1/2000 sec. (auto), 4 — 1/2000 sec (night scene)
Sensitivity: Auto, ISO 50/100/200/400 equivalent
Battery Life: CIPA estimate of 460 shots with Lithium battery with LCD monitor on
Size: 3.48 x 2.24 x 0.81 inches (WxHxD)
Weight: 3.95 oz.
Street: $299.99
What's in the Box
Casio Exilim EX-Z700 digital camera, rechargeable lithium-ion battery, USB cradle, USB cable, AV cable, Special AC adaptor, strap, CD-ROM